Outdoor UK attractions fared better during pandemic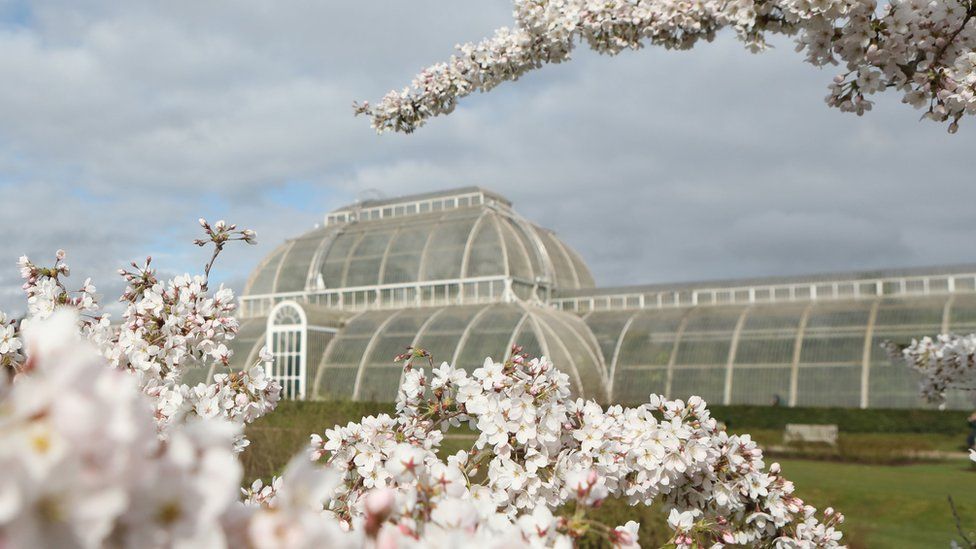 Outdoor attractions in the UK fared better than indoor ones in 2020, though overall numbers suffered a huge decline due to the coronavirus pandemic.
New figures saw the Royal Botanic Gardens at Kew and RHS Garden Wisley feature in the year's top 10 most visited attractions for the first time.
Tate Modern was the most visited attraction in the UK, despite seeing a 77% fall in visitor numbers.
Overall visitor numbers in 2020 were 70% down on the previous year.
The Association of Leading Visitor Attractions (Alva) said its data showed attractions needed "continued support from the public and government" in 2021.
Coronavirus restrictions and shutdowns saw Tate Modern's visitor numbers fall from 6.09 million in 2019 to 1.43 million in 2020.
The British Museum, the UK's most visited attraction in 2019, experienced a similar plunge, going from 6.24 million in 2019 to 1.27 million in 2020.
That steep decline enabled the National History Museum to rise to second place in the chart, having seen 1.29 million through its doors in 2020.
Most visited UK attractions in 2020
Tate Modern
Natural History Museum
British Museum
Kew Gardens
National Gallery
Chester Zoo
RHS Garden Wisley
V&A South Kensington
Science Museum
Somerset House
Both Kew Gardens and RHS Garden Wisley saw declines in their own visitor numbers, but these were not as severe as those endured by their indoor counterparts.
The former saw a 36% drop-off in footfall, while the latter saw only a 20% decline in visitors.
This was enough to see Kew Gardens ranked fourth in this year's rundown, a rise of seven places on its 2019 ranking.
RHS Garden Wisley's ascent was even greater, jumping from 28th place in 2019 to seventh place in 2020.
The most visited attraction outside London was Chester Zoo, which moved eight places up to sixth with 1.18 million visits.
Scotland's most visited attraction was the Royal Botanic Garden in Edinburgh, which moved up 20 places to 17th in the 2020 countdown.
Edinburgh Castle, normally the most-visited paid-for attraction in Scotland, saw an 87% drop-off that saw it plunge 31 places to 44th.
In Northern Ireland, Titanic Belfast remained the most visited attraction with 159,044 visits - an 81% decline on the previous year.
Wales' most visited attraction was the National Trust's Bodnant Garden, whose 106,728 visitors in 2020 saw it occupy 135th place.
Alva director Bernard Donoghue said its annual figures showed the attractions sector had had "a devastatingly hard year".
He called on the government to introduce a new bank holiday at the end of September to help the tourism industry recover.
Related Internet Links
The BBC is not responsible for the content of external sites.