Vernon Kay on Game of Talents and why 'autocue ruined T4'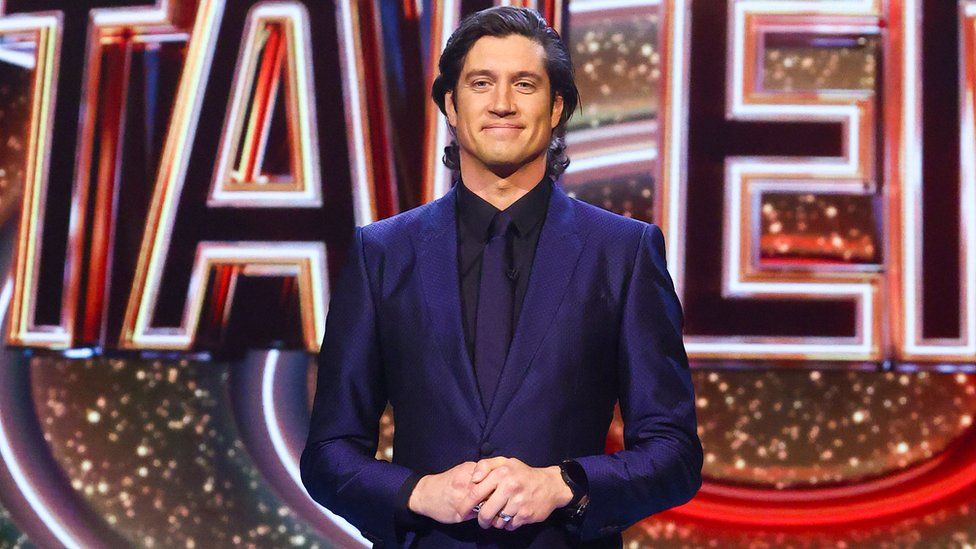 Fresh from his recent stint on I'm A Celebrity, presenter Vernon Kay talks about his new ITV series Game of Talents and why he really, really hates autocue.
TV presenters make their job look easy. They exude confidence, seem effortlessly in control of their show and rarely stumble over their words.
It helps, of course, that those words are normally being projected on a transparent screen under the camera lens - known as the autocue. It reflects the host's script, kind of like a window, and allows them to read their links while still looking directly into the camera. It's invisible to the viewer at home, and saves the presenter from having to memorise lines or improvise.
But it's safe to say not everybody is a fan of using them.
"Autocue is the death of entertainment television," presenter Vernon Kay tells BBC News.
"I hate autocue. It's horrible, because you're just doing what's on a screen in front of you. I guess I'm a traditionalist, but I personally feel shackled with autocue because you're reading the words that you spent the day preparing in the office.
"But when you're in a studio and the adrenaline is pumping and you go back to reading something you created while eating a Carrs pasty, you're like, 'Ugh, it doesn't really fit.' But then you've got to kind of change yourself to go back and read what is on autocue. I'd rather just learn it, and have a laugh in the studio."
Kay's dislike of the device - also known as a teleprompter - can be traced back to the early noughties, when he got his big break as a presenter on T4, Channel 4's weekend youth strand.
T4 ran from 1998 until 2012, and was the ultimate hangover TV for a generation. It thrived when its young presenters were goofing around, seemingly unrestricted.
It launched the careers of, to name just a few, Dermot O'Leary, June Sarpong, Nick Grimshaw, Ben Shephard and Alexa Chung, all of whom have gone on to enjoy success across media, fashion or entertainment.
"I'll say this to you, autocue ruined T4," Kay continues. "All those people who you mentioned there have all got something to say, all really energetic, all extremely talented, and they've all gone on to prolong their careers. But as soon as T4 went on to autocue and you start reading something that isn't reactive, it just kind of takes the spice out of it."
It's hard to pinpoint exactly when T4 made the switch. Channel 4 have said they are unable to respond, and the show has been off air for nearly a decade. But it would've been after Kay's departure in 2005. By that point, he had been on the programme for five years, and developed a particularly good chemistry with Sarpong, who now works for the BBC.
"June and I had such a laugh just riffing around nonsense, really," Kay says. "And that was the joy of it, we'd go in, we knew what we were supposed to talk about, but it wasn't written by a producer or a writer, we got the point across by just ad-libbing."
Which is presumably why T4 acted as a springboard for so many careers, because it was a showcase of what the hosts' real personalities were like.
"Exactly, exactly," replies Kay. "And I think there should be more youth-oriented TV to really give new talent an opportunity to shine by not being on autocue. Young people expressing their personalities and talking about what's going on in the world. And use those shows as a great training ground for the next Phillip Schofield, Ant and Dec, Tess Daly, Claudia, Dermot, Ben."
Which raises an interesting question: where is the next generation of presenters going to come from? Radio 1's former controller Ben Cooper has previously said it became harder to scout new talent without shows like T4. And YouTube and TikTok haven't really filled the gap.
"At the moment, it looks like your new entertainment presenter is either going to be a sports star - a Premier League footballer or rugby player - or a comedian," says Kay. (Sports stars who have moved into TV presenting include Peter Crouch and Top Gear host Freddie Flintoff.)
"That's the trend we're seeing, and it's not a bad thing, it's a good thing that we have a variety of personalities on television," Kay continues. "But if you want to train as a TV presenter, you have to give them a platform to learn the basics. And we were so lucky to have T4, to have CBBC."
Over the years, Kay has presented shows like All Star Family Fortunes, Splash, and more recently has been fronting coverage of Formula E (electric car racing).
He's now turning his attention to Game of Talents - a new ITV series which launches on Saturday night. The show sees contestants asked to guess what a member of the public's talent is, for a chance to win cash prizes.
"It's dead simple," says Kay. "It's everything that we've seen on telly past and present - a game show element, a variety element, a guessing element that shows like Masked Singer have been built on. It's got all of that.
"And it's got two contestants who compete against each other to win large amounts of money by guessing complete strangers' talents... just by looking at them."
The contestants are given multiple choice answers. So they could be told, for example, that the performer is either a guitarist, ventriloquist, yodeller, opera singer or carnival dancer - but they have to figure out which.
Game of Talents is one of several shows based on guessing which are suddenly dominating the TV schedules. In addition to The Masked Singer (which Kay describes as "a game of hide-and-seek on steroids"), there's BBC One's newly-launched I Can See Your Voice, which is about spotting a good singer based on their appearance.
"You're right, it's a new trend, which seems to have really exploded," says Kay. "And it's really something quite simple. Every game show has a guessing element, but not every game show has the guessing element as its main USP. But everyone knows that the best game shows are the simplest. The guessing element is so simple and I think that's why it works."
Craig Revel Horwood and Tess Daly (Kay's wife), both from Strictly Come Dancing, feature as guests in the first episode, helping the contestants.
Asked how he became involved in the show, which is the first mainstream Saturday night format Kay has presented in several years, he replies: "It was obviously the effect that I'm A Celebrity had." Kay came third (after winner Giovanna Fletcher and runner-up Jordan North) in the recent series, which was relocated from Australia to Wales.
Taking part in such programmes can often provide a career boost - JJ Chalmers and Alex Scott both landed presenting gigs after appearing on Strictly, for example. Was that also Kay's motivation for taking part in I'm A Celebrity?
"To be honest, no, it wasn't, because I'm more than happy presenting Formula E, the rugby, the American football, the golf, because those are my hobbies. And I always said if I was doing entertainment, I don't want to be directing traffic, I want to come back and do a show that I believe in.
"I've believed in everything I've done in the past and some have worked and some haven't, but this is a great show, and I'm really pleased I got offered it, because it's got everything I want to do as a TV host."
Game of Talents begins on ITV at 19:30 BST on Saturday.