Actors advised to set nudity boundaries before filming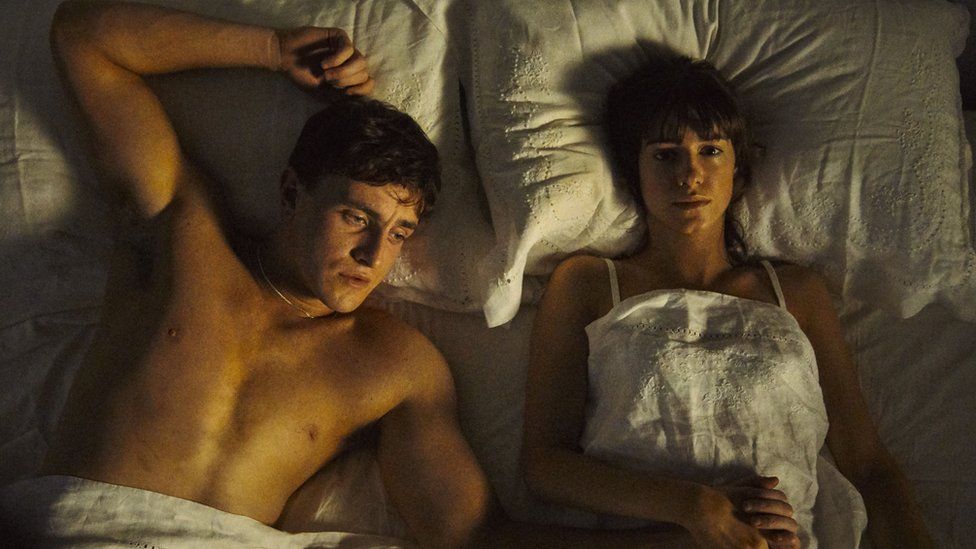 New guidelines published by the Time's Up campaign advise actors to set out their boundaries for scenes involving sex and nudity before they are filmed.
The campaign says a so-called "nudity rider" or "simulated sex waiver" should be in place before filming begins.
Luther actress Ruth Wilson is among those to welcome the initiative.
"Everyone deserves to feel safe at work and these [guidelines] offer a huge step towards that becoming a reality," the His Dark Materials star said.
Riders are conditions or provisos added to something already agreed, like a contract of employment or a job offer.
Bond actress Naomie Harris also backed guidelines she said would "help arm people with the resources and information needed to determine the best path forward".
Time's Up was established in 2018 by members of the entertainment industry including Shonda Rhimes, Natalie Portman and America Ferrera to protest against sexual misconduct in the entertainment industry.
The guidelines say contracts should detail which specific acts performers consent to and what body parts they consent to show or have touched.
If body doubles are used to shoot scenes actors have refused to do themselves, the actors should have the right to approve or veto them.
Written consent should also be sought from the actor before any computer-generated imagery or digitising is used to simulate nude or sex scenes.
Dame Heather Rabbatts, chairwoman of Time's Up UK, said it "can be confusing" for those working in the entertainment industry to "figure out" their rights.
She said the guidelines had been formulated to help people "who find themselves in situations that are at best awkward, or at worst, dangerous."
The Time's Up guidelines also offer advice on how those working in the industry should report incidents of sexual misconduct and harassment.
Bafta, the British Film Institute (BFI) and media union Bectu were among the organisations consulted during their formulation.
"It's okay to say no, to speak up and to leave situations that make you uncomfortable," the Time's Up documents state.
"No role, job or relationship is worth compromising your physical or emotional safety."
Earlier this year Keira Knightley said she would no longer appear in nude scenes for films with a male director.
The actress said she felt "very uncomfortable trying to portray the male gaze" and would "rather not stand in front of a group of men naked".
Other stars to have expressed uneasiness over shooting scenes involving nudity include Game of Thrones actress Emilia Clarke.
She said she had found such scenes difficult at the beginning of her career but was now "a lot more savvy with what I'm comfortable with".
Many productions now employ an intimacy director to ensure actors are comfortable with scenes involving simulated sexual activity.
Ita O'Brien, founder of Intimacy On Set, said she wanted it to be "standard practice" to have an intimacy coordinator present at auditions.
Related Internet Links
The BBC is not responsible for the content of external sites.