Taylor Swift releases a 'perfect replica' of Fearless
By Mark Savage
BBC music reporter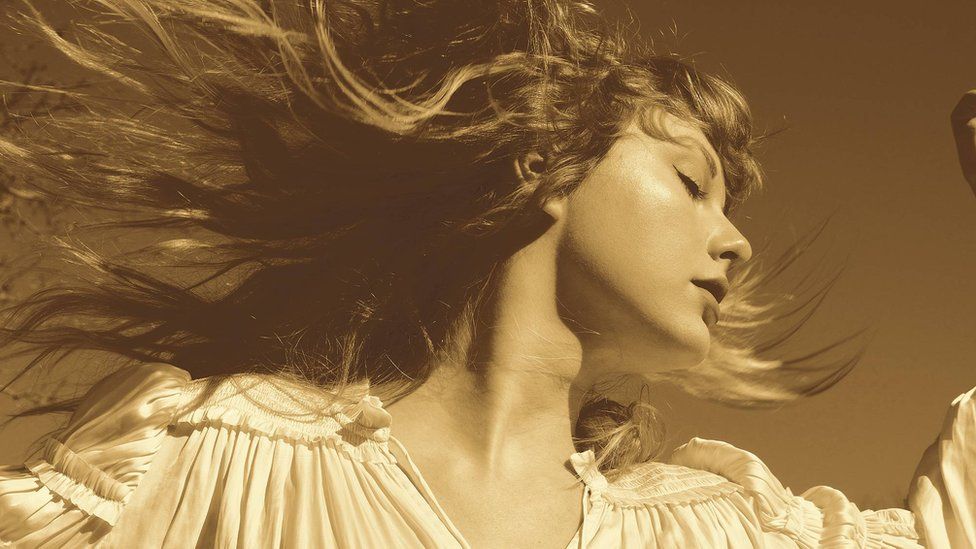 Most pop stars, if pressed, will tell you they don't listen to their old records.
Years later, they can still hear all the imperfections, the missed opportunities, the things they'd have done differently.
So when Taylor Swift announced plans to re-record all of her first six albums, starting with 2008's Fearless, it seemed likely that she'd take the opportunity to rewrite history.
After all, one of the best tracks on Fearless, the lilting Fifteen, is about going back in time to "tell yourself what you know now."
But somehow she's resisted that temptation. Fearless (Taylor's Version) is an almost perfect replica of the original, right down to the giggle Swift lets slip in the middle of Hey Stephen.
The new recordings are cleaner, perhaps. It's easier to pick out little details like Swift dampening the strings of her guitar on White Horse, or the rattle of the hi-hats on Forever And Always.
Most impressively, Swift seems to have regressed her voice to its teenage state. The maturity she discovered on last year's folk-pop masterpieces Folklore and Evermore is gone. In its place is a wide-eyed innocence that the album's giddy recollections of prom dates and first kisses requires.
With everything the star has been through in the last 13 years - from failed relationships to public vilification and a career resurrection - it's an impressive feat. It would be fascinating to know how she pulled it off: Was it simply a technical process of studying the original tapes, or did she delve deep into her psyche to find a former version of herself? Either way, it's hard to overstate the complexity of pulling it off.
One song that does seem to have been tweaked is, appropriately enough, called Change.
Leading into the final chorus, Swift corrects her pronunciation of the word "revolution" and adds additional harmonies on the closing "hallelujahs". It's a subtle tweak, but it gives the song's climax a little more oomph.
Overall, the experience is a bit like hearing Fearless on a brand new pair of headphones. Minor details stand out because your brain is attuned to the novelty of having "a new thing". A week from now, the new versions will seem indistinguishable from the originals.
And that is the point. Swift's decision to re-make her old music isn't an exercise in vanity, it's about taking back control.
The backstory is complicated - but here's a brief overview: Swift's recording career started in 2005, when she signed a 12-year deal with Nashville's Big Machine Recordings. Her first album went seven-times platinum in the US and after switching lanes to pop music on 2012's Red, she became a global superstar in the process.
In 2018, she signed a new deal with Universal Records, and Big Machine sold the rights to Swift's first six albums to Scooter Braun - Kanye West's former manager, whom Swift claimed had "bullied" her for years.
Braun later sold the rights to an investment fund for an estimated $300m, although he reportedly retains a financial interest in the music.
Swift was incensed that he would profit from her records, characterising the sale as an act of aggression that "stripped me of my life's work".
She immediately began blocking requests for her old songs to be used in films and TV shows - thwarting one potential source of revenue - and vowed to re-record her back catalogue entirely.
In doing so, she regains control of her songs - with the hope that the new versions will "replace" the originals on streaming services and download stores.
So far, the plan seems to be working. Dedicated Swifties have flocked to the new version of Fearless, sending it to number one on iTunes within hours of its release.
They've been enticed by the inclusion of 14 bonus tracks, six of which are previously-unreleased songs from the era. (Among them is the casually-scathing Mr Perfectly Fine, supposedly written about her relationship with Joe Jonas, which the star's wife Sophie Turner has described as "not NOT a bop").
But once the excitement settles down, will fans stick with the new recordings, or go back to the beloved originals? Swift will undoubtedly be watching to see what happens next.
What the critics say about Fearless (Taylor's Version)
NME: "Swift never cringes away from her younger self. Instead, she revisits the songs with kindness and affection, celebrating the success of her teenage releases."
Variety: "The 18-year-old Taylor Swift is a great place to visit, but Folklore and Evermore are the places you'll want to return to and live, unless you have an especially strong sentimental attachment to Fearless."
Clash: "Like a restored photograph brightening from black and white into colour, Fearless (Taylor's Version) is the same, but better."
The Guardian: "Swift has resisted any temptation to alter the songs' pop-country arrangements or lyrics, even when the latter could have used a nip and tuck."
LA Times: "As for the lightweight bonus material... none of it argues that it deserved a place on Fearless, though Mr Perfectly Fine comes close."
The Telegraph: "Fearless was always an exceptionally fine album of country-pop songs, detailing the romantic fixations of a wholesome teenage American girl on the verge of adulthood, and guess what? It still is."