'Really moving' to perform first post-lockdown comedy show
By Ian Youngs
Entertainment & arts reporter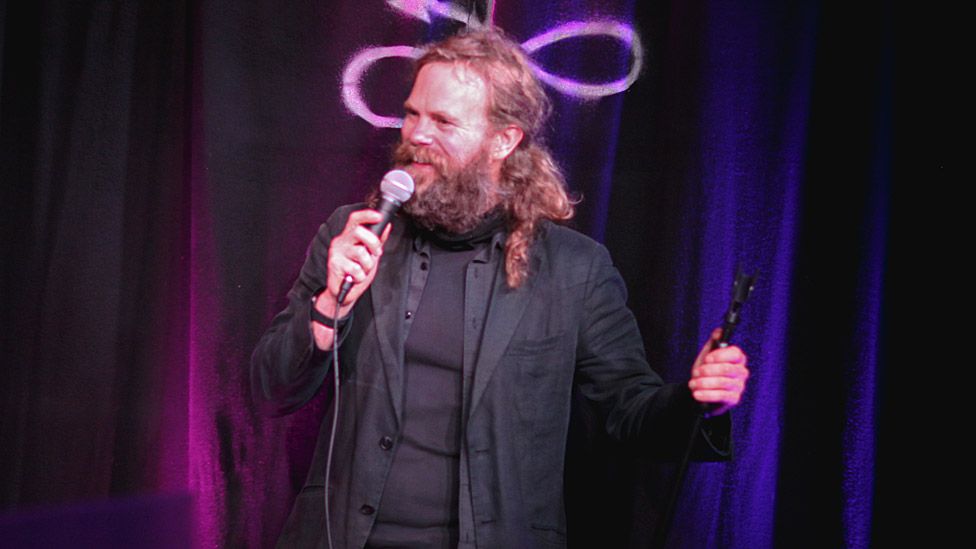 Performing live to an audience again was "really quite moving", according to a comedian who put on a show as soon as lockdown rules were eased at midnight.
Barry Ferns, who co-founded the Angel Comedy club at The Bill Murray pub in Islington, London, said it was "such a relief" to get back on stage.
He was one of six comedians who performed for an audience of 45 people - half the usual capacity.
The show started when the rules changed at one minute past midnight on Monday.
Everybody was "slightly nervous" at first, Ferns told BBC News.
"It felt like a prohibition bar in 1920s America," he said. "Even though it was totally legal, it felt that it was illegal. Should we be laughing with other people in a confined space?"
The pandemic has been "the longest period I haven't performed in 15 years", he said. "So it really was a little bit hairy for a while there.
"How do I do this again? How do I make people laugh professionally again?
"In the audience, there was a bit of nervousness at the beginning, and then everybody relaxed. And then it got to the point at the end of the night when nobody wanted to leave.
"They just wanted to hang out - be together in a space. It was really quite moving. As the night went on and people relaxed, it became more and more moving and poignant and significant."
Indoor entertainment venues are allowed to open their doors again in England, Wales and most of Scotland from Monday as part of the latest official reopening plans. They have been shut for most of the past 14 months.
The idea to put on a show at one minute past midnight was "a joke that we took seriously", Ferns explained.
"It was in a staff meeting and we said, 'Oh yeah, we should just do it straight away. We should do it at one minute past midnight.' And everyone laughed. And then it was just silence where everyone went, 'Actually, technically we could.'
"And then we asked for the late licence from the council and they didn't refuse us, which felt like a legitimisation, and it was like, 'All right, looks like we're doing it.'"
Also on the bill were fellow comedians Helen Bauer, Jason Patterson, Sikisa, Dinesh Nathan and Erik Pohl. The show was also streamed on YouTube.
Indoor venues in England must limit capacity to 50% until step four of the government roadmap, which is currently pencilled in for 21 June. The pub had safety measures including a new ventilation system and Perspex screens.
"People were near more people than they'd been with in one go for potentially a year, and certainly six months," Ferns said.
As the night - or the morning - wore on, the spectators appreciated being at a show again, he said. "Wow, we have been missing this, being an audience, being not myself alone looking at social media, but part of a larger whole."
Angel Comedy Club has received £153,000 from the government's Culture Recovery Fund to help it survive since last March.
'Comedians have been destroyed'
But Ferns said: "It's been an extraordinarily difficult year because what we do became illegal and the most unsafe thing.
"If you're a good comedy club, people are laughing a lot. If people are laughing a lot, they're spreading coronavirus.
"So the last year has been a strange paranoia where we had to acclimatise to the fact that our very livelihoods are dangerous. Laughter is dangerous.
"It's emotionally upsetting, the idea that being relaxed enough that you laugh with other human beings is a physical danger."
With their ability to perform severely curtailed, many comedians have struggled financially.
"Everybody's been living off SEISS [the government's Self-Employment Income Support Scheme] grants or working for Deliveroo," Ferns said.
Paraphrasing Allen Ginsberg's poem Howl, he added: "Some of the best comedians of my generation have been destroyed by coronavirus."