Marilyn Manson's ex-assistant sues over sexual assault and battery claims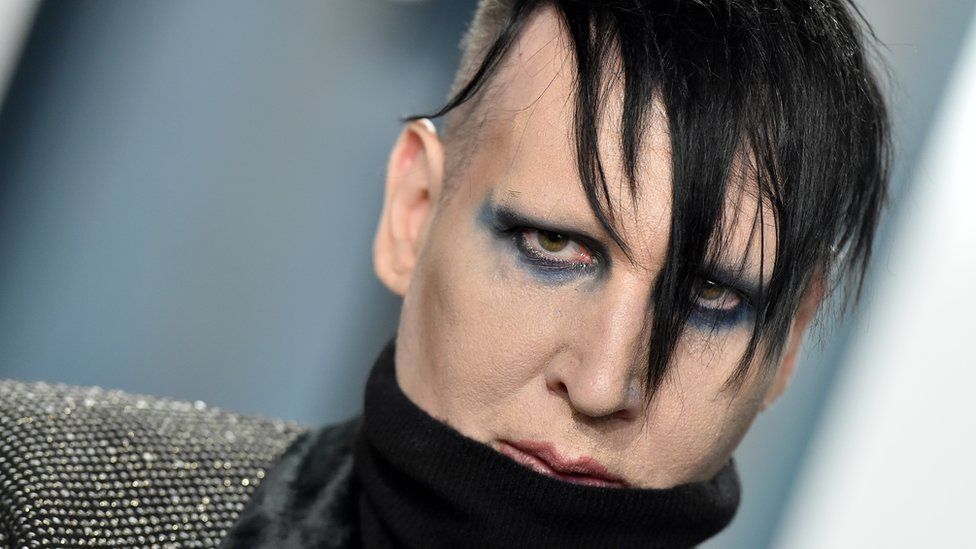 Marilyn Manson's former assistant Ashley Walters is suing the singer, alleging sexual assault, battery and harassment, US court documents show.
Ms Walters' legal team filed a complaint to the Superior Court of Los Angeles County on Tuesday.
It claimed Mr Manson was a terrifying and violent boss who told friends they could grope and kiss Ms Walters, and made her work for 48 hours in a row.
The rock star's team "vehemently denied any accusations of assault".
Ms Walters' lawyers wrote that the singer - real name Brian Warner - "used his position of power, celebrity and connections to exploit and victimise" his former employee, who was an aspiring photographer at the time.
Mr Manson, they claimed, lured Ms Walters "into employment with promises of artistic collaborations and creative opportunities".
They added that "he was looking to create an environment where [Ms Walters] was subjected to personal and professional sexual exploitation, manipulation and psychological abuse".
The court documents said Ms Walters met the star in 2010, when she was 26, after he messaged her MySpace to say he liked her work.
She said she visited his Hollywood home to look at his paintings and discuss a collaboration, and tried to leave at around 2am but was told the car park was locked until 7am.
It is claimed Mr Manson then asked Ms Walters to do photoshoot, at one point requesting that she take off her shirt. When he finished, he is alleged to have sexually assaulted her on a bed.
Mr Manson later asked Ms Walters to be his personal assistant, offering to double her salary while promising art projects and travel, her lawyers said.
Ms Walters found she was expected to work for 48 hours straight, according to the documents, and said she lived in fear of his angry outbursts.
She said Mr Manson expected her to please his friends by bringing them food, flirting with them or letting them touch her.
Speaking to The Cut magazine, Ms Walters said Mr Manson's alleged actions "just made me feel like a piece of meat".
Mr Manson has rejected multiple allegations of abuse against him as "horrible distortions of reality".
Earlier this year, Mr Manson was dropped by his record label following claims made by actress Evan Rachel Wood that the musician "horrifically abused" her during their three-year relationship.
He was also recently sued by Game of Thrones actress Esmé Bianco, who accused him of sexual assault and battery.