Elliot Page: Actor wins praise for sharing swimming shorts image after top surgery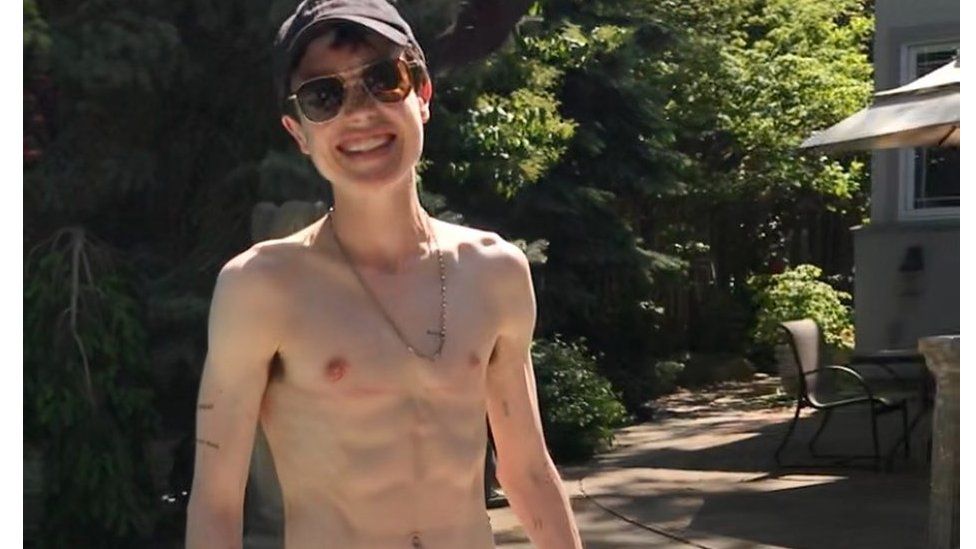 An Instagram post shared by the actor showed him smiling while posing in a pool in swimming shorts alongside the words #transjoy and #transisbeautiful.
Page, 34, previously described his top surgery - where breast tissue is removed - as "life-saving".
The Umbrella Academy star tearfully explained why his chest had brought him the "most joy" in transitioning.
"It's getting out of the shower and the towel's around your waist and you're looking at yourself in the mirror and you're just like, 'There I am'. And I'm not having the moment where I'm panicked," he said during the Apple TV interview.
Page's Instagram post has already received over two million likes and a wave of supportive celebrity comments praising his new appearance.
"Dude I see why you crushed me on that workout!" actor Justin Cornwell commented. "Hot" added singer Miley Cyrus, alongside a heart emoji.
The Vampire Diaries' Nina Dobrev said: "You look amazing… and most of all happy." Julianne Moore, who starred with Page in the film Freeheld, wrote: "Happy summer" accompanied by a flame emoji.
The Good Place star Jameela Jamil also posted in recognition, tweeting that she was pleased to see Page "thriving".
Winfrey, meanwhile, shared her support by reposting the image on the Oprah Daily Instagram account.
"This is what happiness looks like!" she wrote. "Looks like Elliot will be shining brighter than the sun this summer."
Page, a prominent LGBT advocate, also used the pair's April interview to reveal how the surgery had given him a new energy in fighting for trans rights, "because it is such a freeing, freeing experience".
"Not only has it been life-changing for me, I do believe it's been life-saving and it's the case for so many people. And because there is such an attack on trans healthcare right now, when already there's such lack of access," he continued.
Page was referring to laws in Arkansas and further legal fights across the US threatening to ban young transgender people from accessing certain medical treatments.
Kirrin Medcalf, Trans Community Engagement Lead at LGBT charity Stonewall, said the photo emphasised the positive impact that gender affirmation procedures can have upon a person's mental health.
"It's fantastic to see Elliot looking so comfortable and happy in his latest photo. Elliot's has always been a role model to a huge number of people, and it is wonderful that he can share his trans joy with the world.
"Seeing moments of gender euphoria also highlights how important it is for all trans people to be able to access appropriate and timely gender affirming healthcare," he said.
"Looking at Elliot's image, it makes me feel proud to see another trans person - especially a celebrity in the public eye - proudly showing off their top surgery scars, as it increases a wider scope of positivity.
"However, as a person who has had to delay surgery due to the unbearable waiting times on the NHS, it makes me frustrated that people with more money and resources - such as celebrities - do not have to struggle in the same ways as people relying on state healthcare.
"In the UK, it can often up to 10 years, if not longer, to fully medically transition. We should not have to wait this long to feel comfortable in ourselves.
"I have been waiting to medically transition since I was 14. I am 20 now and haven't got anywhere. I am now planning to go to Poland after crowdsourcing funds to complete the surgery privately. I should not have to be at such inconvenience in order to be myself.
"That said, I think the wider impact of Elliot's post is good, as long as we keep having this conversation about privilege and how it plays into securing a medical transition. With each celebration of Elliot's visibility, I hope people will recognise those relying on personal crowdfunds."
Page, who is Canadian-born, made his film breakthrough starring as a pregnant teenager in 2007's Juno - landing an Oscar nomination.
Other major films include Inception and the X-Men series, before most recently starring as Vanya Hargreeves in Netflix superhero show Umbrella Academy.
Page came out as gay in 2014, telling an audience in Las Vegas: "I am tired of hiding and I am tired of lying by omission." After three years of marriage he announced his divorce from choreographer Emma Portner in February.