Carey Mulligan and Zoe Kazan to play Weinstein reporters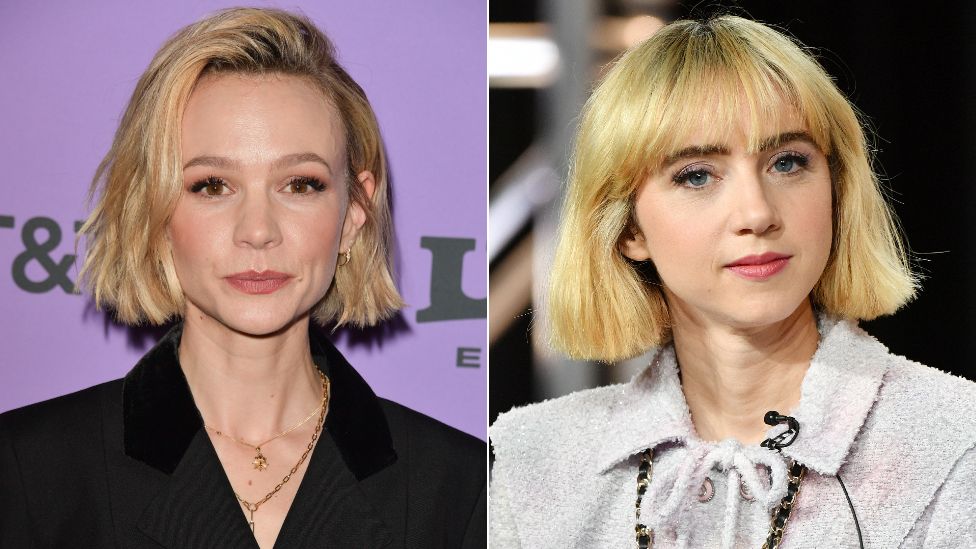 Carey Mulligan and Zoe Kazan are to star in a new film about the journalists who first exposed the Harvey Weinstein sex abuse scandal.
They will play New York Times reporters Megan Twohey and Jodi Kantor, who broke the story about the film mogul in 2017.
The movie She Said will be adapted from their Pulitzer Prize-winning book She Said: Breaking the Sexual Harassment Story That Helped Ignite a Movement.
Weinstein is now serving 23 years for a criminal sex act and third-degree rape.
He was sentenced in 2020 in a New York Court and is now appealing against his conviction. The former movie producer, once one of the most powerful people in Hollywood, is facing more allegations in California.
The adaptation has been compared to Watergate drama All The President's Men and Oscar-winning Spotlight, about journalists investigating allegations of sexual abuse in the Catholic church.
Mulligan was recently nominated for the Academy Award for best actress for her performance in Promising Young Woman. She is currently filming fact-based sci-fi drama Spaceman alongside Adam Sandler.
Kazan, best known for her performance in The Big Sick, was most recently seen in HBO's miniseries The Plot Against America.
Mulligan and Kazan have previously starred together on stage in a Broadway production of The Seagull.
Who are Jodi Kantor and Megan Twohey?
It disclosed multiple alleged sexual harassment and assaults against women by Weinstein, many dating back decades.
The article included details of money paid to cover up the abuse, and first-person accounts by actresses accusing Weinstein of non-consensual sexual encounters.
In the months leading up publication, Kantor and Twohey held confidential discussions with actresses and former Weinstein employees, learning of the long-buried events.
Their scoop sent shock waves through the film industry and led dozens of other women to come forward to speak publicly.
It also led Weinstein to be fired by the The Weinstein Company and to eventually be found guilty and sentenced to 23 years in prison for rape.
And it spurred the #MeToo and #TimesUp movements that are still making an impact, not only in Hollywood but in all areas of work and in society.
But Twohey and Kantor had to endure continuous threats of litigation and intimidation in order to pursue their investigation.
In 2019, their book revealed the story behind one of the most important newspaper investigations in recent years. The Guardian's Helen Lewis praised it as "a hymn to old-fashioned investigative reporting".