Harrison Ford injures shoulder on Indiana Jones 5 film set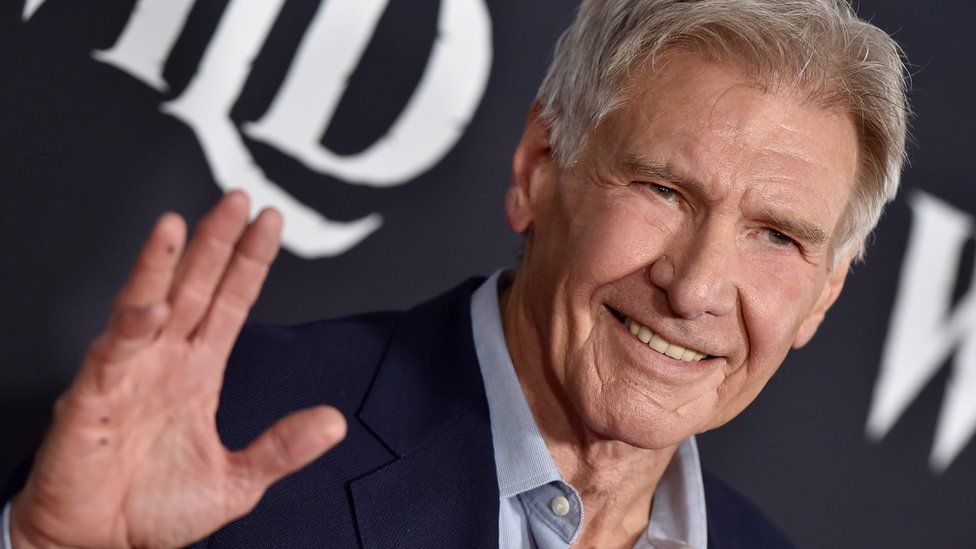 Harrison Ford has suffered a shoulder injury while rehearsing a fight scene for the latest Indiana Jones film.
The Hollywood star has returned to the role of the all-action archaeologist at the age of 78.
The fifth and final movie in the series has been filming in the UK in recent weeks and is due for release in 2022.
Film studio Disney did not disclose the severity of Ford's injury, but said the filming schedule would be adjusted over "the coming weeks".
It is not the actor's first accident on a film set. While filming a Star Wars movie seven years ago, he was crushed by a hydraulic door of the Millennium Falcon, the craft piloted by his character Han Solo.
Ford has also been involved in a number of incidents as a pilot. In 2017, he mistakenly landed his single-engine plane on a US airport taxiway, narrowly missing an airliner carrying more than 100 people.
In 2015, he broke his arm and suffered minor head injuries in a crash-landing in California.
It is 40 years since Ford first picked up the fedora hat and whip as Indiana Jones in 1981's Raiders of the Lost Ark.
The fifth Indiana Jones instalment has long been in the making, due 14 years after 2008's Kingdom of the Crystal Skull. Several screenwriters have joined and left the project, and production was further slowed down by the outbreak of the global Covid pandemic.
However, shooting took place earlier this month at Bamburgh Castle in Northumberland, on the North Yorkshire Moors Railway and in the Scottish Borders.
The film-makers are also believed to be using Pinewood Studios in Buckinghamshire.
It is not known where Ford was rehearsing when he was injured.
A Disney statement said: "In the course of rehearsing for a fight scene, Harrison Ford sustained an injury involving his shoulder.
"Production will continue while the appropriate course of treatment is evaluated, and the filming schedule will be reconfigured as needed in the coming weeks."
The new film is also due to star Phoebe Waller-Bridge and Mads Mikkelsen.