Sex Pistols: John Lydon likens music licensing agreement to 'slave labour'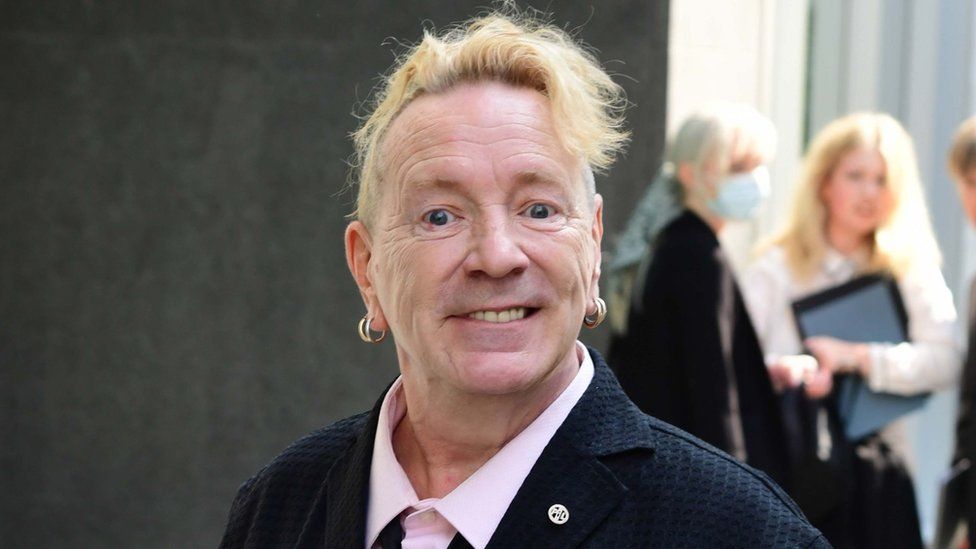 Former Sex Pistols frontman John Lydon has railed against an agreement his ex-bandmates claim allows the band's music to be used in a Danny Boyle TV drama.
Mr Lydon said the band member agreement made in 1998 was "like a total trap or prison", likening it to "slave labour".
Former drummer Paul Cook and guitarist Steve Jones are suing Lydon, aka Johnny Rotten, to let their songs be used.
They argue the BMA means decisions regarding licensing requests can be determined on a "majority rules basis".
Pistol, which began filming in March, is a six-part series based on a 2016 memoir by Mr Jones called Lonely Boy: Tales from a Sex Pistol.
Mr Lydon's lawyer has argued the drama, which is being made by Disney for its FX channel, portrays the singer in "a hostile and unflattering light".
Last week Mr Jones denied this was the case, telling the High Court the legal action was "not about slagging anyone off in this TV series".
The estate of Sid Vicious has approved Sex Pistols music being used in Pistol, as has bassist Glen Matlock, whom Vicious replaced in the band in 1977.
Giving evidence in London on Wednesday, Mr Lydon said: "I care very much about this band and its reputation and its quality control and I will always have a say if I think anything is being done to harm or damage [it].
"I don't want anything I'm involved in to victimise any one of us. It would destroy the whole point and purpose of the band and so I don't understand the BMA... I don't remember signing it."
Mr Lydon also told the court: "You can't let your history be rewritten for us by a complete stranger with no interest in it. This is my life here. This is my history. I didn't write these songs [for them] to be given off to nonsense."
He added the Sex Pistols had, until now, managed to agree how to conduct their business with "unanimity" since their split in 1978.
Mr Lydon said the BMA had not been applied since its creation in 1998 and that "all decisions" about the use of Sex Pistols music and imagery had been based on "unanimous" agreement.
"I don't understand how Steve and Paul think they have the right to insist that I do something that I so morally heart-and-soul disagree with without any involvement," he continued.
"My fear is that they're demanding that I agree to sign over the rights to a drama documentary that I am not allowed any access to.
"I don't think the BMA applies," the 65-year-old went on to tell Mr Jones and Mr Cook's QC. "I didn't ask for this court case, it was brought to me, so I will naturally defend myself.
"There is no point in me being here or ever was if it is the case that I can just be completely outvoted by the vested interests of all in one management camp."
Edmund Cullen QC, representing Mr Jones and Mr Cook, suggested to Mr Lydon that his reference to "slave labour" was a sign of "how deeply you regret having signed the BMA".
The barrister also said: "Given that you regard it as slave labour, you will do whatever it takes to try and get out of it."
Earlier this week, Mr Cook told the court that he and the other members of the band had "always wanted to work harmoniously", but felt they had to take Mr Lydon to court so the group's songs could be used in the TV show.
In his witness statement, Mr Cook said Mr Lydon "can be a difficult character and always likes to feel that he has control".
He added that he had never used the "majority rules agreement" before because "I thought that our relationship with John would get worse when we used it".
"Maybe Steve and I have been too nice to John over the years in trying to maintain good relations and that we should have been tougher," he said.
"I am unhappy that he would behave like this over an important personal project for Steve, particularly as we have always backed his personal projects."
In a Sunday Times interview in April, Lydon said the script for the TV series had been written and an actor selected to play him without his consent and that he had been put "in a corner like a rat".
He claimed Boyle had made no attempt to contact him about the project - a version of events disputed by the Oscar-winning director of Slumdog Millionaire and Trainspotting.
The Sex Pistols blazed a trail for UK punk in the 1970s with a short but explosive career that included such classic tracks as Anarchy in the UK, God Save the Queen and Pretty Vacant.
Actor Anson Boon will play Johnny Rotten in Boyle's six-part TV series, the cast of which includes Louis Partridge, Maisie Williams, Iris Law and Talulah Riley.
Lydon was previously portrayed on screen by Andrew Schofield in the 1986 film Sid and Nancy, which did not feature any of the Sex Pistols' songs.
The singer would go to call Alex Cox's film "nonsense" and "the lowest form of life" in his autobiography, accusing it of glamorising heroin addiction.