The Offspring drummer Pete Parada says he was dropped over vaccine refusal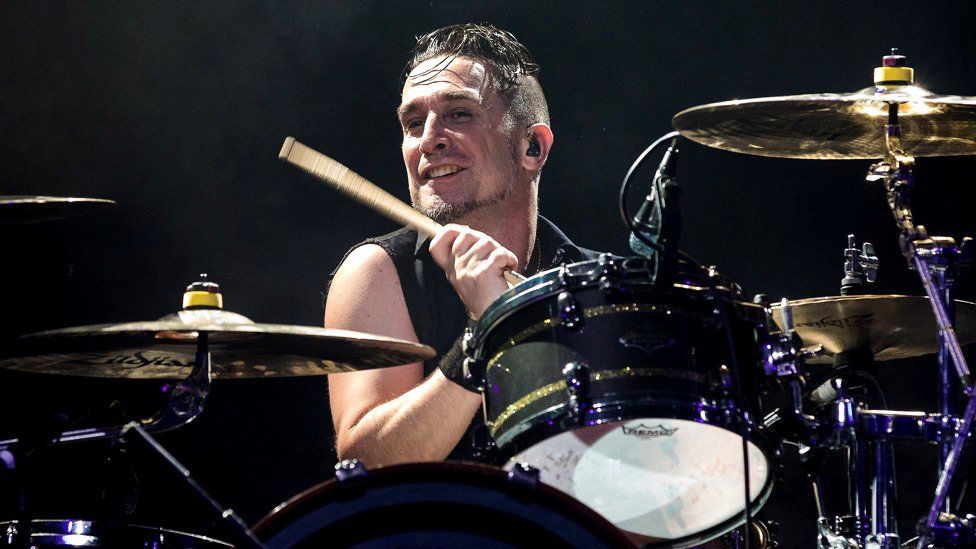 The drummer with US rock band The Offspring says he has been dropped from their forthcoming tour after refusing the Covid vaccine for medical reasons.
Pete Parada said a doctor had advised him not to have the jab because he has a rare autoimmune disorder.
He wrote on Instagram that he's "unable to comply with what is increasingly becoming an industry mandate".
As a result, "it has recently been decided that I am unsafe to be around, in the studio and on tour", he said.
The band, who are due to start a US tour on 8 August, have not responded to his comments.
Parada joined the group in 2007 and it is not clear whether he has now left permanently.
The musician said he first experienced Guillain-Barré syndrome, where a person's immune system damages their nerves, in childhood and the effects had got "progressively worse over my lifetime".
For him, the risks of having a Covid vaccine "far outweigh the benefits", he said.
The drummer, who is in his late 40s, said he caught Covid over a year ago and only had mild symptoms, "so I am confident I'd be able to handle it again", he wrote.
"But I'm not so certain I'd survive another post-vaccination round of Guillain-Barré syndrome."
The condition has been listed as a very rare side-effect of the Janssen Covid-19 vaccine, while there has been a warning about a reported connection to the AstraZeneca vaccine, although that has not been confirmed.
The Offspring's hits including Self Esteem and Pretty Fly (For A White Guy), and their latest album reached number three in the UK this April.
Parada added that he had "no negative feelings towards my band". He wrote: "They're doing what they believe is best for them, while I am doing the same."
But people should be free to make a choice about the vaccine "unburdened by coercion", he said.
On Tuesday, New York became the first major US city to require proof of vaccination for people attending concerts and other indoor venues.
Also on Tuesday, the Met Gala and Sundance Film Festival - two major entertainment industry events - both said they would require attendees to have had the Covid vaccine.
What is Guillain-Barré syndrome?
It is a rare condition in which the body's immune system attacks the nerves, causing weakness and even paralysis and respiratory failure in severe cases
It affects about one in 100,000 people and most people eventually make a full recovery
It mainly affects the feet, hands and limbs
Symptoms can include numbness, pins and needles, muscle weakness, pain and problems with balance and co-ordination
The World Health Organisation has published more information about the links between Covid vaccines and Guillain-Barré syndrome
Rock stars split over Covid vaccine
The Covid vaccine has proved particularly divisive in the world of rock music.
Stone Roses singer Ian Brown has been a vocal critic, promoting a number of baseless conspiracy theories but explaining that he has "a family member whose health was destroyed by [previous] vaccinations".
But very few contemporary bands have spoken out against the vaccine, and other rock legends have encouraged their fans to have it.
On Monday, Sir Paul McCartney tweeted an old picture of himself receiving a dose alongside the words "BE COOL. GET VAX'D".
The BBC is not responsible for the content of external sites.
Skip twitter post by Paul McCartney
Allow Twitter content?
This article contains content provided by Twitter. We ask for your permission before anything is loaded, as they may be using cookies and other technologies. You may want to read Twitter's cookie policy, external and privacy policy, external before accepting. To view this content choose 'accept and continue'.
The BBC is not responsible for the content of external sites.
End of twitter post by Paul McCartney
The Foo Fighters played to a fully-vaccinated crowd at New York's Madison Square Garden in June, while Kiss star Gene Simmons has said their concertgoers must also have had the jab, telling them: "I don't care if you think the Earth is flat."