Nubya Garcia: The British sax star who is jazzing up the BBC Proms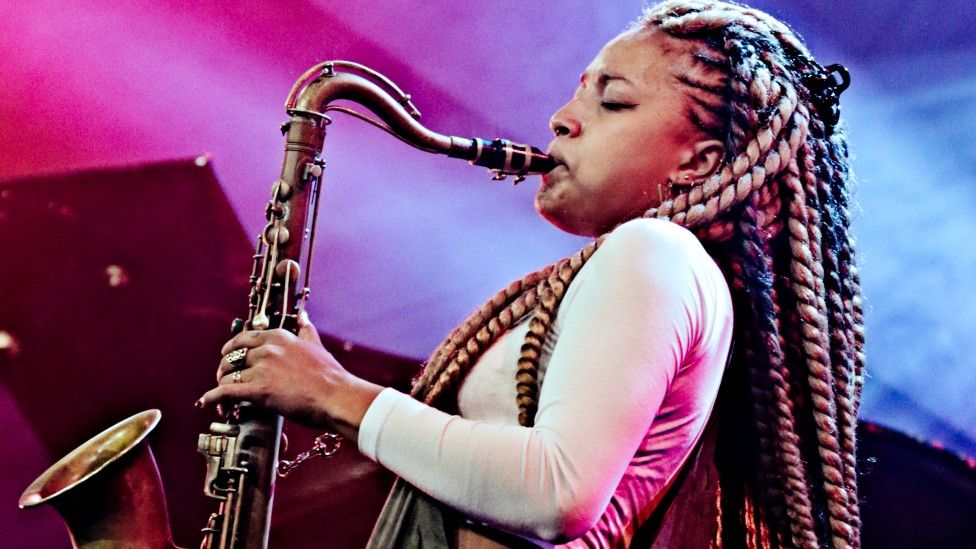 For UK jazz saxophonist Nubya Garcia, the summer of 2021 will forever be one to remember.
Last month, the Camden-born composer's debut album Source, which celebrates rich British-Caribbean rhythms, made the Mercury Prize shortlist.
And on Wednesday, she will be given the keys to the Royal Albert Hall to perform tracks from the LP - which is sprinkled in reggae, dub, calypso, soca and cumbia - at her own solo concert for the BBC Proms.
Most importantly, though, Garcia says, this was the season when live music in general returned to feed our souls, after almost 18 months of going without.
"Not having the ability to go out and see any type of music has really showed people what they get out of it - which is the connection, the freedom, the expression, the natural vibrations that are getting you out of your head," the 29-year-old bandleader tells the BBC.
"Specifically, to bring it back to jazz, the music is rooted in freedom - freedom of life, freedom of expression. The freedom of it being an artform and excelling at something for black people, especially in a genre that's born of black culture."
Black and ethnic minority musicians have been often underrepresented by the Proms, it has been noted in recent times. But now Garcia, Moses Sumney and British-Iranian composer Shiva Feshareki all appear on its line-up in the same week as Mozart's Requiem and Sir Simon Rattle conducting the London Symphony Orchestra.
Garcia, whose family's roots are in Guyana and Trinidad, speaks to us about her musical upbringing, her critically-acclaimed album and how she's feeling about the big night.
Hi Nubya. Was there always lots of music around you growing up?
I definitely grew up with a lot of music and musical energy around, and it was a very natural process to begin my musical journey quite early on, at four or five.
What was the most important stage of your development?
Around the age of 12, I started playing in a jazz group at this music school on Saturdays [called] Camden Music. That was led by Nikki Yeoh and she's a phenomenal musician. That group really invited me out of my comfort zone and everyone was very supportive and it was really fun.
Then I would say definitely Tomorrow's Warriors. I was around 17. That was a really amazing youth mentorship education programme for young people and adults within the idiom of jazz. It was a really amazingly diverse and supportive environment as well.
All of those together [with more formal lessons at the London Schools Symphony Orchestra and junior Royal Academy] gave me a really strong foundation, and then I went to university to study jazz, and the rest is history!
The Times described your LP as "the perfect encapsulation of British jazz in 2020"...
That's really beautiful. That's all I'm ever hoping to do through my music - to be honest and encapsulate what my life is, as a black British experience, as a woman.
It's always, for me, about the music and I create as who I am and I can't be anyone else, which is something that I have long since stopped trying to be.
Your Caribbean roots are integral to the record, aren't they?
Yeah, absolutely, and I'm really happy that it happened like that and the way I leant into other styles. I've been brought up within the jazz idiom in terms of my education, so it was really special for me to incorporate the sounds that I've grown up with, like dub and calypso.
Cumbia is a new experience for me. I went to Colombia for the first time a couple of years ago and I was just completely drawn into that culture.
The whole record is a real mix of everything and I really love that, and it wasn't on purpose. When you sit down and write, what comes out is what you hear in your head: what you've been listening to, what you've experienced, the other shows that you've been to, and the way that you want to speak.
Female solidarity is another theme. On Stand With Each Other you collaborate with Ms Maurice, Cassie Kinoshi and Richie Seivwright.
I'll be honest and say that wasn't designed, it's just how I am. I have grown up surrounded and empowered by so many wonderful women, within music and within life in general, that it's just a normal experience for me to want to create music with all people, and that definitely includes women.
It was a really honest and natural process, and that developed into songs and tunes and the compositions that are displaying more female empowerment, but it wasn't on purpose. It was a really wonderful happy natural accident.
How does it feel to be given your own Prom?
It feels quite mad. I'm so excited and also in disbelief that we're going to be on that huge stage.
I've been there so many times. I've seen so many different concerts. I played there this year for the Women of the World Festival, but there were no people in there [due to lockdown restrictions].
So it's gonna feel incredibly familiar to be in the building but also crazy that everyone's coming to see me and my band. That's gonna be awesome. I must keep my [stuff] together!
I'm really excited and really proud of us for getting to this point where The Proms want to ask us to do a gig, and people want to come and hear my music in such an incredibly influential and important building.
No pressure, but it will be on the telly too...
Yes it will! I'm really excited. I think I've reached a really wonderful place - maybe I'll feel completely different on the day - where it's like, whatever happens happens.
Did Covid deny you your full Glastonbury debut last year?
Yeah. I've played there a bunch of times with people, but that was my gig for me. So that was a shame.
But we got to do something really special in place of it. We got to go down to the site and do the televised live mini-show for three minutes.
I really wish we could have done something different, as in the real thing. But this was a happy second, and also crazy because that was, I think, the first and probably the only time I'd played on live TV - in front of the Pyramid Stage.
Hopefully in the future they'll ask me back and we'll get to do a proper gig to lots of people.
You're on the Mercury Prize list alongside Floating Points, Pharoah Sanders and the LSO's Promise, which means this year no-one can say there is a 'token jazz album'. It shows how exciting the UK jazz scene is right now.
I think that's always going to be something that people say, and I am just happy to be involved in such an amazing space of creativity and to be alongside phenomenal albums of the year and artists.
Everything is going on in this musical environment and it's incredible to have that after such a really difficult 18 months.
It's testament to how you can't stop creativity. Even in times of insane difficulty and challenge there are some things that carry you through, and one of those things is authentic music.
Nubya Garcia will perform at The Proms on Wednesday 18 August. It will be televised on BBC Four on Friday 20 August at 19:00 BST.