Ryan Tedder: Classic songs are strangling new music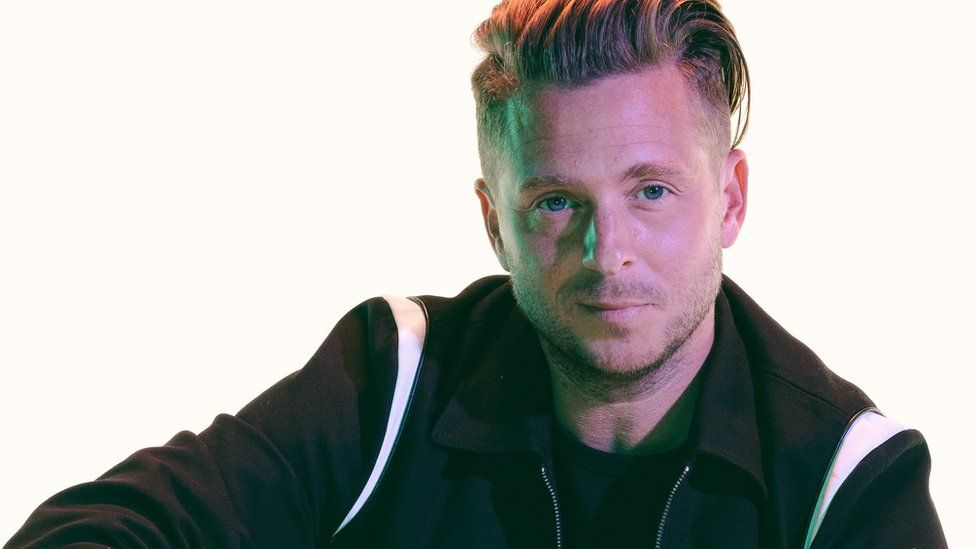 Ryan Tedder is the man every pop star wants in their contact book.
With writing credits for Adele, Ed Sheeran, Paul McCartney, Beyoncé, Taylor Swift and Lil Nas X - not to mention his own band OneRepublic - he's one of the most consistent hitmakers of the 21st Century.
A walking musical almanac, he is also a perceptive analyst of pop trends. And lately, he's become concerned at how streaming is affecting new artists.
"The frustrating thing about music is that now there's too much of it," he says. "There's 62,000 songs a day uploaded to Spotify, so it's a lot harder to get heard."
Bands aren't just competing with those uploads, he points out. They're also up against every song in the streaming services' vast catalogues.
"A large portion of the people that are streaming, they've never owned a CD, they may not listen to the radio, and when they hear David Bowie's Life On Mars, they're hearing it for the first time," he says.
"So the source of discovery is the last 70 years of music. It's all brand new, right now. So you're competing with every song that has ever come out."
The statistics back him up. In the UK, there are only four new albums among top 20 best-sellers for the first half of 2021. The majority of the chart is occupied by long-toothed classics by Queen, Fleetwood Mac, Elton John, ABBA and Oasis.
And it's a global phenomenon. Entertainment analysts MRC Data say that catalogue albums (defined as anything older than 18 months) now account for 66.4% of all streams worldwide.
The trend even affects Tedder's own band. Earlier this year, OneRepublic discovered their new single, Run, was being outperformed by Counting Stars - a foot-stomping, chart-topping anthem they originally released in 2013.
"I was like, 'What the hell is going on?'" Tedder recalls. "And my manager was like, 'Oh, some kid took Counting Stars, and he sped it up and put it on Tik Tok, and it turned into a thing.
"It's a nightmare, because we live in a time when track seven off an album that you released six years ago has a greater chance of becoming a hit than the current song you're promoting. It defies gravity."
He cites the case of The Weeknd's smash hit Blinding Lights. An intoxicating, 80s-inspired pop smash, it was the biggest-selling song of 2020, spending a record-breaking 89 weeks (and counting) in the US singles chart.
But when it was first released in 2019, Blinding Lights looked like it would bomb. It entered the Billboard Hot 100 at 11, but swiftly fell to 52, and drifted aimlessly around the lower half of the countdown for two months.
"It wasn't blowing up by itself, it wasn't an overnight hit," Tedder says. "Then Blinding Lights ends up in a car commercial in Germany, and the song exploded in Germany. Then it jumped to Belgium and Holland and France and then the UK and Australia.
"But the whole story of that song, one of the biggest songs of all time, started from a car commercial. And so the moral of the story is, you have no control. No-one has an [expletive] clue which songs are going to catch fire."
Over the years, though, Tedder has learned to play the long game. For some reason, his songs have a habit of being "slow and sneaky" (his words). They might not create an immediate splash in the top 10, but they tend to stick around for months.
So, over the years, OneRepublic have been awarded 22 platinum discs in the US alone for singles like Apologise, Stop and Stare and Rescue Me.
Even Run, the song that was struggling to compete against Counting Stars, recently racked up its one billionth play.
"Anything that does a billion streams," Tedder notes with a grin, "I'm happy with."
But there was a time, just five years ago, when the singer-songwriter was ready to ditch music forever.
A decade of constant touring had left him on "the verge of a nervous breakdown" - losing sleep, taking medication, suffering panic attacks and dealing with anxiety "on a crippling level".
"I desperately needed time off," he says. "I was physically gone from home 70% of the time for 10 years. My son, who's now 11, I was not there for the first five years of his life. I barely saw him."
His burnout couldn't have come at a worse time, professionally-speaking. OneRepublic had just spent 18 months working on a new album, Oh My My, and were about to set off on a promotional tour when Tedder decided to wipe his calendar clean.
"I pulled the plug on that entire album out of exhaustion, and it's still a sore subject," he says. "Musically it was our best album - the most fun, adventurous and inspiring. But it's the album that destroyed me and made me almost want to quit the band.
"I wouldn't even let anyone speak about the album for two years. I would not discuss it, I would not say a word about it. The most depressing thing was I just went, 'Wait a minute, I just took 18 months out of my life for nothing.'"
For almost two years, the prolific songwriter barely picked up a guitar. Instead, he poured his energy into other ventures - developing TV shows, buying real estate, and even launching a brand of Hemp-infused sparkling water.
"I had to focus on other things and legitimately prove to myself that I was good for something other than just writing songs," he says, "because I was so sick of music that I thought, 'If I'm not good at anything else I'm screwed'."
It took a friend to get him back in the songwriting saddle. In September 2018, the Grammy-winning producer Andrew Watt (Post Malone, Dua Lipa, Cardi B) called Tedder up and asked: "What are you doing with your life?"
As the musician started to reel off his TV credits and carbonated beverage plans, Watt cut him off.
"He was like, 'No no no no no. Get in your car and drive to my studio.'"
Two days later, they'd written a hit song for 5 Second Of Summer (Easier), a new OneRepublic track (Forgot About You) and a single for Sam Smith (Kids Again).
"Then we started working with Miley Cyrus and we kind of became a writing squad for a bunch of different artists," says Tedder. "And I was so happy with those two days of sessions. Honestly, those two days got me back into songwriting."
Even during the heights of the Covid-19 pandemic, Tedder managed to keep working, employing a nurse to carry out "rapid testing, five days a week" at his studio, with Ellie Goulding and Niall Horan among the stars getting cotton swabs shoved up their nostrils.
When pop stars weren't available, he went back to his first job - writing incidental music for films and TV shows.
He even wrote a song for one of the year's biggest blockbusters, which he's not allowed to name (although he does, causing instant panic among the PR team listening to our Zoom call).
"Let's just say it is the single greatest sequel I have seen in my entire life, other than Godfather 2," he teases. "And the scene that I wrote to is a very iconic scene."
In the meantime, he's got a new - albeit Covid-delayed - OneRepublic album on the way. Titled Human, it's an immensely catchy, emotionally raw interrogation of the last five years of Tedder's life.
The first song written for the record, Savior, came to him "in a hotel room in Pittsburgh at my lowest low" in 2016 - and finds the singer confessing how he "went so dark you'd never know".
Take Care Of You, meanwhile, arrived in the middle of the pandemic as a plea for unity.
"It's basically me talking about being in a relationship," says the singer, who's been married to his wife Genvieve for 17 years.
"Sometimes it sucks, and sometimes it's the highest of highs - but if we can agree on one thing, it's that I'll take care of you, and you take care of me too.
"So it's not necessarily about romantic love. It could be friendship, it could be family. And you know me, I'm a sucker for a big, universal sing-along chorus, so that's a song anyone could sing about anyone they care about."
And if the new album doesn't make a dent on streaming services? Well, the star says he stockpiled "three albums" worth of songs during the pandemic.
"We've had such a long amount of time off that we're ready to turn on the fire hose, and then not turn it off for a very long time," he says.
That approach, he thinks, is the solution to streaming's overcrowded storefront.
"The only shot you get, is to take as many shots as possible. Statistically speaking, in NBA history, the people that missed the most shots are Michael Jordan, LeBron James and Kobe Bryant. But guess what? They also scored the most.
"So I think the cardinal mistake is to overthink music - to be way too precious, and to take way too long.
"You have to keep moving, stay inspired and leave the rest up to the world. Because, Lord knows, I'm not controlling anything".
OneRepublic's new album, Human, is out now.