Lil Nas X: Is the rapper the defining star of his generation?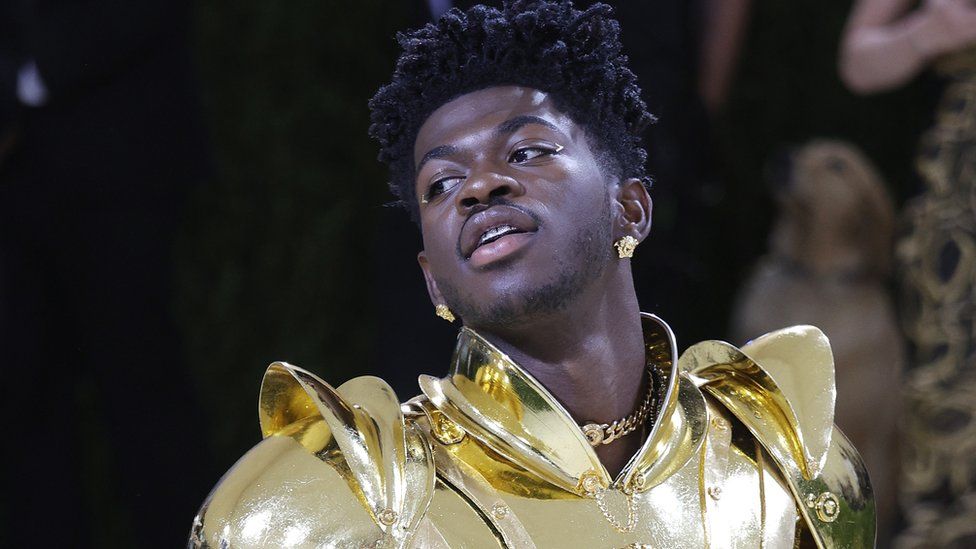 He's only been making music for three years, but Lil Nas X has upended hip-hop with his LGBT-positive lyrics while also pioneering new ways of promoting his music online.
Following the release of his long-awaited debut album Montero, here's how he became one of his generation's most compelling pop stars.
In 2019, Lil Nas X took two of music's most hyper-masculine genres, rap and country, mashed them together, created a global hit single - then came out on the last day of Pride month.
Subversive and brilliant as it was, the decision to reveal his sexuality was made on the spur of the moment.
It all happened on the main stage at the Glastonbury Festival, where he was making a surprise appearance during Miley Cyrus's set.
"People were waving their pride flags, and it was just so much excitement," he later recalled. "I was like, oh my God, this is it."
The musician, real name Montero Lamar Hill, wasn't sure how his fans would react. Rap music in particular has few gay role models - with artists like the Beastie Boys, NWA, 50 Cent and Eminem all having used homophobic slurs in their lyrics.
As recently as 2018, Migos rapper Offset was comfortable releasing a song that bragged, "I cannot vibe with queers". This July, DaBaby - who has collaborated with Dua Lipa and Megan Thee Stallion - caused outrage with a series of ignorant comments about gay men and Aids.
Lil Nas X was painfully aware how young, gay black men were viewed in the rap community.
"I was considering taking it to the grave," he told the BBC, shortly after coming out in 2019.
"But I was like, I don' t want to live my entire life... not doing what I want to do. And I feel like I'm opening doors for more people. That they feel more comfortable [being out]."
To his surprise, most fans didn't care. Old Town Road stayed firmly fixed to the top of the charts for weeks after his statement - eventually becoming the longest-running number one in US history.
But the song itself, with lyrics about "bull riding and boobies", reflected Nas's earlier reluctance to acknowledge his sexuality.
Born in Atlanta and raised in the church, he believed his desires were sinful. "I even thought, if I have these feelings, it's just a test. A temporary test. It's going to go away," he told GQ magazine.
He began to feel differently when, as a teenager, he immersed himself in online culture and found his religious ideas challenged.
Even so, he didn't come out to his family until 2019: first to his sister, then his father - a gospel singer - who asked if the devil was tempting him. He reassured him that wasn't the case, and his dad is now one of his biggest supporters.
On Twitter, Nas spread his news with typical insouciance. "Thought I made it obvious," he wrote, pointing out a rainbow pattern on the cover of his EP. Negative replies were swiftly despatched. "Next [person] to say something offensive [is] getting kissed," he declared.
"I definitely make sure I am picking my fights carefully," the star recently told Apple Music's Zane Lowe. "I try to pick out the ones that I'm like, 'OK, here's something to actually talk about.'
"Because if somebody's just like 'trashy gay' there's nothing there. But if somebody is like, 'You're pushing this and this is destroying black men as a whole and emasculation,' actually, this is somebody who actually believes something versus just an insult.
"So it's like, let me talk to this person, because you never know whose mind is flickering. Because I've had a lot of views that I've changed within the last three years, you know?"
Nas's skill at directing online conversations is hard-baked into his success.
He spent his teenage years running a fan account for rap star Nicki Minaj. In fact, he was a "barb" - a die-hard stan who would, almost literally, start a war to defend her. He made thousands of posts that elevated her work and denigrated others. He was even suspended from Twitter for "tweet-decking" - creating multiple fake accounts in order to help a meme go viral.
Crucially, the experience taught him how to use the internet to his own advantage.
In fact, that's exactly how he came to make Old Town Road - after spotting an emerging trend for cowboy memes that had their roots in black culture.
Realising there might be mileage in a song that capitalised on the trend, he bought a beat off YouTube, wrote some lyrics about horses and tractors and recorded it in a studio for $50.
But rather than promote it in the usual way, Nas found a thread about earworms on Reddit and posted a comment asking: "What's this song called I'm going to take my horse to the old town road?"
People quickly fell for the song's quirky blend of banjos and trap beats, and it jumped across to TikTok, where thousands of people filmed themselves lip-syncing in cowboy boots and ten-gallon hats.
The song gained even more notoriety when Billboard banned it from their country charts, saying it failed to "embrace enough elements of today's country music", without specifying what those elements were.
The decision attracted criticism for the conservatism of the country establishment, as well as accusations of racism - but it also turned more people on to the song's irresistible charms.
And as the song caught fire, Nas didn't rest - extending its life with countless remixes featuring the likes of Billy Ray Cyrus, BTS and Diplo, while constantly churning out Twitter memes and alternate videos.
"His music isn't meant to be consumed as just music or watched just as a video, but it's also meant to be remixed, transmitted, shared, parodied and commented on. He understands that in a digital world, music isn't static, but meant to facilitate an ongoing conversation."
In other words, his understanding of pop culture is so ingrained, he can play it like an instrument.
The campaign for his recent single Montero (Call Me By Your Name) is a textbook example.
Nine months in the making, the song dropped in March with a high-concept video that saw Nas descend to hell on a stripper pole and lapdance for the devil - a metaphor for the struggle to accept his sexuality, which ends with him killing Satan and claiming his horns.
Simultaneously, the 22-year-old released a limited edition range of sneakers, dubbed Satan Shoes, which contained a drop of human blood in the sole.
Predictably, and deliberately, the conservative right were outraged - but Nas was ready for them...
When the governor of South Dakota, Kristi Noem, criticised the Satan sneakers, Lil Nas X replied: "Ur a whole governor and u on here tweeting about some damn shoes. do ur job!"
And shortly after Fox News dedicated a segment to the rapper's "outrageous" video, claiming it was an insult to Christianity, he reposted the clip in celebration.
"I thought y'all didn't like political correctness. what happened?" he added.
But the song represented more than the star's ability to generate media coverage. Written about a boy he fell in love with during quarantine, its sensual lyrics are about self-acceptance and loving an aspect of yourself that the world had taught you was wrong.
The star made a deliberate decision to foreground his sexuality after watching what happened to other LGBT musicians.
"When people come out as gay or whatnot, it becomes like, 'OK, let's sanitise the hell out of this. Let's make sure it's appropriate and super safe,'" he told Zane Lowe.
Determined not let that happen, Nas gleefully elaborated on his sexual preferences in Montero. Then, while performing the song at the aggressively heterosexual BET Awards, he leaned over and kissed one of his male dancers.
The stance won him a legion of high-profile fans, from Miley Cyrus and Lorde to pop's beneficent grandfather, Sir Elton John.
"What makes Lil Nas X so extraordinary is how brave he is at being so outwardly gay within the urban music world," Sir Elton told the New York Times. "That's where he's truly groundbreaking."
"I have never seen anything like this in my entire life," agreed pop star Lizzo in an interview with SiriusXM. "It is incredible for a pop star to be openly gay, and to perform in the same time where everything is hypersexualised, to have permission to be hypersexualised himself.
"I think it's the most empowering, it's the coolest thing ever. I love pissing people off, and he's pissing people off."
He is ruffling feathers - but sometimes it gets ugly.
Nas told Variety magazine he was chased down by someone in a car after the Montero video was released, prompting him to hire security guards for the first time. After his BET performance, he spent days addressing hateful critics online.
"We are 4 months in and people are still acting surprised that I am being gay and sexual in performances of a song about gay and sexual [things]," he tweeted. "Like the song is literally about gay sex what y'all want me to do play the piano while baking a cake?"
The star was also criticised for the lack of black male collaborators on his debut album, Montero (it does, however, feature Megan Thee Stallion, Doja Cat, Jack Harlow and Sir Elton).
Nas addressed the comments online, pointing out that many male rappers "don't want to work with me" - an apparent reference to hip-hop's latent homophobia.
Kid Cudi immediately volunteered to record a track with the star, saying: "There's a homophobic cloud over hip-hop, and he's going to break that [stuff] down.
"We have to stand with him. I'm going to do whatever I have to do to let him know - you have my support. When we do our song together, however trippy the video is, let's get sexy with it."
Montero is the the third major rap release of the month after Drake and Kanye West's latest efforts, and if Lil Nas X never quite steals their thunder, the thunder is definitely within him.
Over 15 tracks, he recounts his real life rags-to-riches tale - from the summer he slept on his sister's floor to buying a "new house [with] a couple of acres" - while navigating his sexuality, his insecurities, and the critics who wrote him off as a one-hit wonder.
He cribs from Drake's emotional honesty and Kanye's talent for provocation. But he adds a self-aware humour and a magpie approach to genre, from the flamenco flourishes of Call Me By Your Name and the sun-kissed chorus of What I Want to the understated folk-rock of the closing track Am I Dreaming.
Imperfect but irrepressible, his debut mostly delivers on those promises. And if he continues to nurture his better instincts, the 22-year-old stands to become the defining pop star of his generation.