Writer's block, betrayal and tremolo guitars: The making of Billie Eilish's Bond theme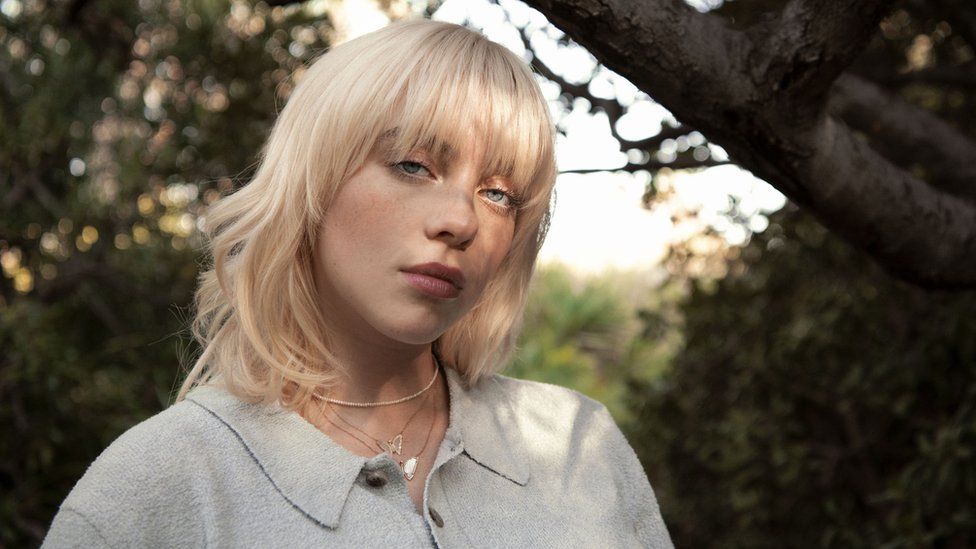 "If Daniel Craig doesn't like it, you don't get the job."
It's February 2020, and Finneas O'Connell is recounting how he and his sister, Billie Eilish, ended up writing the latest James Bond theme song - No Time To Die.
"He has a big say in it," Eilish confirms. "I learned that. He's really involved."
Ensconced in the luxurious Four Seasons Hotel, overlooking London's Tower Bridge, the duo are bright and chatty - if a little tired after back-to-back performances at the Oscars and the Grammys.
The following night, they'll debut their Bond song live at the Brit Awards with a 20-piece orchestra. A few weeks later, they're due back in London for the film's world premiere.
"It's going to be crazy," says Eilish, as she anticipates seeing the title sequence for the first time. "Oh my God, I'm gonna pee myself."
Then fate intervenes. And by fate, I mean a massive raging pandemic. It puts an end to Eilish's first world tour, and keeps 007 out of cinemas for the next 18 months.
But with the film finally ready for release this week, there's No Time To Die Waiting. Here's a deep dive into the making of Eilish's Bond song - from writer's block and scrapped ideas, to Johnny Marr's iconic tremolo guitar.
How do you get to write a Bond theme? Do you just bombard Daniel Craig with texts until he relents?
Billie: We'd always wanted to write a Bond song - even before it was an option.
Finneas: We'd been writing motifs and thinking of melodies for a couple years, just as far as like, 'Wouldn't it be cool if one day we got to do a Bond song?' And when we got wind that they were making the 25th, we immediately set out to meet with Barbara [Broccoli, producer] and plead our case.
Billie: I'm assuming we were, but we were never told, "You've got to compete with all these other people." It wasn't like that at all.
When you started writing, did you revisit any of those old ideas you'd stored up?
Billie: We started from scratch, fully. We had a meeting with Barbara in Ireland in the beginning of September [2019] and then she sent us the first scene of the script - the part before the opening credits.
Finneas: And that was all we had to reference, as far as the plot.
Billie: I think that actually made it easier for us. We always write the quickest when we have a story or we're writing about something that's happened.
Wasn't one of the first songs you ever wrote, Fingers Crossed, based on The Walking Dead?
Billie: Eewwww! I mean, yes, but don't listen to that song. Please don't.
Finneas: Yeah, Listen to No Time To Die instead!
What was the first part you wrote for No Time To Die?
Billie: We had an intense amount of writer's block as soon as we were called to action.
Finneas: We rented out a studio to go and try to write it - and we didn't write anything good.
Billie: Oh my God, I forgot about that!
Finneas: We ended up writing and recording the whole song in a tour bus in Texas.
Billie: Finneas came up with this piano motif and immediately we were like, 'Ohhhhhh', and we wrote the whole song.
Finneas: After that, it was a very mellow process. It took about three days.
Billie: Which is very quick for us.
Lyrically, the song's about a double-crossing lover - and there's a scene in one trailer where Bond confronts Madeleine Swann about her betrayal. So was that the inspiration?
Finneas: I think that's a safe assumption to make, but I don't know if we're actually allowed to say that!
Billie: We're not allowed to say anything about it - but I mean, in the trailer, something happens, you know? Somebody is betrayed and somebody is betraying...
Finneas: The character arc of someone like Bond is a cycle of smoke and mirrors and betrayal.
Billie Eilish: That's his whole life.
Finneas: And that [idea] did tie in to what little amount of the script we had access to. But there's a universal theme, too. Everybody's believed something that turned out not to be true. So I think we wanted to touch on that as a theme.
At one point you sing, "Was it obvious to everybody else?" That's the sort of thing you ask your friends after a breakup... "Did you guys know all along?"
Billie: And a lot of the time, they all did! It's what everybody says: love is blind. You literally go blind. For real. Every red flag is gone, everything is gone, all your senses - gone.
So, I think Finneas is right about that. We didn't want to just make a song that only made sense with the movie. We wanted to make a song that made sense in the world and in people's lives. And the lyrics in that song have really struck a chord with me at certain points in my life since we wrote it. It's interesting how that happens.
You hit a big note at the end, Billie. That's new territory for you.
Billie: Oh yeah, it's terrifying.
Finneas: She called me the night after she recorded it. She was like, "Take it out!"
Billie: I was really embarrassed.
Billie: Thank you! But I've never done that before. Never even tried to. I've never even made that sound with my mouth.
It was so funny, because we had this one idea for a belt [a technique where a singer reaches higher pitches using their chest voice] in a different part of the song, and then that got taken out because we needed to make the song shorter.
Finneas: The first thing we wrote was five minutes long and we brought it down to about 3'40".
Billie: But we still wanted to have a big moment because it's a Bond song. And as much as I'm known for singing quietly, I guess, I was just like, "I'm gonna prove I can do this other stuff too."
Finneas: I think it's part of a list of prerequisites for a Bond song. You need the Bond chord, you need some orchestra, and you need some sort of big note.
Billie: We stood up to record it. I have it on film somewhere - both of us standing in his living room and shouting in the mic, "Wagagagghgh!"
It's very much a Billie Eilish song that happens to have Bond motifs woven into it. You weren't trying to do Goldfinger.
Finneas: We were careful about that, especially in the production side of it, to keep it very restrained. We definitely weren't trying to make, like, a surf guitar line that went dang-dagga-dang-dang-dang.
Johnny Marr: Everyone involved in it was very keen not to trample all over Billie's style, and to keep the integrity of the song - because it's a very intense, minimalist thing. The easiest thing in the world would have been to start off with a load of trumpets and just get bigger and bigger and more bombastic.
Finneas: The movies have a certain class about them, and we wanted to capture that. Like we didn't put a bass wobble in the song. We wanted a production that felt as timeless as the movies.
And it ends on the iconic Bond chord. Whose idea was that?
Billie: We can't take any credit for that. That was all Johnny Marr.
Johnny Marr: E minor 9 - it's a classic Bond motif, isn't it? It can only really be done on the guitar, so it's me doffing the cap to John Barry. A bit of tradition.
You're known for putting disconcerting samples or quirky sounds into your songs. Is there anything like that here?
Finneas: There's a sort of microtonal slide at the beginning of the song. I wanted it to sound like a train leaving the station - and it returns throughout the song as these big glides. That became the cornerstone of the song.
Billie: It's my favourite part.
How did you feel when you'd finished it?
Billie: Beforehand, I was anxious. I was like, "This isn't Bond enough." And once we wrote it, I was super-happy with it.
Johnny Marr: Before I'd even heard the song, when I heard that Billie was going to do it, I thought she was a very intriguing choice. And when I heard the song, I was like, "Oh, this is fantastic." Even the demo sounded very intense to me.
I know you've made a video, but the song will also be used in the film's opening titles.
Do you get any say over how that looks?
In the past they've been quite sexualised - which is something you've been critical of elsewhere.
Billie: Yeah, but it's Bond, though. Bond wouldn't be Bond without the sex. That's who he is.
Finneas: To my recollection, Daniel Craig's also quite shirtless in many of the films. I think it's equal on both sides.
The speedo scene stands out for a lot of people.
Finneas: He's pretty ripped.
Billie: [sighs] I love Daniel Craig.
Biilie and Finneas spoke to BBC Music Correspondent Mark Savage and BBC Breakfast's Louise Minchin.