One in three music industry jobs were lost during pandemic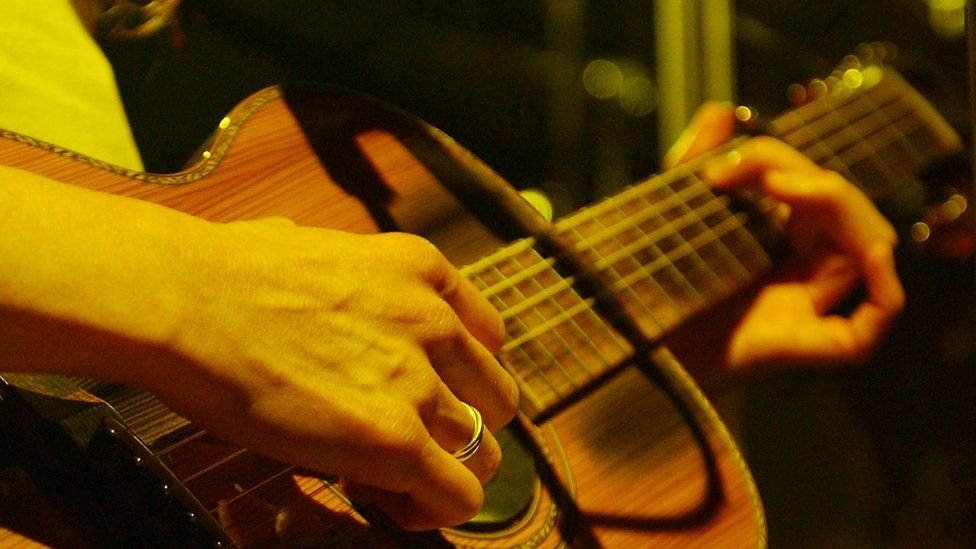 One in three jobs in the British music industry were lost during the Covid-19 pandemic, according to a report from trade body UK Music.
The research said there were 69,000 fewer jobs in music in 2020 than in 2019 - a drop of 35% - due to the "devastating impact" of coronavirus.
UK Music said the industry had been hit "especially hard" by the virus.
Musicians themselves as well as people working in venues and recording studios were particularly affected, it said.
Live music revenues collapsed by around 90% in 2020, according to the UK Music report, titled This Is Music 2021, which was published on Tuesday.
"The music creators and live music sectors experienced the greatest decline - the majority of those working in the industry are self-employed, and they have been hit especially hard by Covid-19," it said.
It noted that while many were able to get support from the government furlough scheme, "many were not eligible".
"This has resulted in thousands of music creators, crew and others leaving the industry for other sectors," it continued.
"Many are still committed to a career in music, but necessity has meant finding alternative sources of income."
The music industry's workforce dropped from 197,000 to 128,000 in 2020 after growing for the preceding decade, it said.
UK Music could not say how many of those jobs have returned in 2021, with most venues now back open after restrictions were lifted.
'Exceptionally challenging'
With many venues having shut their doors last year, and events like Glastonbury Festival forced to cancel, the music industry's contribution to the UK economy fell by 46%, from £5.8bn in 2019 to £3.1bn in 2020, according to the research.
The value of UK music exports also fell, from £2.9bn in 2019 to £2.3bn, the report said.
UK Music called on the government to introduce measures including tax incentives to help the industry recover.
"The past 18 months have been exceptionally challenging for the UK music industry, with billions wiped off the value of the sector - but we are determined to look to the future and focus on recovery," said UK Music chief executive Jamie Njoku-Goodwin.
"In a year when we've seen just how important music is to all our lives, it's more important than ever that we take the necessary steps to protect, strengthen and grow the industry."
In an introduction to the report, Culture Secretary Nadine Dorries said the government's focus had so far been on "rescue and reopening".
"Now the priority is to ensure a strong recovery," she continued. "The UK music industry is one of our country's great national assets, and I give my commitment that the government will continue to back it every step of the way."
Singer Becky Hill, who collaborated with David Guetta on the top three hit Remember earlier this year, said she had witnessed people close to her suffer "massively" during the pandemic.
"My partner works in events, and he'd started his brand new Weekender festival in Plymouth and that started in 2020. We put loads of money into it and obviously they had to cancel and they lost everything," she told Radio 1 Newsbeat.
"It was a really tough experience to watch him and the other festivals he books for basically on their knees, and I saw a lot of people suffer with incredibly bad mental health, and it was really sad to watch."