Halyna Hutchins: Film world mourns 'incredible artist' and seeks answers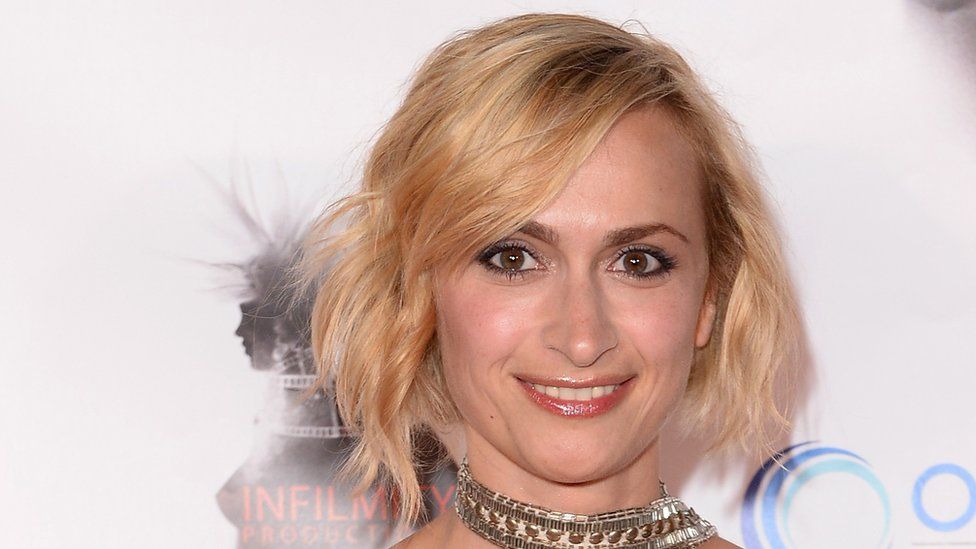 Halyna Hutchins, the cinematographer who died when actor Alec Baldwin fired a prop gun on a film set, has been remembered as "an incredible artist".
Hutchins had been working as director of photography on the set of Rust.
Archenemy director Adam Egypt Mortimer told BBC News the fact she had died on a set was "really unbelievable".
He said: "Halyna was an incredible artist who was just starting a career I think people were really starting to notice.
"The fact that she would be killed on a set in an accident like this is unfathomable. It just seems inconceivable."
Hutchins' most recent post on Instagram, from Tuesday, showed her riding horses on set.
The BBC is not responsible for the content of external sites.
On Twitter, Alec Baldwin said "there are no words to convey my shock and sadness regarding the tragic accident that took the life of Halyna Hutchins, a wife, mother and deeply admired colleague of ours."
"My heart is broken for her husband, their son, and all who knew and loved Halyna," he added.
Fellow cinematographer Catherine Goldschmidt described Hutchins as "lovely, warm, funny, charming, outgoing", and praised her for being "so talented".
"What's so tragic is she's made beautiful films already but when you think about what was ahead of her, that is also so sad," she told BBC News.
"She was also a mum, which I think is very difficult," Goldschmidt added. "When I first met her I remember being really impressed, shocked even that this beautiful, creative, outgoing, enthusiastic talented cinematographer also is raising the child.
"I think for women in this industry it is very difficult. So I was very impressed that she was able to do that."
Alex Fedosov, who like Hutchins is a Ukrainian film-maker working Hollywood, said she was "rising fast in her career" and was "an artist and a visionary".
"She was so talented, a photography director with her own vision, her own strong ideas," he told BBC News Ukrainian.
"When we worked together on set, I was assistant director, I would rush her and say, 'Hurry up, we need to film this'. She would smile calmly but carry on in her own rhythm because she knew what she wanted to achieve."
Innovative Artists, the agency that represented her, described her as "a ray of light" in a statement.
"Her talent was immense, only surpassed by the love she had for her family," the agency wrote. "All those in her orbit knew what was coming; a star director of photography, who would be a force to be reckoned with."
Fedosov added Hutchins was a "wonderful mother, first and foremost".
He also questioned how her death could have happened, saying: "Standards of safety in the US are very high. There is always an expert on set. There are always checks ahead of filming. Blanks are used sometimes to achieve a better effect on camera but it is always done with high degree of safety."
Director Adam Egypt Mortimer told the BBC that safety on movie sets is paramount. "The fact that a gun went off and killed Halyna is both shocking from an industry point of view and just absolutely tragic from the point of view of knowing this amazing artist who suddenly not with us."
James Gunn, director of The Suicide Squad and Guardians of the Galaxy, said: "My greatest fear is that someone will be fatally hurt on one of my sets. I pray this will never happen. My heart goes out to all of those affected by the tragedy today on Rust, especially Halyna Hutchins and her family."
Director and cinematographer Elle Schneider wrote a thread on Twitter about the death of her "friend and rockstar cinematographer".
"I don't have words to describe this tragedy. I want answers. I want her family to somehow find peace among this horrific, horrific loss," she said.
"Women cinematographers have historically been kept from genre film, and it seems especially cruel that one of the rising stars who was able to break through had her life cut short on the kind of project we've been fighting for."
The American Film Institute Conservatory also paid tribute.
The BBC is not responsible for the content of external sites.
Hutchins was born in Ukraine in 1979 and grew up on a Soviet military base in the Arctic Circle.
Her website said she spent her upbringing "surrounded by reindeer and nuclear submarines".
She entered the film industry after gaining a degree in international journalism from Kyiv State University. After working on documentaries in the UK, she moved to Los Angeles, where she graduated from the American Film Institute conservatory in 2015.
She began working her way up in Hollywood, with credits on films including Blindfire, which she described as a "racially charged cop drama" written and directed by Mike Nell.
She also worked on horror feature Darlin', directed by Pollyanna McIntosh, which debuted at the SXSW film festival 2019.
American Cinematographer, a monthly magazine published by the American Society of Cinematographers, interviewed Hutchins in 2019.
Work on British productions
She explained to them why she moved from journalism to cinematography, saying: "My transition from journalism began when I was working on British film productions in eastern Europe, travelling with crews to remote locations and seeing how the cinematographer worked.
"I was fascinated with storytelling based on real characters."
Her early life as a self-described "army brat" meant she was "already a movie fan because 'there wasn't that much to do outside'", the magazine added.
It said she gained "hands-on shooting experience from documenting her forays into such extreme sports as parachuting and cave exploration".
After her death, the magazine paid tribute to the film-maker, saying: "We're deeply saddened by the news from Santa Fe regarding the death of cinematographer Halyna Hutchins. Safety on the set should always be of paramount concern to everyone, especially when working with firearms."