Tom Parker: The Wanted singer's brain tumour now stable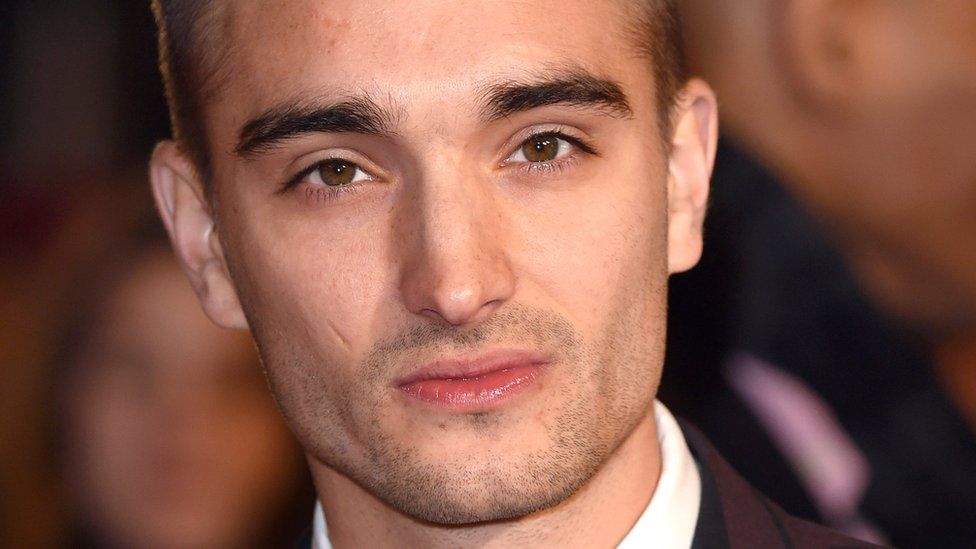 The Wanted's Tom Parker has said he is "over the moon" that his brain tumour has now been brought "under control".
The singer revealed in October 2020 that he had been diagnosed with an inoperable and terminal tumour.
On Wednesday Parker posted the update on his condition, with a picture of himself smiling with his wife Kelsey Hardwick and their two children.
"I'm sat here with tears in my eyes. We've got my brain tumour under control," he said.
"Such a mix of emotions . We couldn't ask for any more really at this point."
Although the tumour is "stable" this does not mean Parker is now cancer free.
Last month, Parker appeared in Channel 4's Stand Up To Cancer event, which raised £31,169,340.
The fundraiser featured Ed Sheeran, Sigrid, Liam Payne and McFly as well as the first appearance for more than seven years by The Wanted.
Ahead of the concert, Parker told BBC Breakfast he was refusing to let cancer dominate his life.
"It's not that I'm ignoring cancer but I just don't want to pay it any attention," he said.
"The more attention you pay it, the more it consumes your life and I don't want to consume my life."
The singer underwent tests last year after suffering unexplained seizures.
Describing the moment of his diagnosis at the time, Parker recalled: "They pulled the curtain around my bed and said, 'It's a brain tumour.'
"All I could think was, '[expletive] hell!' I was in shock.
"It's stage four glioblastoma and they've said it's terminal. It was a lot to deal with by myself. I still haven't processed it."
His condition has improved during 2021 and he's continued to share updates on his treatment on social media.
The 33-year-old achieved fame in the early 2010s as one-fifth of The Wanted, reaching number one with the singles All Time Low and Glad You Came.
Since they went on hiatus in 2014, he has played Danny Zuko in a touring production of Grease, and made the semi-finals of Celebrity Masterchef.
He married actress Kelsey Hardwick in 2018. The couple have two children, Aurelia and Bodhi, who was born weeks after Parker discovered he had cancer.
Glioblastoma is the most common type of brain tumour
It is the most aggressive form of adult brain tumour and is often resistant to treatment
It is believed that the variety of cells in a glioblastoma is one of the reasons it is so hard to treat because current drugs are not able to effectively target all the cell types in the tumour
As with most brain tumours, the cause of glioblastoma is not known