How pop star Zara Larsson made a seven-figure sum on Roblox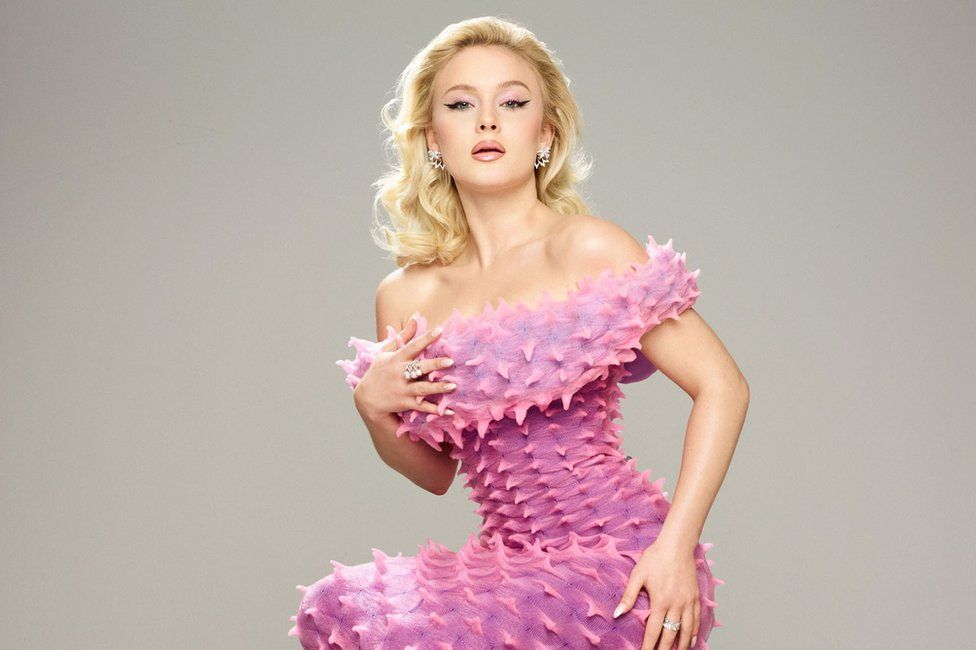 Pop star Zara Larsson says she's made a seven-figure sum by selling merchandise on the video game platform Roblox.
The Swedish star, known for hits like Lush Life and Symphony, offers fans in-game items like hats, backpacks and sunglasses to dress up their avatars.
With prices starting at less than £1, Larsson says it's "freaking insane" to have earned more than $1m (£740,000) since joining the platform in May.
"My jaw dropped when I heard," the star tells the BBC.
As parents around the world will know, Roblox is not so much a game as a gaming universe.
Once logged in, users become blocky online characters and cultivate their own areas, setting challenges and creating obstacle courses for friends and strangers to complete.
They pay a virtual currency called Robux to dress up their avatars or decorate stages, and often use the game as a place to hang out with friends - particularly during the pandemic.
Larsson first teamed up with Roblox to promote her new album, Poster Girl, when concerts were cancelled during the pandemic.
She hosted a virtual "dance party" within the game in May, allowing fans to hang out, watch her perform, and take part in an online scavenger hunt.
They could also buy outfits, hairstyles, dance moves and a customisable Zara Larsson avatar. Prices started at 60 Robux (approximately £0.67) rising to 400 Robux (£4.95) for the star's likeness.
The merchandise was initially an afterthought, the singer says.
"I didn't really think much about it. It wasn't really the motivation for the concert. I just wanted to connect with fans."
Needless to say, she's a convert now.
"We all know this," she says. "Streaming services don't pay the most."
To make a seven-figure sum from YouTube or Spotify "would take a long, long time and hundreds and millions of streams," she observes.
But the attraction isn't solely financial. Larsson's Roblox show attracted more than 1.6 million users, who made more than four million visits to her pink, Swedish lake house-themed world.
Many of those are fans who couldn't travel to a concert venue, or afford a concert ticket. Some even heard Larsson's music for the first time.
"A lot of young people are commenting on my social media, 'Oh my God it's the Roblox girl!'" she laughs.
"It's incredible. That's how they found out about me even though I've been doing this for 10 years."
With the COP26 climate summit taking place this week, she's also aware that virtual shows could greatly reduce her carbon footprint.
"Imagine how many flights it would take to reach four million people? Or how many trucks it would take to bring a pink lake house with me everywhere?
"And then having a couple of hundred people on a payroll, who also need accommodation and food and somewhere to sleep.
"Going online saves so much in carbon emissions."
The music industry expects that live streams and virtual concert experiences will continue to be a growth area, even after pandemic-related restrictions allow full-scale touring to resume.
Fortnite and Minecraft have also conducted successful experiments with in-game gigs, featuring major artists like Travis Scott, Ariana Grande and Charli XCX.
The technology can still be rudimental - US pop star Ava Max accidentally walked her character into a pit of lava and died while performing inside Roblox last year - but the experience is improving all the time, says Roblox's global head of music, Jonathan Vlassopulos.
"We've got close to 50 million people on the platform every day - and once the penny drops that fans are hanging out for two or three hours a day in the metaverse, I think we'll see an explosion of artists joining," he says.
"We're not limited by gravity and space, so we can build magical worlds and more high fidelity [experiences]".
But surely an in-game concert can never replicate the visceral feeling of playing to 500 fans, all crammed together in a sweaty club?
"Of course from my perspective, it could be better, and maybe we'll get there one day," says Larsson. "But until then it's a beautiful way of having an emotional connection.
"After my show, I wandered around the world and people were like, 'Let me take a selfie with you!'
"I didn't get it at first - but then they just put their avatar really close to mine, and took a screenshot and that's the selfie.
"And yeah, that could be hard for my generation to understand - but for people who live their lives online and are being social online, it means as much to them as meeting me on the street.
"It's really made me think about what touring could look like in the future."