Travis Scott festival tragedy: Were warning signs missed at Astroworld?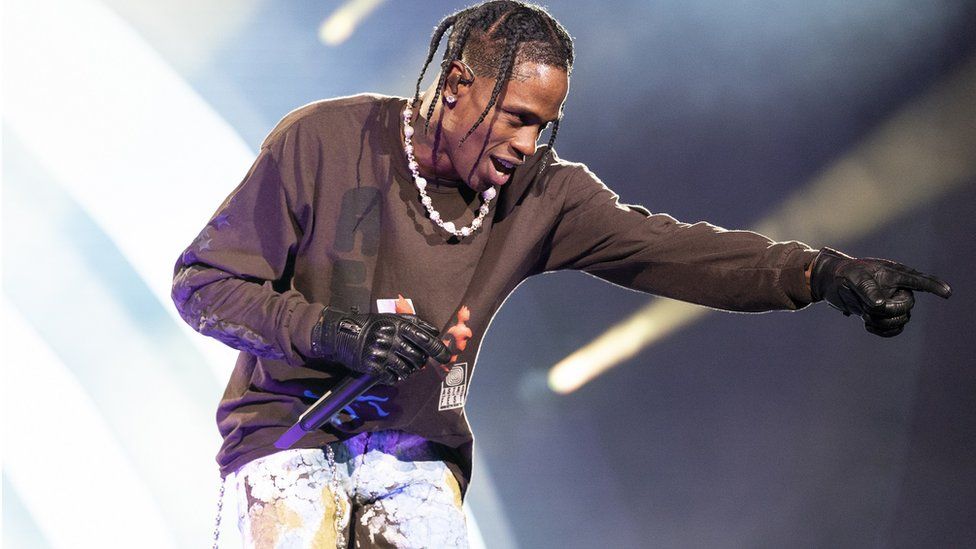 For almost 40 minutes after Houston police and firefighters responded to a "mass casualty" event at Travis Scott's packed Astroworld music festival on Friday, the superstar continued to perform.
By the time he left the stage, it had become one of the deadliest concerts in US history. Eight people died and dozens more were injured.
Fans were filmed chanting "stop the show" and pleading for staff to help. One even climbed onto a camera platform to point out the injured.
Scott eventually ended his set about 15 to 20 minutes ahead of the advertised time. But questions remain about why it didn't finish sooner.
"Nine thirty, right there. That's when a few people started going down," Houston police chief Troy Finner said at a press conference on Saturday.
"Our people stepped up and immediately went to the producers and told them, 'Hey, we got people going down.' This show ended at 10:10pm. I just wanted to acknowledge that."
Scott, one of the biggest names in rap music, launched the event with concert promoters Live Nation in 2018. He said in an Instagram video that he was not aware how bad things had become during his headline set this year.
"Any time I could make out anything that's going on, I just stopped the show and helped them get the help they need," he said. "I could just never imagine the severity of the situation."
However in another another video, he can be heard saying during another break: "Who asked you to stop? Y'all know what y'all came to do - chase me, let's go."
The rapper is known for his wild shows, and has been in trouble for inciting dangerous behaviour in the past.
Two years later, he spotted a fan hanging from a venue's second-storey balcony and tried to persuade them to jump. At the same concert, a 27-year-old fan was paralysed after being pushed off a third-floor balcony.
In 2019, hundreds of fans rushed the Astroworld barriers, with three people going to hospital with minor injuries. Police wrote on Twitter that the event was understaffed and that "promoters did not plan sufficiently for the large crowds", although the statement was later deleted.
"Based on the site's layout and numerous past experiences, the potential for multiple alcohol/drug related incidents, possible evacuation needs, and the ever-present threat of a mass casualty situation are identified as key concerns," the document read.
The city's police chief also visited the star in his dressing room to convey concerns about the energy in the crowd.
In a statement, Chief Finner said the "brief and respectful meeting" allowed him to "share my public safety concerns" and ask the star "to be mindful of his team's social media messaging on any unscheduled events."
So how could this tragedy happen?
Investigators will look at a number of factors, says Simon Ancliffe, founder of Movement Strategies, which advises major UK events like Glastonbury, Reading & Leeds and the 2012 Olympics on crowd safety.
"Have they controlled numbers? Are there barriers in place and were they well designed? Were security staff doing what they're supposed to do? Did they have good situational awareness? Did they have CCTV?
"They did seem have to some kind of procedure to stop the show, but it seemed to stop and start - so was [the situation] about communications, was it about decision making?"
When tragedies occur, he says, it's often not about one bad decision but an accumulation of smaller mistakes that ultimately lead to catastrophe. In this case, "it sounds like a lot of things went wrong".
"It all comes down to planning," says Keith Still, a professor of crowd science at the University of Sussex.
"You need to anticipate that this type of performer in that type of environment will induce this type of behaviour in the crowd - and you put crowd management and monitoring systems in place to make sure that you've got an early warning indicator."
Ancliffe says the teams on the ground are not necessarily to blame.
"The security staff on the barriers can see what's immediately in front of them, but [only] a few people deep," he says, explaining that frontline staff need back-up in the form of CCTV or a more elevated view of the audience.
In the UK, "we have experienced crowd managers with a really good view of the crowd from a raised position, so you can see people's faces and look for the change in expression", says Eric Stuart, chair of the UK Crowd Management Association.
"There's always going to be people screaming because they're having fun. The skill and the artform is looking at the faces and listening to the screams and saying, 'That's different. Things have changed.'"
Many people in an audience often aren't aware of a life-threatening situation until it's too late.
"When you're in a crowd, you can't see more than a couple of people in front of you, and you can't hear what's going on because of the music," says Ancliffe. "So there's really bad information transfer within the crowd.
"If people are pushing forwards, they can't see what's in front of them. And once you've fallen down, it's very difficult to get up again, unless people are helping you. And if people have bent over to help you, then they can be pushed over very easily as well."
So it's up to staff to identify problems and alert the performer, who can pause the show and calm the situation.
In this case, it was the audience who notified security and were "asking for things to change", says Ancliffe.
"So what was the situational awareness? What was the decision making? There may be other factors involved, but those will probably be the things where the disaster happened."
Some experts have also suggested Scott's decision to play on a separate stage with no other acts scheduled at the same time could have exacerbated the situation.
That goes against a common practice in crowd management, known as "spreading the field", where organisers arrange several competing headliners or stagger stage times to control the flow of fans.
But Scott's performance came 45 minutes after SZA had ended the day's final set on Astroworld's second stage. Fans who had been gathering near the barriers of his $5m "Utopia Mountain" arena since lunchtime were suddenly met with an influx of revellers, hyped up by a massive countdown clock heralding the star's arrival.
One teenage fan said she got into difficulties almost immediately.
"Once Travis Scott came on, I told myself this is the moment I've been preparing for, I just need to breathe," Diana Amira told NBC news. "But... my ribcage was so squished that I couldn't expand my lungs to catch a breath."
'Red card' for emergencies
Thankfully, crowd-related deaths at music events are relatively few and far between.
"The first thing to say is that if you have an experienced crowd team on site, it won't reach that stage," Eric Stuart tells BBC Radio 5 Live.
"If the worst comes to worst, there's a small group of people who have what we call the 'red card', and it is literally a message to the stage manager that we need to cut the music, we need to stop.
"And then we need to engage the artist for him or her to speak to the crowd. Ideally, we don't want a guy or girl in the high-vis jacket or the police coming on stage and talking to the crowd. The artist is the best person to do that."
That seems to have happened during Friday's concert. The question for investigators will be why the music continued after the initial call for help.
In his video statement, Scott said he was "working closely with everyone to get to the bottom of this" and described himself as "honestly just devastated".
Steve Adelman, vice president and lead counsel for the Event Safety Alliance, urged against apportioning blame at this stage.
Ancliffe hopes an inquiry will encourage promoters to "tighten up their procedures or [concert] designs".
But Prof Still adds: "If you look at any other safety-related industry - aviation, for example - if there's a near miss or a close call there's an investigation by experts, and new procedures are put into place to prevent that happening again.
"Unfortunately, in the events industry, it comes down to litigation and it's generally settled out of court. I know, because I'm an expert witness in a number of international cases.
"The court documents get sealed, the information never gets fed back into the industry and so there's no learning, there's no improvement."