Lin-Manuel Miranda on the 'dirty secret' hidden in Tick, Tick... Boom!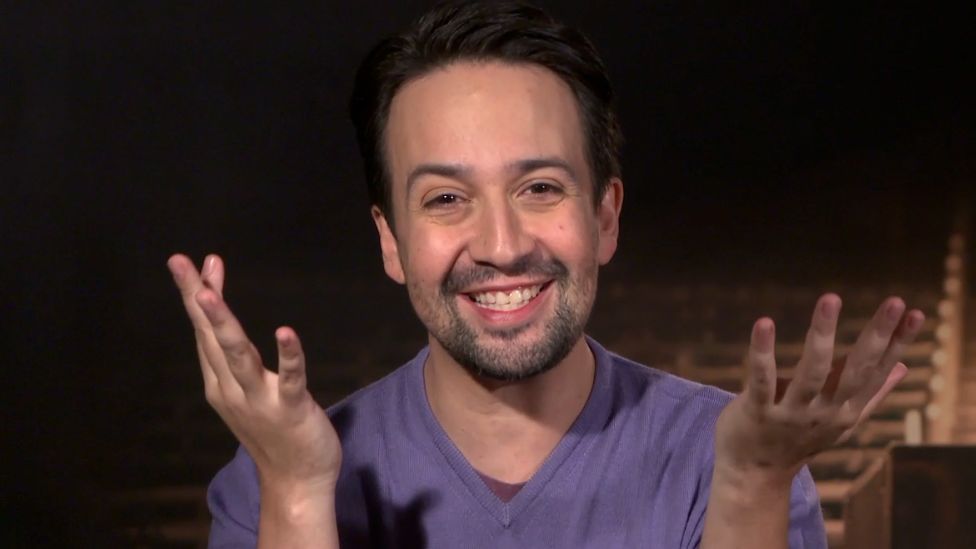 For his debut as a film director, Hamilton creator Lin Manuel Miranda turned to some unlikely source material - an unfinished one-man show by the late Jonathan Larson.
The composer and lyricist of the groundbreaking 1990s musical Rent, Larson was a force of nature. Tall, gangly, with a mess of black hair and ambition to burn.
"He wrote for eight hours almost every day," his friend Victoria Leacock once recalled. "He refused to write jingles for companies whose politics or ethics he didn't approve of, or to accept money for doing any sort of work for such companies. He chose, instead, to wait tables."
And that's what he did for 10 years, scraping a meagre living in West Soho as he dreamt of becoming a Broadway composer.
When his moment finally arrived, it couldn't have been any bigger. Rent, billed as "the rock opera of the nineties," won a Pulitzer Prize and the Tony Award for best musical, eventually becoming the 11th longest-running show in Broadway history.
But Larson never got to see it. He died of an aortic aneurysm on the morning of the show's Off-Broadway preview, in January 1996, aged just 35.
He didn't leave much else to explore, save for an unproduced sci-fi musical, Superbia, and that one-man show, Boho Days, about his failure to get Superbia made.
After his death, that rock soliloquy was repurposed as a three-actor piece and became a hit in its own right, under the title Tick, Tick... Boom!
And that's where Lin Manuel Miranda comes in.
In 2001, the young composer saw Tick, Tick... Boom! in a tiny hotel theatre in New York, and it changed his life.
"It really clarified whether I wanted to do this for a living or not," he later recalled, adding: "It was like, 'Here's what your 20s are going to look like, dude.'"
So when Netflix asked him to adapt the musical for the big screen, he jumped at the chance.
"It was the fastest email response: 'I'm the only person who can direct this movie. If they only let me make one, this is the one,'" he said at the film's premiere earlier this month.
Rarely has there been a more appropriate marriage of director and material.
Miranda and Larson's careers run on parallel tracks, right down to that Pulitzer Prize, and they share the same restless, nervous energy.
Miranda even played Larson in a 2014 revival of Tick, Tick... Boom! - and the New York Times observed that his performance "throbs with a sense of bone-deep identification".
As you'd expect, then, the film is an affectionate portrayal of an artist on his uppers, replete with nods to Broadway history, and a cameo from Bradley Whitford as a twinkly-eyed Stephen Sondheim.
But it also expands Larson's solo show into a dizzying rock opera, with visually stunning set-pieces and a whirlwind central performance by Andrew Garfield.
Miranda says "there are a million" moments in the film that resonate with his own life. But the most telling comes in the second act, when Larson and his girlfriend Susan fall out over his inability to prioritise her needs above his musical ambition.
"I watched this film with another composer," he tells the BBC, "and there's a scene where John and Susan reconcile and he starts playing the piano on her back.
"I heard this low groan from my friend. And he went, 'Lin, you can't show people that!' Because the dirty secret is, if you live with an artist, the microphone is always on.
"There's a part of us that deals with life by recording it and filing it away for future use. And the fact that she calls him out and catches him in real time figuring out a piano motif on her back... it absolutely rings true to anyone who's an artist."
Garfield, whose roles vary from Spider-Man to his Oscar-nominated portrayal of an army medic in Hacksaw Ridge, is a revelation in the lead role - a bundle of nervous energy, constantly in motion but likeable despite his neuroses.
Few people realised he was capable of singing until now. Even his cast-mates were taken aback.
"From the beginning of rehearsal, he gave everything," says co-star Joshua Henry.
"I mean, he went from a sort of shaky voice, to this incredible competence and you're like, 'Are you kidding me?' These long, hugely sustained notes? It was amazing to see him just dive headfirst into the process."
To prepare, Garfield immersed himself in Larson's life, absorbing home movies and archive recordings, and studying hand-made cards and flip-books the composer made for his friends.
He compares the research to hanging out with a "long-lost brother" - albeit one who experienced life at a different height.
"Everything was always at an 11 because of this ticking, this awareness of the shortness of life and, therefore, the attempt to create an event out of everything," he says.
"He was always singing to the back row, not just when he was singing, but when he was living. And I think it came out of this awareness of the shortness and the sacredness of life."
Garfield found Laron's attitude so infectious that it was hard to let go.
"He kept me awake at night. He didn't let me sleep," says the 38-year-old.
"After we finished principal photography, I remember going back to Los Angeles and thinking, 'Oh good, I get to relax again.' [But] Jonathan was still with me.
"I was exhausted. I was anxious. I felt like, 'I can't just read a book today. What am I producing? What am I making? Who am I?'
"Then I realised, 'Oh God, he's latched on to me!'"
He believes that Larson's spirit was fretting about the film - and channelling that energy through Garfield himself.
"I had to just gently say, 'John, the the war is over, you've done everything you can and now we let it go. Stay with me, sit next to me, but maybe don't inhabit my entire being.'"
In the end, Larson didn't need to worry. Tick, Tick... Boom! has been rapturously received by critics, with Garfield receiving early Oscar buzz for his performance.
Garfield also creates believable, touching relationships with his co-stars, most notably his girlfriend Susan (Alexandra Shipp), a dancer who's recovering from a career-threatening injury, and Michael (Robin de Jesús), his best friend, who's given up his acting dream and taken a job in advertising.
Their on-screen camaraderie reflects a real-life affection, forged in the depths of lockdown.
"It was an experience unlike any other, that's for sure," says Vanessa Hudgens, who plays Karessa Johnson, a key member of Larson's chorus line.
"We started rehearsals pre-pandemic and we were having the best time singing together every single day". But when filming started in September 2020, "we weren't allowed to sing together because of particles".
"It was masks and face shields for everyone on the crew, every single day. And it was challenging because I love hanging out with the crew. It's a community you know? That's the spirit of Jonathan Larson, it's community."
One scene, where Larson breaks into song during a party was particularly emotional because, for once, the cramped set meant they couldn't be socially distanced.
"It was the last shot of the night," recalls Henry. "We were just dancing and playing show tunes and being in close proximity. We hadn't been that close in a long time and it felt like real life. We really needed that."
Shipp says the experience of filming under those conditions left an indelible mark.
"I low-key owe my life to these guys," says the star, previously best-known for playing Storm in the X-Men Franchise.
"I don't know about you, but my view [during lockdown] was a brick wall from my window. So to be able to hang out with these incredible artists was literally self care.
"We created a bond that I've never experienced on a movie before. And I think it will outlive this experience. You know, the rest of my life, I'm gonna love these people hard."
The film they've created isn't a direct adaptation of Larson's Boho Days.
Miranda and his co-writer Steven Levenson (Dear Evan Hansen) have added music from Larson's other shows, tweaked some of the character arcs and even removed an entire subplot about Twinkies.
"There's no definitive Tick, Tick... Boom!" says Miranda, who researched the "many incarnations" of the original one-man show, as well as the posthumous Broadway adaptation and Larson's archives at the Library of Congress.
His most significant change comes in the musical's big show-stopper, Come To Your Senses. In the original play, it's sung by Karessa during a showcase for his ill-fated sci-fi musical.
Here, Miranda casts it as a duet, cutting between Karessa (Hudgens) in the rehearsal room, and Susan (Shipp), who's turned up at Larson's apartment, begging him to save their relationship.
The director says he wanted to explore the way songs can take on new meanings, even for the people who write them.
"I know that sometimes the reason I've written something is not necessarily the character's reason for singing it on stage," he explains.
"On a surface level, Come To Your Senses is absolute barn-burner of a number where Vanessa Hudgens is gonna belt to heaven. But also, Jonathan's closing a chapter in this relationship [with Susan] and saying the things he wished he could say.
"I've had those out-of-body experiences of watching something I made, and seeing its effect on people around me, but also understanding what was hurting, or what was happening, in the moment I wrote it. And I wanted the audience to feel that."
How you feel about the movie will depend on your affinity for musicals. Larson's personal and professional anxieties are not the most relatable problems and, in lesser hands, the film would be insufferable. However, Miranda's love of theatre - and Larson's work in particular - imbues the film with a spirit that's almost impossible to dislike.
The BBC is not responsible for the content of external sites. YouTube content may contain adverts.
Skip youtube video by Netflix
Allow YouTube content?
This article contains content provided by Google YouTube. We ask for your permission before anything is loaded, as they may be using cookies and other technologies. You may want to read Google's cookie policy, external and privacy policy, external before accepting. To view this content choose 'accept and continue'.
The BBC is not responsible for the content of external sites. YouTube content may contain adverts.
End of youtube video by Netflix
Robin de Jesús, who made his Broadway debut in the original production of Rent, says he hopes it will help enshrine Larson's legacy.
"The first thing that comes to mind about Jonathan is what a white ally he was," he says.
"Look at the show he created with Rent, and all those beautiful black and brown people that got to work there. I know people who were in that show for years, that were able to buy homes and create stability for themselves.
"But the beauty of him is also the simplicity of his themes. Rarely is there an ogre [or] bad person. The oppression that his characters experience comes from life and the systems that control our lives. His themes are about being present and choosing love.
"It's almost easy to think it's corny - but when you commit to Jonathan's work, it's so beautifully human and connected."