One in three musicians earning nothing after the pandemic, charity says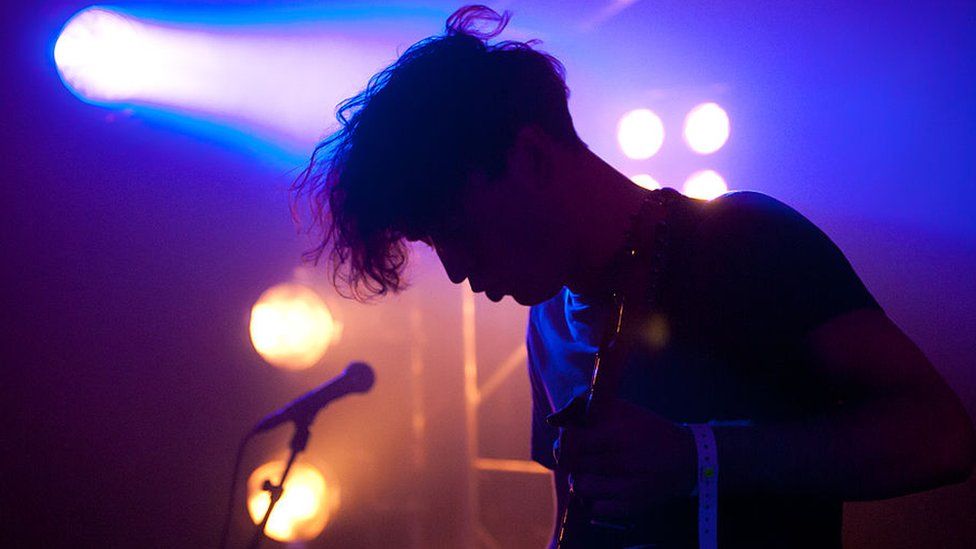 One-third of musicians were still earning nothing after restrictions on live events were lifted this summer, according to UK charity Help Musicians.
The music industry is one of the last sectors to recover from the pandemic, it said, with 83% of professional musicians unable to find regular work.
The findings are based on a survey of 929 musicians in August.
Almost nine in 10 were earning less than £1,000 per month, and 22% were considering giving up music altogether.
Restrictions on live music were removed in England and Wales in July, and Scotland in August, after Covid had kept the live music industry shut for most of the pandemic.
"A lot of venues were like, 'Well, we'll just stay shut until we can get back to full capacity again'," Ruth Lyon of folk-rock band Holy Moly and the Crackers told BBC News.
Her group went from playing 120 shows a year pre-lockdown to almost 18 months off stage.
"We had 30 festivals lined up, we had a tour booked at the end of last year and we had shows pretty much every single weekend - and that all just fell apart within a few days."
Lyon said her earnings fell by more than 75% in 2020. Her band weren't able to resume shows until last month because she has an immunosuppressant condition that puts her at high risk of infection.
"I couldn't be in a position where I could be a guinea pig," she explained. "We had to wait until it was safe for me and I was cleared by my medical team to go back out."
James Brown, guitarist with Leeds-based rock band Pulled Apart By Horses, said their earnings "nosedived" last year - and royalties from streaming services and radio airplay could not make up the shortfall.
"It takes time for royalties to come through," he explained. "They can take months, if not years. So the backlog for musicians of being able to earn a good stable salary from music has slowed down to a halt."
Unable to tour, Brown took work as a composer for film and TV soundtracks, but still found himself unable to make ends meet. He ended up asking Help Musicians for support, both financially and for his mental health.
"To go from 10 years of performing live to suddenly hitting this brick wall, where you were told it's not happening anymore - it's devastating," he said.
Help Musicians said it had seen a 60% increase in people getting in contact for mental health support, with one in eight saying they were experiencing a mental health problem that was preventing them from returning to work.
During the pandemic, the charity distributed £18m to 19,000 struggling musicians.
"We recognise that for some musicians, it will take a long time to rebuild and the team at Help Musicians will continue to be available to those musicians who find themselves in real crisis over the months ahead," chief executive James Ainscough said.
Even getting back into the swing of playing concerts can be a challenge, as Pulled Apart By Horses discovered this summer.
"We did actually play one festival that didn't get cancelled in August, and it was so bizarre," said Brown.
"After having all that time off not being around people and then being thrown straight in at the deep end, it was just like, 'What is going on?' It was kind of terrifying."
Speaking about her return to performing, Lyon, said: "I've loved it, but it's been different.
"Usually, I'd get carried off stage and be straight onto the merch stall, hugging people and taking selfies - but I'm still trying to keep my distance a bit, so I've really missed that aspect of it."
Even so, she said getting back on stage had been beneficial to her mental health.
"Performance is a huge part of who I am, and it makes me feel quite powerful," she said. "Having that taken away for almost two years was kind of crazy - so getting back to it has been a big boost."
Lyon added that, if there's one silver lining to the dire circumstances musicians have faced in the last two years, it's that they're more willing to seek help.
"So many of my friends never even thought about getting counselling or going to therapy before this - and now everybody's talking about it. So in a way that's a good thing," she said.
"Reach out if you need to, don't be ashamed. We're all struggling."
Related Internet Links
The BBC is not responsible for the content of external sites.