Rosie Kay: Dancers write open letter to choreographer after gender row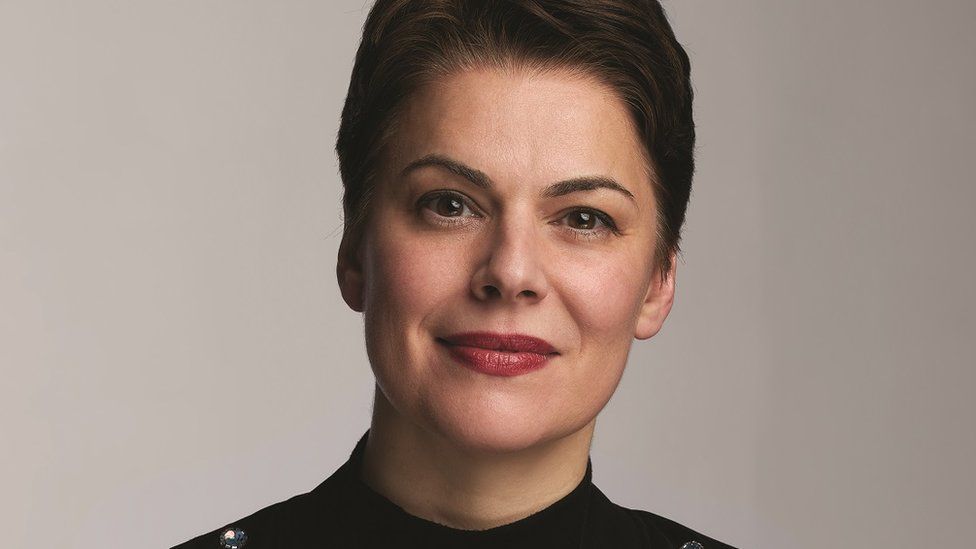 Dancers who accused a leading choreographer of transphobia have claimed she has jeopardised their safety by publicising her resignation.
Rosie Kay resigned this week from the dance company she founded in 2004.
She says she's been forced out for views on sex and gender, expressed at a dinner party in her home in August.
Complaints made by the dancers present at the party led to an "unfair, opaque and horrific investigation process that's still ongoing", Kay said.
Earlier this week, the choreographer said she could not "endure this humiliation any longer" and spoke to the media about her decision to resign.
However, in an open letter seen by the BBC, the dancers claim that, by going public, Kay has caused "potential detriment to our careers".
In the letter, the dancers say they want to "set the record straight and to ensure that any dancers under the supervision of Rosie Kay do not undergo the same marginalisation that we have suffered".
Kay, 45, choreographed the film Sunshine on Leith and the Commonwealth Games Handover Ceremony in 2018.
She has been making challenging, socially committed and political work for decades and her production of Romeo and Juliet was performed as a double bill at the Birmingham Royal Ballet under the renowned dancer and choreographer Carlos Acosta.
Kay said the event on 28 August was supposed to be a bonding dinner for a dance company about to perform Romeo and Juliet. She explained she had wanted to invite dancers round ahead of the show's opening, after the long months of the pandemic had lowered spirits.
"We'd had no social time because of Covid," she told the BBC. "I cooked, put candles in the garden, and made a lot of effort as I wanted them to enjoy themselves."
The dancers see it differently. They told the BBC that she was their boss, in a position of authority, which they felt made it an "unequal situation" from the start. "It was a work environment... she abused her position of power," one company member said.
Late into the evening, the conversation got "heated", according to Kay, as they discussed the next show she was planning, based on Virginia Woolf's Orlando - a novel about a poet who changes from a man to a woman.
The dancers claim Kay said that "identifying as non-binary is a cop out", that "allowing trans people to take hormone blockers is creating eunuchs" and that "transwomen are a danger to actual women in toilets and only want access to female toilets to commit sexual assault".
Kay doesn't believe a person can change their biological sex and says her right to be gender critical is protected in law. It puts her at odds with those who say transphobia in the UK is increasing and argue that questioning whether the identities of trans people are real fuels divisions and can lead to hate crimes.
The dancers behind the letter wrote that they "respect Rosie's right to hold the belief that biological sex is immutable".
"However," they continued, "no-one, no matter how big their platform, has the right to create a hostile work environment. She abused her power as our boss. Furthermore, she is now using her power as someone that has a louder voice than we can hope for."
Kay believes what ensued at the dinner illustrates how women who stand up for women's rights are deliberately smeared with accusations of transphobia and more. Others there that night describe it differently. They claim, as alcohol was consumed, she crossed a line by airing her views in a hostile way.
The letter, signed by six members of the company, added: "Rosie spoke about 'the cake of rights' and stated women have fought for their slice of rights and now men pretending to be women want a portion of that slice. This is a deeply offensive analogy and due to the fact that two trans non-binary people had a seat at the table, it felt very pointed."
One of the company members told the BBC: "Initially, I was OK with her asking about why we identify as non-binary. It's OK to be a bit curious. But her repeated questioning stepped into micro-aggression territory, then into something more potent. She was asking us to justify our existence, asking people to confirm their genitalia, as if that was evidence of who somebody is."
These descriptions of the language she used are strongly contested by Kay. "I said, and it is correct to say, that women are losing rights to males who identify as women. These include rights to single sex spaces. This is not an analogy, it is a statement of fact, and I do not apologise for it."
She added the only talk about "eunuchs" was a reference to Germaine Greer's feminist text The Female Eunuch. She made the point strongly that she has been careful not to identify the dancers or marginalise them.
"This was a dinner in my own home, at which I was attacked by six individuals. The hostility was directed at me, and has lasted for nearly four months. I make no apology for standing up against this treatment, using the 'power' that I have earned through a 20 year career.
"Other women who do not have this power, cannot stand up like I have done. This is not aimed at the dancers, but at the toxic nature of a culture that will see women lose their livelihoods for believing that sex is real.
"I'm still in shock that hospitality could end with such an accusation."
After the dinner, a complaint was made to the dance company's board by some of the dancers. Following an initial grievance process, Kay said she tried to make amends.
She wrote an apology to the dancers for any offence caused, which has been recounted to the BBC. In it she said: "I am devastated by how the night went and how much it has affected you. It was never my intention to upset you, but I see now that I did so profoundly. I am truly sorry for this."
Some of the dancers appealed. One told the BBC they didn't feel the apology was "made with true ownership of the fact that she made transphobic comments".
"By refusing to use dancers' correct pronouns and rejecting their trans non-binary identities, Rosie is denying that a trans non-binary person can exist," they state in the letter. "This is transphobia."
I asked Rosie Kay if she is transphobic. She said: "Absolutely not. I believe in sex-based protections and women's sex-based rights.
"I'm not transphobic. I believe adults can behave and live any way they want, but I believe in the protection of women's rights.
"The presence of males who may falsely say they are transwomen in female toilets can cause trauma to women who have suffered sexual assault, as a significant number of women have."
After the appeal, another investigation opened which is still ongoing, nearly four months after the dinner.
"It's been absolutely terrible for my mental health," Kay said. "I don't blame the dancers. Everyone is entitled to their views. But I do feel I have been put through an unfair process and those in control of the Rosie Kay Dance Company have shut down a leading female choreographer.
"They decided to cancel my upcoming show, Orlando, without any discussion. But be assured, the people who have conspired to make my life so miserable over the last four months have not cancelled me. I will be back."
Rosie Kay Dance Company told the BBC: "We are surprised by this account and strongly resist this interpretation of events. However, we will continue to respect the confidentiality of the investigation process and are therefore unable to comment further."
Iona McGuire, a non-binary dancer at the centre of the row, said: "We weren't striving to cancel Rosie. I was hoping for acknowledgement of her blatant transphobia and an apology for her constant refusal to use my correct pronouns.
"I was not going out of my way to have Rosie Kay removed from the company, I wanted there to be proper acknowledgement of what had happened."
Kay says she never refused to use chosen pronouns and that "what the dancers mean by 'blatant transphobia' is nothing more than a recognition that sex is biological, immutable and binary".
Kay has called the process a "Kafkaesque nightmare" in which she has been "lied to, ignored, ostracised and shut out of my own company".
She has been supported by the Free Speech Union, a group that supports people who are victims of cancel culture and advocates for freedom of speech.
Its general secretary, Toby Young told the BBC: "The fact that this dance company effectively pushed out its founder and creative leader demonstrates the extent to which arts organisations have been captured by gender identity ideology."
For some, the story will raise questions about what you can say in your own home. For others, it might be an example of how generations are divided on the issue of trans rights, and even the nature of conversation itself. Or is it a sign of progress?
In the end, it's perhaps just the latest example of the toxic nature of the debate around one of the most apparently divisive issues of current times.