Sound Of 2022: Mimi Webb makes music to break up to... as her ex-boyfriend found out
By Mark Savage
BBC Music Correspondent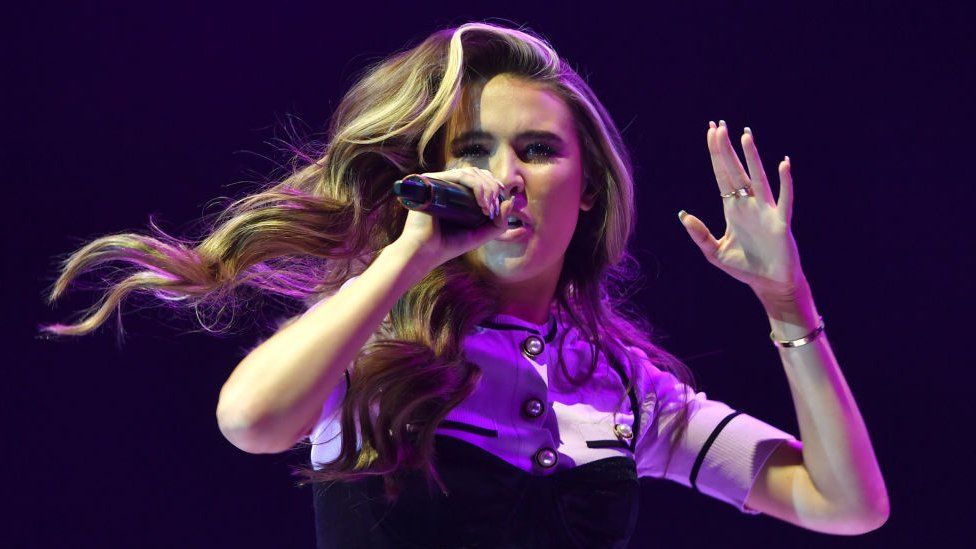 When Mimi Webb started recording her EP, Seven Shades Of Heartbreak, last year, she had no idea it would prove prophetic.
Writing songs about the loves she'd lost focused her attention on her current relationship - and she wasn't keen on what she discovered, as her boyfriend quickly learned
"The EP helped me realise that that relationship wasn't right for me," she confesses. "It really helped me figure out what I felt was missing... And he probably struggles with it, you know? When he listens to the EP, he's going to think 'Oh, God'".
Still, she wouldn't change a thing.
"It's just so crazy how I look back on that EP now," she says during our conversation in mid-December. "It came out two months ago and I was in such a different place. It's really showed how much can change within a short period."
That applies equally to her personal and her professional life. Seven Shades Of Heartbreak became the 21-year-old's first top 10 album, and she ended the year performing her single, Good Without, on the Top of the Pops Christmas special.
Now, she's earned third place on BBC Radio 1's Sound Of 2022 list - which means she's been identified by a panel of more than 130 record industry experts and fellow musicians as one of next year's breakthrough stars.
"I think Mimi is a real talent, and definitely one of the most exciting breakthrough artists," says pop star Tom Grennan, who voted in the poll. "Her voice and song craft combined are incredibly potent."
"Oh my god, that's insane," says Webb on hearing she's made the top three.
"The Sound Of list is something I'd look out for every year. I always thought I'd love to be on there one day, so this is incredible!"
A precocious talent with a powerful, octave-destroying vocal range, Webb has been performing ever since she was a child in Canterbury.
A talent show regular, she had a brief role on EastEnders, before Adele's 19 gave her "goosebumps" and made her fall in love with the idea of becoming a songwriter.
She honed her skills at the British Institute of Modern Music (BIMM), discovering a talent for what she calls "powerhouse sing-your-heart out songs" and nabbing a record deal at the tender age of 18.
85 million views later, she began to unleash a barrage of emotionally-charged pop songs - Good Without, Dumb Love, 24/5 - which have made her a constant presence on Radio 1 over the last 12 months.
But while her songs dig deep, she's unabashedly positive in real life. Everything is "incredible" and "exciting" and "crazy", suggesting that, relationship troubles aside, Webb is savouring her success with unabashed glee.
Here's what she had to say about her career so far - from the piano teacher who spotted her talent, to her surprisingly modest tour rider.
When did you discover you could sing?
I think I was probably eight years old. I always sang, since I was a toddler - but I think the moment when I first thought, "Oh, there's something going on here" was when I was eight and doing choir and musical theatre at school.
Who was the first person who encouraged you?
It was my piano teacher at secondary school. In my first lesson, he asked me what could I play and I said, "Oh, I can play Someone Like You by Adele and I can sing it, too." He was probably thinking, "Hang on, this is a piano lesson" but when I sang, he just was blown away. He then called up the guitar teacher, who came and listened too, and they basically got my mum on the school phone and told her, "This is something you need to pursue". I was so excited!
What was the first song you wrote for yourself?
Actually, I've been writing since I was 10 years old. I'd sing these random songs I made up in my head in the back of the car. My mum used to assume they were real songs, but they weren't! And the more I did it, the more she would be like, "Oh my gosh, this is quite cool."
You ended up leaving home at 16 to attend BIMM in Brighton. What was that like?
BIMM was two hours away from Canterbury - so it was very intense and scary. I had to move in with a host family and make a whole new friendship group. But I kept saying to myself, "I want to be an artist and this is the way I need to go about it. If I go two stairs up, I won't be going back down."
One of the first songs you uploaded was a drum and bass track that attracted the attention of your manager, is that right?
Is it still available anywhere?
No, it actually got taken down in the end. It's an interesting one because I basically sang a melody over this DJ's track and then I dropped it online. I wanted to just get someone to hear my voice - and that's how I found my manager Rob and we've been smashing it ever since.
If you had to rate that song out of 10 from today's perspective, what would it get?
Erm, a six? It wasn't bad - but obviously my music is very different now.
How soon after that did you write Before I Go?
I wrote Before I Go when I was 18, in the summer and it was probably sitting there for a good year before we released it in February of 2020. It's my first baby!
And how did you end up singing it on Charli D'Amelio's TikTok?
So basically, I didn't even know what TikTok was - but I met Charli in New York around Christmas 2019, and I told her about my music and she just started supporting it, like, amazingly. The amount of people that heard that song just from a few videos that she did was just unbelievable. Just to see that reaction, especially in the pandemic, was crazy.
You've got your own TikTok account now, and I love how much your family get involved in the videos. How do they feel about it?
Oh my God, they just love seeing how happy I am. They're just so proud and I'm just so grateful that they're so supportive.
He definitely asked, "What's going on here? Did he break your heart?" But that's one of the things - from this experience of playing my music, I've built a very honest relationship between me my parents where they can get to know me through my lyrics. And it's been so nice to be able to go to my dad and get advice.
In Halfway, you sing about a five-year relationship - so is the whole EP about the same person?
Half of the EP's about my first ever boyfriend, and then the second is probably about my ex-boyfriend. It's crazy because I was in a relationship when I was writing this EP, and the EP kind of helped me realise that that relationship wasn't right for me.
The song Good Without feels like it might be about that realisation... The lyric "I'm good without you" is all about moving on and building back your confidence, right?
It really is. It's not about that break-up from two months ago - but it's got that empowerment to it. And I went back to it when I was going through all that stuff, and it really helped me out. I was just so grateful that it was there.
If you didn't have the music, what would be your top tip for getting over heartbreak?
Get into a routine, take your time, going out with good friends and having a little laugh really helps. And put yourself first. "You can't love anyone else until you love yourself," that's always what my mum used to say to me.
Are your family helping to keep you grounded now that your career's taking off?
One hundred per cent. I just moved to my own place in London about a month ago, but I'm always, on the phone to them, FaceTiming, catching up. They keep my feet on the floor.
You haven't started asking for puppies on your rider, then?
Oh gosh, no. Just sausage rolls.
Amazing! Are sausage rolls good for the voice?
Do you know what? I think they're alright. A bit of pastry doesn't do you any harm!
Until a flake gets stuck in your throat...
Oh my gosh, you're right. No more sausage rolls then.
There's a vocal run in the chorus of Dumb Love that covers an octave and a half in two bars. Is that tricky to sing live?
Oh, it's great live. The song has a nice pace, so getting to the high note isn't too hard because I have time to breathe.
Do you know what your vocal range is like? How many octaves you can cover?
Quite a few. I can go very high and I can go pretty low. You'd think with my husky voice that upper register would be tough for me, but I can get a high, sweet-sounding note.
The video for Halfway was filmed in an empty theme park. What was the best ride?
Oh, we had so much fun on the teapots. I have three of my best friends in the video and we all had such a laugh. We were so dizzy.
Is that the best pop star perk you've had so far?
Actually, it's more about when people come up to you at the end of a show. Those are the moments that really take your breath away and make you think, "Wow, I can't believe I'm here".
But the whole thing is exciting. You're in the studio one minute being a songwriter, and then the next minute you're on stage, then you're doing an interview or you're filming a new music video. I just love every part of it.
That's cool, because I think a lot of people feel frazzled by all of that - but you're clearly throwing yourself into it, full force.
Straight in and thrashing it out!
And what does 2022 hold for you?
The start of 2022 is in the studio. I'll be in LA writing for a little bit, then I'll be off on my Europe and UK tour. It's going to be so good.