Fantastic Beasts 3: Gay dialogue removed from film for Chinese audiences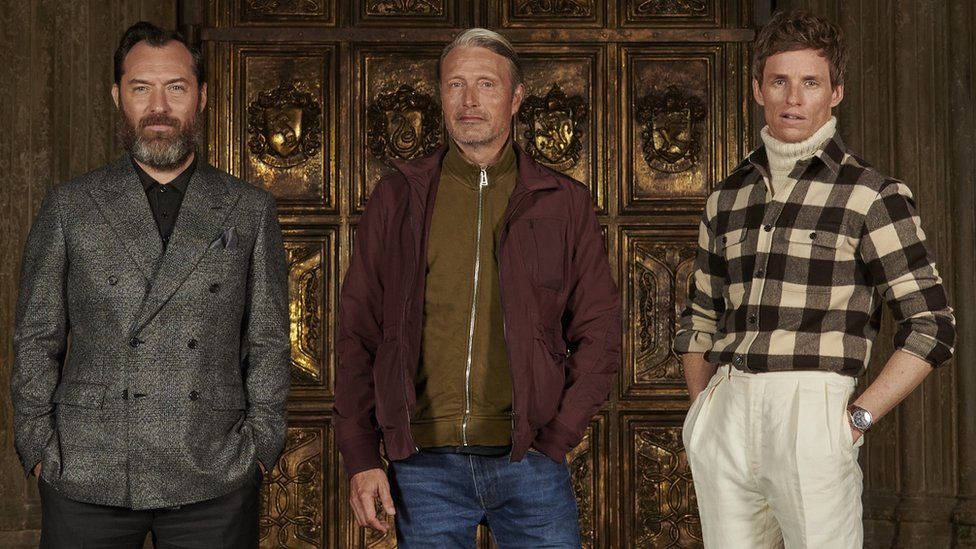 References to a gay relationship in the new Fantastic Beasts movie were removed by Warner Bros for Chinese audiences.
Six seconds of the third instalment, The Secrets of Dumbledore, which alluded to the romantic past between Dumbledore and Grindelwald, were cut.
The producers, Warner Bros, said the "spirit of the film remains".
Now in the Chinese version of the new movie, the edited-out dialogue between Jude Law's titular character and Grindelwald, played by Mads Mikkelsen, contained the lines "because I was in love with you" and "the summer Gellert and I fell in love".
The rest of the film remained the same, including an understanding that the characters share an intimate bond.
In a statement to Variety, Warner Bros said it was "committed to safeguarding the integrity of every film we release" and that that sometimes meant "sensitively" making "nuanced cuts" for certain markets.
"Our hope is to release our features worldwide as released by their creators but historically we have faced small edits made in local markets," they said.
"In the case of Fantastic Beasts: The Secrets of Dumbledore, a six-second cut was requested and Warner Bros accepted those changes to comply with local requirements but the spirit of the film remains intact."
"We want audiences everywhere in the world to see and enjoy this film, and it's important to us that Chinese audiences have the opportunity to experience it as well, even with these minor edits," it added.
Homosexuality has been legal in China for more than two decades and the Chinese Society of Psychiatry stopped classifying it as a mental disorder in 2001.
But same-sex marriage is not recognised, and some LGBT people still struggle for acceptance, especially when it comes to close family members with traditional expectations.
A report by the United Nations Development Programme in 2016 found no more than 15% of LGBT people in China come out to their close family members.
"Some people who have already come out successfully are proud," Xie Xiao, a member of CINEMQ, a queer cinema collective based in Shanghai, told the BBC in 2020.
"Meanwhile some people are scared to death of whether their family members know anything about their sexuality."
But director David Yates told Newsbeat that people were already aware that the characters previously "fell in love with each other's ideas, and ideology and each other."