Save Venice: The forgotten female artists being rediscovered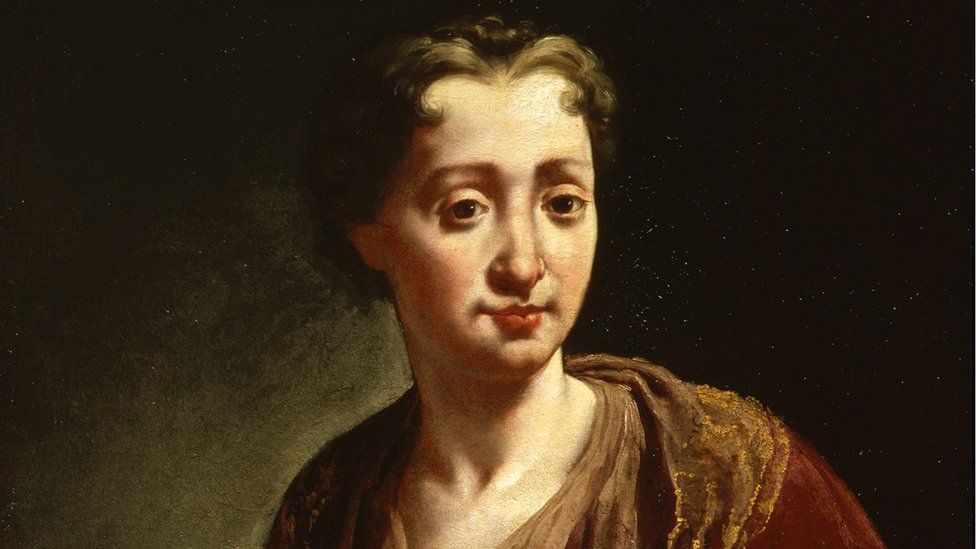 Who decides which artists are remembered and which are forgotten? With only a small fraction of the art in museums by women, efforts are being made, at the Venice Biennale and further afield, to change long-standing narratives.
Inside the Church of San Marziale, beside a canal in central Venice, specialist art handlers are high up on scaffolding above one of the church's second altars, trying to tease out two canvases that have been nailed to the wall of the church for several hundred years.
The paintings, which are believed to date from the late 1720s or early 1730s, are by a woman artist called Giulia Lama. She may have been the first female artist in Venice to produce major commissions for churches. The daughter of an artist, she never married and was a mathematician and a published poet.
At the time she was dismissed by some of her male contemporaries. So much so that in 1728, an abbot and man of science, Antonio Conti, wrote: "The poor girl is persecuted by painters, but her virtues triumph over her enemies."
According to some reports, the other artists and critics at the time focused on what they decided were her unremarkable, almost unappealing physical attributes - they asked how a woman of such prosaic appearance could produce such sophisticated paintings.
Lama did, however, have a close friendship with a successful male painter called Giovanni Battista Piazzetta, and they influenced each other throughout their careers.
More surprisingly, given our understanding of the period, more than 200 drawings reveal Giulia Lama was one of the first female artists to have regularly studied nude male and female models from life. Women were usually excluded from studying the human form even though it was fundamental to artistic excellence.
Venice's Ca'Rezzonico museum holds a series of Giulia Lama's life drawings. They show wonderful, muscular figures, carefully worked in chalks and clearly drawn from life models, predominantly male.
Other female artists of the 18th Century specialised in miniatures, still lives and portraiture, forms which were considered more appropriate for women. Giulia Lama painted vast figurative works, putting the human body front and centre of her art.
The Lama works being taken off the wall in the Church of San Marziale when I was there, depict two of the Evangelists, Saint Matthew with his trademark angel beside him, and Saint Mark, the patron saint of Venice.
Getting them off the wall is a delicate operation. The nails holding the works up are hand-forged, the specialists tell us, as they examine one that has come free. Gingerly they pull the canvases from the wall and carefully manoeuvre them down the four ladders separating them from the ground.
In all, they've removed four Giulia Lama canvases for conservation, from facing spandrels in San Marziale. In the nave of the church, they are examined on trestles by conservators and representatives of the US organisation Save Venice. Its new Women Artists of Venice project is uncovering the works of around 30 female artists who were working in the city between the 16th and 18th Centuries.
The group's director, Melissa Conn says: "There hasn't been a lot of interest in studying the women artists of Venice. There are many. Save Venice wants to bring them back on everyone's radar."
Even in their dark state, you can appreciate Lama's skill at depicting the human form, her interest in how the body contorts and twists, and how she plays with dark and light to create really dramatic works. So why is her name so unfamiliar?
Art Historian and researcher, Cleo Nisse, told me: "Partly one wonders the extent to which it is about her gender and the fact that female artists in general in Venice have been massively overlooked. There were many more women working artists than is normally talked about."
Venice is renowned as a city of artistic treasures, where it can feel as if every tiny church holds a masterpiece, where every museum yields up the greats of art history; Titian and Tintoretto, Canaletto and Veronese.
Save Venice only discovered the works by Giulia Lama in the Church of San Marziale, when they were conserving an early Tintoretto there, and the conservator mentioned the paintings by Lama above it.
The history of Venetian art is male dominated. But things are changing.
For the first time in the 127 years of the Venice Biennale, the world's oldest and most prestigious art exhibition is majority female. More than 80% of the works in the central show, by Biennale curator Cecilia Alemani, are by women artists.
She feels it's taken so long "because we live in a very sexist society... I wanted to give the stage and the platform to many amazing, wonderful artists who also happen to be women".
The national pavilion exhibitions also feature more women artists than usual, including Sonia Boyce in the British pavilion. She is the first black woman ever to represent Great Britain.
She took me around her show, Feeling Her Way, which combines video, collage, music and sculpture. She has transformed the pavilion to the sound of five black female musicians.
"Why has it taken so long?" Boyce said when we spoke to her. "There are so many brilliant black British female artists out there. It should have happened before now."
She was awarded the top prize, the Golden Lion, by the Biennale judges. Amongst the praise, they said she "unpacks a plenitude of silenced stories".
The other Golden Lion winner is the artist Simone Leigh, who is the first black woman to represent the United States pavilion.
She was honoured for her sculpture, Brick House, a 16-foot high bronze of a woman, that opens Cecilia Alemani's Biennale show at the Arsenale.
For Melissa Conn, the Biennale's focus on women makes what her organisation is doing, piecing together the stories of Venetian women artists, even more timely.
She says: "You learn about the future by looking at the past. It's important to understand why these women have disappeared so that the women of today don't disappear in the future."
The Women Artists of Venice project aims to bring these forgotten women back from almost invisibility. "We're finding there's much work that needs to be done," Conn says. "We're aiming to encourage scholars, that maybe you should think about women."
They're also conserving works by Rosalba Carriera, whose pastel portraiture made her renowned in the courts of Europe and her pupil, Marianna Carlevarijs.
When Carriera died, her estate was worth more than Canaletto's, but her name, though much more well known than Lama's, doesn't have the recognition his does.
The project involves painstaking detective work, scholarship and a dose of luck to uncover these women artists. Conn says: "We have about 35 identified at this point, but there will be many more.
"The hard part is finding artworks because the women's names come up in different documents. But to actually be able to identify a painting or an artwork that that woman painted is more difficult."
Conn hopes to find more works by Lama, perhaps in private collections. Ironically, after her death, some of her paintings were mistakenly attributed to male artists of the period.
Cleo Nisse predicts Lama will be "a household name" within the next decade. In a city whose male artists have been studied for centuries, perhaps it's time the stories of the women working alongside them come to the fore.
You can watch a report about the forgotten women artists on BBC Two's Newsnight on Tuesday 3 May at 2230 BST. It will then be available on BBC iPlayer.