Borgen: How the Danish political drama has been 'reinvented'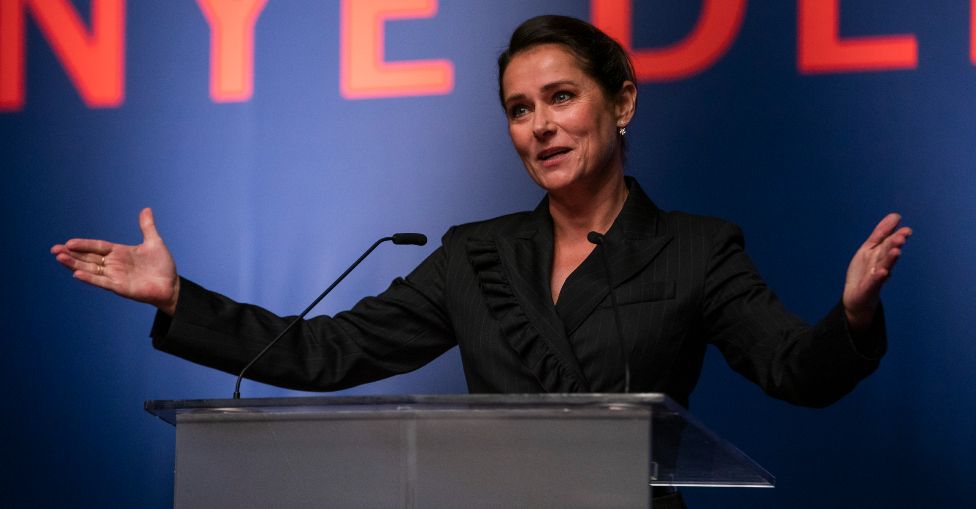 Danish political drama Borgen is back on the small screen after an almost decade-long break. A fictional oil discovery in Greenland drives the plot, and the idea came to life after a sitting politician met its writer on a cooking show.
Running from 2010 until 2013, Borgen had its breakthrough when Nordic dramas The Killing and The Bridge were also finding international success.
The drama follows Danish politician Birgitte Nyborg, an idealistic underdog who climbs the political ladder.
Borgen means "the castle" in Danish - it's a nickname for Denmark's Parliament, Christianborg, which is a former royal palace.
"When the show wrapped we said, if the right story ever came along, we might bring it back," Danish screenwriter Adam Price tells the BBC.
He recalls actor Sidse Babett Knudsen joked to him: "Well, see you in 10 years, Adam."
During Borgen's original three seasons, viewers watched Nyborg become prime minister before founding a new political party. In the new series, Knudsen's on-screen character has now become foreign minister.
Throughout all eight of the new episodes, the plot explores the fallout from discovering oil in Greenland. Nyborg faces dilemmas about climate and security. Old alliances and the relationship between Denmark and Greenland are at stake, as much larger powers - the US and China - vie for influence.
Several years ago, Martin Lidegaard - a sitting MP and chairman of the Danish Parliament's Foreign Policy Committee - was invited on a cooking show hosted by Price (who's also a Danish TV chef).
"We were making quiche," he recalls. "I said, 'I actually have a good idea, I think'."
Imagining a new political thriller, the pair developed a basic plot together, which Adam Price turned into the storyline for Borgen a couple of years later.
Lidegaard served as Denmark's foreign minister over 2014-15, and before that was climate and energy minister.
"I found that the Arctic is somehow under-estimated, both in Denmark, in Greenland, but also in the rest of the world," he says.
Greenland is a self-governing territory within the Kingdom of Denmark, but some key policies are still controlled by Copenhagen.
Lidegaard says: "There was a very unclear deal between Denmark and Greenland about what would actually happen economically, if oil was to be found."
This gave rise to the plotline. "That basic idea that we were so unprepared for such a situation with all the geopolitical aspects of it."
For a while he didn't hear anything more. Then, a couple of years ago, Price got in touch. A new season of Borgen was on the cards. He thought this story would work perfectly.
Lidegaard stayed outside of the writing room, but was hired as one of the show's research consultants.
"I read the dialogues, and would say, 'an American ambassador could not do that,'" he recalls.
One of the questions Danish politicians get asked the most, Lidegaard says, is whether real-life politics is like Borgen. But, he says, "All that happens [on the show] could be reality."
Borgen went down well with critics during its initial run. "It is more than intricate political drama: it is intimate drama, politics made human," wrote Sam Wollaston in The Guardian.
"It is about democracy and people: relationships between people, the relationship between work and home. It is about journalism, women, values, having children, not having children. It is about you and me."
Early reviews of the new episodes have also been positive. "The whole series is looking glossier and larger-scale, helped by the more international implications of the plot," noted Lewis Knight of The Radio Times in a five-star review.
"The dialogue and plotting remain fast-paced and switch between both Danish and English with as much impressive skill as Knudsen's excellent linguistic abilities."
For the new series, Lidegaard chatted with Knudsen about what things are really like as foreign minister.
"It's a crazy life. You give your life to the system," he tells the BBC. "Each evening, rather late, you receive a manual where you have your files on all the many meetings you will have next day.
He would rise early, work late, travel and attend a relentless stream of meetings.
"That is how it is 24/7, 365 days," he says. "I would say on a daily basis to my family, 'It will be over again'.... The good thing about democracy is you can be sure [this] will not last forever."
The show's new title, Borgen - Power & Glory, alludes to its themes. "Borgen is very much a study on power," says Price.
"This is not, in fact, a season four. It is meant basically as a reinvention and revitalisation of the show. I think we retained the DNA of Borgen. But it's still quite a different show."
The evolution of Nyborg's character is perhaps the most marked change.
"Birgitte Nyborg is in a different chapter in her life," says Price. "She is no longer the rookie we met in the first season."
There are both new and familiar faces among the cast.
Birgitte Hjort Sørensen is back in the newsroom as Katrine Fønsmark, while Mikkel Følsgaard and Magnus Millang play civil servants.
Some of Borgen's original storylines foretold reality. Birgitte Nyborg became Denmark's first female leader in the series only a year before Helle Thorning-Schmidt did in real life.
However, screenwriter Price insists: "We're not basing it on real politics or real politicians."
"We've tried to base the series on political topics that had longevity," he says. "Many times we've been very lucky."
In the first episode, dialogue about war in Ukraine might make your ears prick up. But Price doesn't have a crystal ball. This was actually referencing Crimea, he explains.
Likewise, Greenland has seen unprecedented attention. "There was already a focus on the Arctic," Price says. "But it has only grown."
Lidegaard jokes that if he had suggested such a story, Price would have said: "Martin, frankly, let's be a little realistic."
"Actually," he states. "It was a wake-up call to all of us."
"There is a very big power game going on. And with war in Ukraine, all the Arctic states are asking themselves will this have implications for the Arctic area," he says.
Borgen also spotlights the uneasy relationship between Denmark and Greenland.
"Greenland is very much a part of our colonial history," says Price. "It's very political, and it's painful, so it really invites political drama."
Price's company SAM Productions collaborated with Danish national broadcaster DR, and Netflix for the new season. The streaming giant has invested in more than 70 Nordic shows, but Price says it didn't influence the writing.
"We've been able to go to Greenland several times. And the cinematography is more impressive," says Price.
Borgen's launches globally on Netflix on Thursday (2 June), although it has already aired in the Noradic region.
"[It] has been a fascinating journey to be on," says Martin Lidegaard. "The most important thing to me is that it gives an insight into modern Greenlandic life. And how difficult the choices are, we have ahead of us."