Kate Bush is number one, thanks to Stranger Things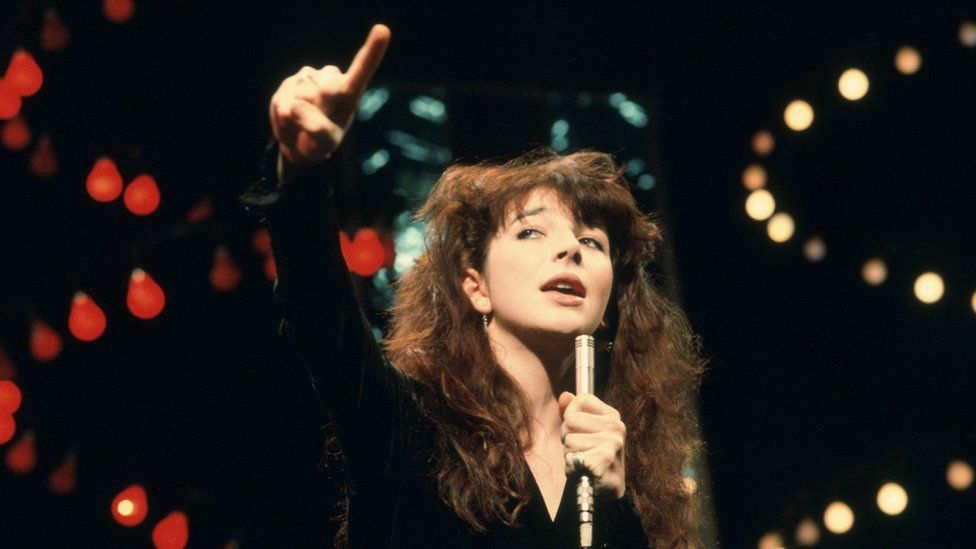 The remarkable resurgence of Kate Bush's 80s classic Running Up That Hill has culminated in the song going to number one in the UK singles chart.
Originally released in 1985, the song has enjoyed a new lease of life after featuring in the Netflix sci-fi show Stranger Things.
After reaching number two last week, it has now replaced Harry Styles' As It Was in the top slot.
Bush said she was "overwhelmed by the scale of affection" for her song.
"It's all happening really fast, as if it's being driven along by a kind of elemental force," the star said in a statement. "I have to admit I feel really moved by it all."
The achievement comes 44 years after Bush last reached number one, with her debut single Wuthering Heights.
That four-decade gap is the longest in chart history, beating Tom Jones, who had to wait 42 years between Green Green Grass of Home reaching the top in 1966 and his next number one, the charity single (Barry) Islands in the Stream.
The BBC is not responsible for the content of external sites. YouTube content may contain adverts.
Skip youtube video by KateBushMusic
Allow YouTube content?
This article contains content provided by Google YouTube. We ask for your permission before anything is loaded, as they may be using cookies and other technologies. You may want to read Google's cookie policy, external and privacy policy, external before accepting. To view this content choose 'accept and continue'.
The BBC is not responsible for the content of external sites. YouTube content may contain adverts.
End of youtube video by KateBushMusic
Running Up That Hill originally appeared on Bush's celebrated fifth album Hounds Of Love, which she self-produced and composed largely with a Fairlight CMI - a ground-breaking digital sampling synthesizer.
"When it came out all those years ago it sounded brand new," says BBC 6 Music's Matt Everitt, "and all these years later, it still sounds like nothing that anybody else has ever done.
"I think that's why she's able to resonate with so many people who are hearing it for the first time."
Many of those people were introduced to Running Up That Hill through the latest series of Stranger Things, which premiered at the end of May.
The song features as a recurring motif, obsessively played by one of the teenage protagonists, Max Mayfield, as she struggles to come to terms with her brother's death.
Spoiler alert: The following five paragraphs contain plot information about the latest series of Stranger Things.
"At the beginning of the series, Max is in a very despondent isolated place," explains Jamie Campbell-Bower, who plays this series' main antagonist, Vecna, a supernatural creature who preys on the vulnerable.
"Music is a safe place, the place she goes to feel like she's OK, and I think we can all relate to that. And Kate Bush is her favourite song."
In one pivotal scene, Vecna tries to invade Max's mind, but Kate Bush comes to the rescue.
"Her friends realise the best way to get her out of this state is to play music, to remind her of reality," says Campbell-Bower.
"All of a sudden, the song starts playing and it gives her the strength and the power to overcome that moment, which I think is absolutely beautiful."
The series introduced Running Up That Hill to a new generation, but the scale of its success has taken everyone by surprise.
It is currently the most-streamed song in the world, with more than 57 million global plays last week.
On TikTok, videos featuring the #RunningUpThatHill hashtag have been viewed more than 530 million times.
And in addition to the UK, the song is number one in Norway, Sweden, Australia, Switzerland, The Netherlands and Austria, while giving Bush her first ever top 10 hit in the US.
"I've never experienced anything quite like this before!" wrote the star on her official website on Thursday. "It's all so exciting".
She's not the only one to benefit.
Katy Smith, who performs as a Kate Bush tribute act, says her shows have been attracting more attention in the last few weeks.
"We've seen a rise in ticket sales, which has been really amazing; and I think with this resurgence, we're going to see a lot more young people in the audience.
"It's so well-deserved and I hope it continues."
The song initially charted at number eight, the week after Stranger Things premiered; rising to number two last week.
At the time, it was already the UK's most-popular song, attracting nine million streams - but, due to a quirk in the way the charts are calculated, it was held off the top spot by Harry Styles.
Under chart rules, older songs have to achieve 200 streams to register as a "sale", compared to 100 for current releases.
The thinking is that the Top 40 should showcase new music, rather than people's favourite classics.
However, when a song enjoys a surge of popularity, a record label can apply to have the sales ratios "reset" - which is what EMI did for Running Up That Hill.
When that rule took effect this week, Bush took up her rightful place at the top of the charts, beating everyone from Dua Lipa and Calvin Harris to Sam Ryder and Harry Styles.
"It's quite remarkable," says Everitt. "Harry Styles is one of the biggest pop acts in the world, and there's a huge machine behind that. So to have something like this come from the leftfield is kind of unprecedented.
"And it's kind of glorious because people are hearing Kate Bush for the very first time - and now they're going to start their own little Kate Bush journey and discover more about this incredible artist."
"If more people get to hear her for the first time, that can only be a good thing," agrees Smith.
"In fact, I'm kind of jealous."