Dave Chappelle show cancelled over transgender jokes controversy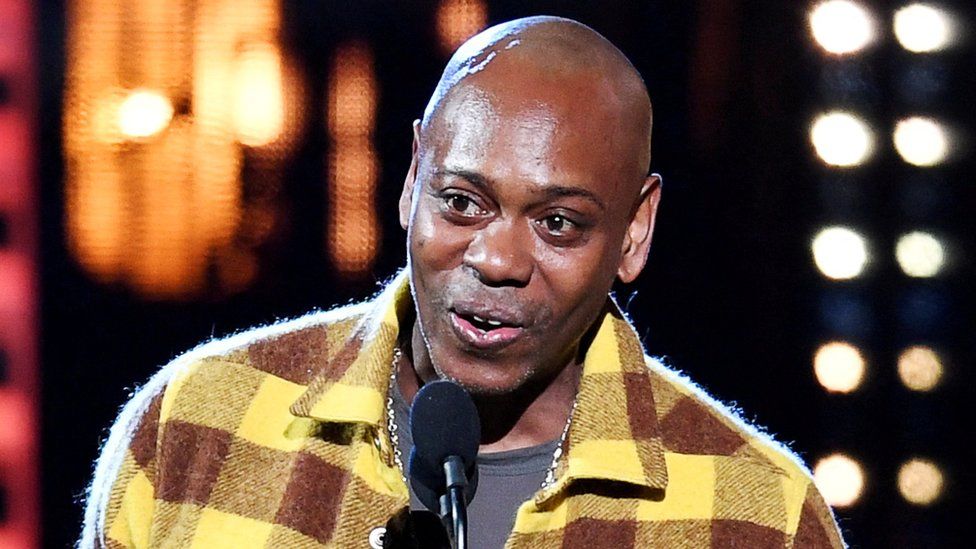 Comedian Dave Chappelle has had a live show cancelled at the last minute due to controversy over some of his jokes.
The First Avenue venue in Minnesota apologised for booking him and said the show would move to another theatre.
Chappelle has received both huge support and intense criticism for his jokes about transgender people in recent stand-up routines.
First Avenue said it must hold itself "to the highest standards". Chappelle has not yet commented.
Chappelle's live shows and TV specials, and the platforms hosting them, regularly attract criticism due to comments he's made in previous routines which some viewers find offensive.
In a statement posted on Instagram, First Avenue said: "To staff, artists, and our community, we hear you and we are sorry. We know we must hold ourselves to the highest standards, and we know we let you down.
"We are not just a black box with people in it, and we understand that First Ave is not just a room, but meaningful beyond our walls.
Venue 'welcomes feedback'
"The First Avenue team and you have worked hard to make our venues the safest spaces in the country, and we will continue with that mission.
"We believe in diverse voices and the freedom of artistic expression, but in honouring that, we lost sight of the impact this would have.
The statement added: "We know there are some who will not agree with this decision; you are welcome to send feedback."
The sold-out show had instead been moved to the Varsity Theatre, which is roughly a 40-minute walk away from First Avenue.
BBC News has asked a representative for Chappelle if the comedian would like to comment on the show's cancellation.
Chappelle is one of the most successful comedians in the US comedy landscape, but he has faced criticism from some quarters due to jokes he's made in his stand-up shows.
A recent Netflix special, The Closer, saw Chappelle tell the audience: "Gender is a fact. Every human being in this room, every human being on Earth, had to pass through the legs of a woman to be on Earth. This is a fact."
He previously described trans people as "confusing" in another Netflix special, Sticks and Stones.
Netflix have stood by Chappelle, telling staff who had complained or protested about his material being hosted on the service that they could consider leaving the company if they do not support artistic freedom.
"Not everyone will like - or agree with - everything on our service," the company said in a memo to employees. "If you'd find it hard to support our content breadth, Netflix may not be the best place for you."
Earlier this year, a man was charged with felony assault with a deadly weapon after Chappelle was attacked on stage during a show in Los Angeles. Chappelle was unharmed.