JK Rowling in 'betrayal' row with authors' society chair Joanne Harris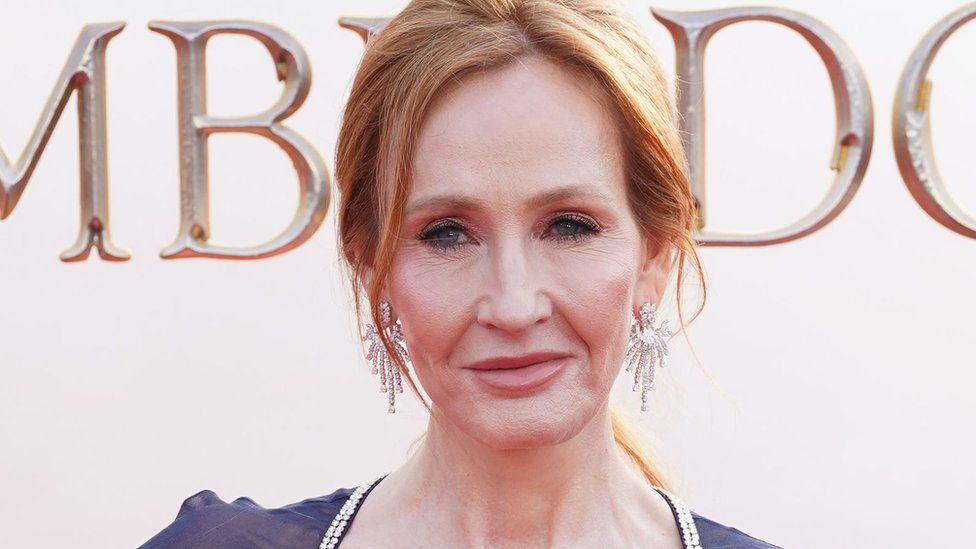 JK Rowling has criticised fellow writer Joanne Harris, who chairs the Society of Authors, saying the Chocolat writer failed to defend novelists who disagree with her about gender identity issues.
The Harry Potter creator, who recently shared a threat she received, said she and two other women had felt "betrayed" by a lack of public support from the authors' union and its leader.
In response, Harris condemned the threat to Rowling and said she fought for the rights of all authors even if she did not agree with their opinions.
Rowling has been controversial since she spoke out against the use of the phrase "people who menstruate" instead of "women" in June 2020, saying she objected to people "erasing the concept of sex".
After fellow author Sir Salman Rushdie was stabbed on Friday, she posted a threat she had been sent telling her "you are next". Police are investigating, and she said they "were already involved on other threats".
When Harris was quoted as saying she had expressed sympathy for Rowling "and to everyone in a similar position", the Harry Potter author responded that she had "received no communication whatsoever from Harris expressing sympathy for the death and rape threats I've received".
"Harris has consistently failed to criticise tactics designed to silence and intimidate women who disagree with her personal position on gender identity ideology and has said publicly, 'Cancel isn't a dirty word. We habitually cancel things we no longer want.'
"I find it impossible to square the society's stated position on freedom of speech with Harris's public statements over the past two years and stand in solidarity with all female writers in the UK who currently feel betrayed by their professional body and its leader."
Responding in a lengthy Twitter thread, Harris, who has a trans son, said: "My personal feelings about the gender-critical movement don't affect my belief in free speech, or what I do for the Society of Authors.
"We vigorously promote free speech," she added. "But free speech comes with an equal right to a response."
She added: "JK Rowling has every right to her opinions. I may not share them, but that's fine. And I totally condemn any threats to her, as I do to anyone.
"I think the literary world can do better than this fabricated culture war, and that's what I'm trying to do."
In her statement, Rowling cited the cases of two authors, Rachel Rooney and Gillian Philip, who she said had suffered "severe personal and professional harm" for challenging "a fashionable ideology which has been remarkably successful in demonising those who protest against the current attack on women's rights".
Both authors told The Times they felt they were not given the support of the Society of Authors.
However, Harris, noted how it had helped another unnamed author "with views antagonistic to mine" to receive financial compensation after she had been dropped by her publisher after a Twitter row.
And she said the union had helped another writer who "had been removed from the judging panel of a literary prize because a fellow-author felt uncomfortable with her gender-critical stance".
A spokesman for the Society of Authors said the organisation supported "the right of all authors to hold and express opinions" and "condemn violence and the threat of violence unequivocally".
It added that it did not get involved in "individual debates, or in disputes between authors".
"For every high-profile death threat - like those targeted at JK Rowling only hours after the attack on Rushdie - scores of others go unreported."