Piet Mondrian artwork displayed upside down for 75 years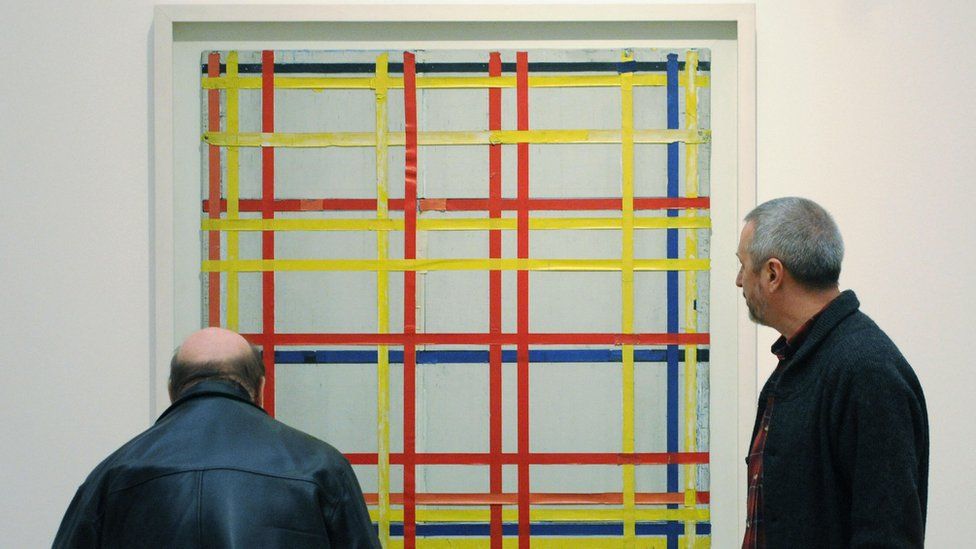 An artwork by the abstract Dutch painter Piet Mondrian has been hanging upside down in various galleries for 75 years, an art historian has said.
Despite the recent discovery, the work, entitled New York City I, will continue to be displayed the wrong way up to avoid it being damaged.
The 1941 picture was first put on display at New York's MoMA in 1945.
It has hung at the art collection of the German state of North Rhine-Westphalia in Düsseldorf since 1980.
Curator Susanne Meyer-Büser noticed the longstanding error when researching the museum's new show on the artist earlier this year, but warned it could disintegrate if it was hung the right side up now.
New York City I is an adhesive-tape version of the similarly named New York City artwork by the same artist.
"The thickening of the grid should be at the top, like a dark sky," Meyer-Büser told The Guardian, about the unfinished and unsigned red, blue and yellow striped lattice artwork.
"Once I pointed it out to the other curators, we realised it was very obvious. It is very likely the picture is the wrong way around," she added when contacted by the BBC.
The evidence seems to bear this theory out, as the similarly-named New York City, which is on display at Paris's Centre Pompidou, displays a thickening of lines at the top, rather than the bottom.
Furthermore, a photograph of the influential Dutchman's studio, taken days after his death shows the same picture sitting on an easel the other way up.
The image was published in the American lifestyle magazine Town and Country in June 1944.
Mondrian, who was born in the Utrecht region of The Netherlands in 1872, is regarded as one of the greatest artists of the 20th Century, and a pioneer of the modern abstract style, minimalism and expressionism.
As the co-founder of the De Stijl art group and movement, and in search of "universal beauty", he evolved a non-representational form which he termed Neoplasticism.
Moving to Paris in 1911, he experimented in Cubism, but his name is these days synonymous with modernism.
His work had a huge influence, not only on the art world but also in the fields of design, architecture and fashion.
According to the Düsseldorf gallery, His recently re-visited series of New York City paintings from 1941 and 1942, shortly before his death aged 71, was seen as "a revolution in Mondrian's strict concept of Gestalt" [shape].
The gallery describes Referring to New York City I as "a lively, dynamic rhythm of coloured, red, blue and yellow stripes [which] took the place of the radically reduced pictorial language with the geometric structure and the reduction to the primary colours as well as black and white."