English National Opera gets 'one year's reprieve' after funding cut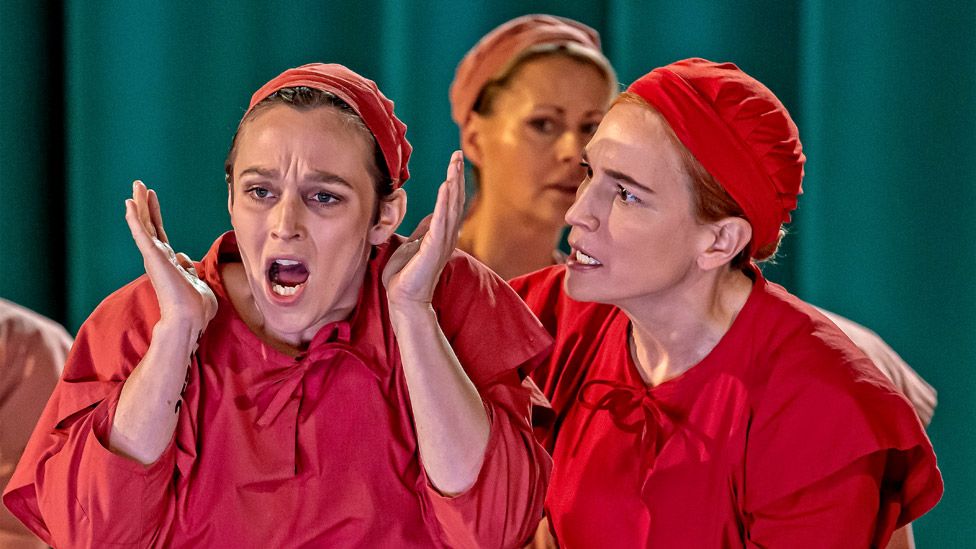 The English National Opera has been given £11.5m for the next financial year, after it was threatened with the loss of all its annual public funding.
In November, Arts Council England said it would axe the ENO's £12.6m grant from April, instead giving it £17m over three years - but only if it relocates.
The company, currently based at the London Coliseum, said the extra money would give it "one year's reprieve".
But it said the deal still left "a huge amount of uncertainty" over its future.
The ENO said the upheaval meant it must postpone a number of new productions including the next part of Wagner's Ring Cycle, which it is staging with New York's Metropolitan Opera.
Despite that, it said the money from Arts Council England (ACE) for 2023-24 would allow it to "honour many of the contracts of the hundreds of freelancers we hire every year, and enable us to continue to make incredible opera available for everyone, in English, with hugely subsidised tickets".
"We do remain concerned that this only gives audiences and our workforce one year's reprieve, and still leaves a huge amount of uncertainty regarding the ENO's future," its statement added.
"For the ENO to meaningfully deliver on the government's levelling-up agenda, ACE needs to invest in the organisation at an appropriate level going forward."
The company is one of two major opera companies in the capital, along with the Royal Opera.
The Arts Council said the funding announced on Tuesday would allow it to keep staging shows at the Coliseum and also "start planning for a new base outside London by 2026".
ENO chief executive Stuart Murphy said the Arts Council was still insisting the company moves out of the capital.
"We don't have a choice. We've got to do it," he said.
"The main thing is, we just need proper funding to make sure that whatever we do out of London isn't a half-baked version of the ENO."
Arts Council England chief executive Darren Henley said: "This grant will provide the ENO with stability and continuity, while they plan their future.
"We want to back an exciting programme of work from the ENO in a new home, and make sure it stays part of the brilliant London arts offer, at the Coliseum.
"We know this means a challenging period of change for the company and its staff, but it will also mean opera for more people in the long term and contributes to the levelling up of cultural investment."
Several other major opera companies have also had big cuts to their Arts Council England grants.
The Royal Opera House has had its funding cut by £2.9m, or 11%; while the Welsh National Opera has scaled down its English tour after a £2.2m (36.5%) cut.
Glyndebourne has scrapped its tour entirely after its £859,000 (52%) cut.
The opera house's tour had run since 1968 and visited Liverpool, Milton Keynes, Norwich and Canterbury in 2022.
Deborah Shaw, chief executive of Canterbury's Marlowe theatre, called its demise "an unwelcome blow", while Norwich Theatre boss Stephen Crocker said he was "very disappointed" about the decision, which was "understandable" but will "negatively impact us as a venue and, perhaps most profoundly, will impact audiences in the east of England".
Ambassadors Theatre Group, which runs the Liverpool Empire and Milton Keynes Theatre, said it was "deeply disappointed that Glyndebourne Touring Opera, with whom we have a long-standing relationship, is not able to visit our venues" in 2023.