Arctic Monkeys at Glastonbury: A tale of two halves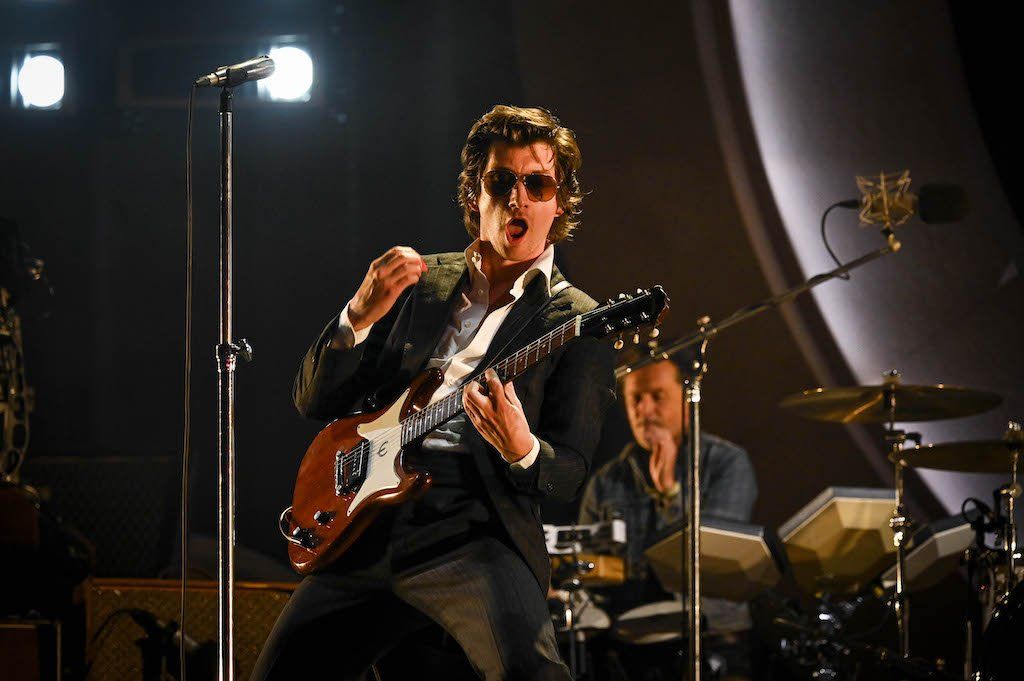 After a touch-and-go week, Arctic Monkeys pulled through to deliver a thrilling, if uneven, headline set at the Glastonbury festival.
The band's set was hanging in the balance after frontman Alex Turner caught laryngitis, forcing them to cancel a show in Dublin on Tuesday.
But he emerged sounding better than ever, high-kicking his way through a set full of era-defining indie anthems.
"The Monkeys are back on the farm," he deadpanned at the start of the show.
It's the band's third time as headliners, after previous slots in 2007 and 2013.
Ahead of the show, drummer Matt Helders told the BBC they were the best-prepared they'd ever been for the festival.
"The first time, obviously, we really felt the pressure. Then the second time, it was at the beginning of a tour - so it was fun, but we hadn't been playing in the lead-up.
"This time, we're on it. We're in a good place, in the middle of a tour. We're firing on all cylinders."
They were certainly match fit, tearing up songs like Crying Lightning and Fluorescent Adolescent, while allowing room for the more exploratory material from their latest album, The Car, to breathe and build.
It was a meticulously paced set, never straying too far from a turf-stomping singalong. But even so, some of the broodier sections failed to connect with a festival audience who just wanted to hear the hits.
They opened with Sculptures Of Anything Goes, a foreboding, hesitant new song that quickly segued into the dynamite riffs of Brianstorm. At that point, the first flare of the night was lit, and the crowd started pogoing.
For the next 20 minutes, the pace barely flagged, as the band served up tracks like Snap Out Of It, Don't Sit Down 'Cause I Moved Your Chair, Crying Lighting and Teddy Picker in quick succession, sending perpetual ripples of energy across the field.
Turner is a charismatic, if somewhat aloof, frontman. With his wide-collar shirt unbuttoned, he rests his foot on the monitors and pulls convincing rock star shapes. But he barely communicates with the audience beyond a Vegas-style, "Thank you very much".
A bit more communication might have stopped the audience drifting off during the slower-paced new songs but, in the event, there's a frequent disconnect between the stage and the field.
That's a shame, though, because tracks like Four Out Of Five and There'd Better Be A Mirrorball are grand and romantic in a way that adds new dimensions to the Arctics' sound; and Turner is visibly more comfortable singing those tracks than the ones he wrote as a teenager in Sheffield.
For my money, one of the night's standout tracks was Body Paint - a swaggering, cinematic ballad from The Car, whose extended crescendo pushed Turner to greater and greater displays of guitar pyrotechnics.
Still, if the crowd frequently grew impatient, all was forgiven when the Arctics closed the set with the double-whammy of I Bet You Look Good On The Dance and RU Mine.
Throughout the encore, Turner teased the audience with cheeky stop-start arrangements - so that, all of a sudden, you could hear 80,000 people singing about "dancing like a robot from 1984".
Which, of course, was what they'd wanted to do all along.
Friday marked the first full day of music around the site; and it was packed full of highlights and surprises.
Oscar-winning actress Cate Blanchett appeared on stage with US pop experimentalists Sparks, reprising the interpretive dance she performed in their recent video for The Girl is Crying in Her Latte.
Hozier played a secret set on the Woodsies stage, although word had clearly got out, judging by the devoted fans who turned up to swoon over his thumping Celtic balladry.
However, the biggest (and worst-kept) secret came from US rockers Foo Fighters.
They played a short, but rapturously-received set on the Pyramid Stage just after 18:00 BST, in a slot that had been advertised as "The ChurnUps".
Playing for just an hour, they leaned into their garage punk roots, tearing through raw and ragged versions of hits like Best Of You, The Pretender and Everlong.
At the end of their set, frontman Dave Grohl seemed to hint they'd return for a bigger show next year.
"If you guys come back, we'll come back," he declared.
Over on the Other Stage, dance act Fred Again drew one of the biggest crowds of the day, and decided to make the most of it.
"Let's try to break the record at a festival for the amount of people on shoulders", he shouted, and they duly obliged, to the soundtrack of his lockdown anthem Marea (We've Lost Dancing).
The London-born star has rapidly built a reputation as one of dance music's most compelling performers - effectively creating live remixes of his songs by layering samples, drum loops, live instruments and even video clips on the fly.
But it's the emotional component of his music that draws people in, with a fragility and humanity that's rare in modern dance. Given a few years, he could be headlining the Pyramid Stage.
Just as impressive on the Other Stage was Nigerian star Wizkid, a one-man aphrodisiac who delivered a set full of laid-back but sensual Afrobeat jams.
"This is a Africa party tonight, baby," he purred, open-shirted and peering through pitch black shades as he prowled the stage and couples gyrated in the audience.
Armed with hits like One Dance, True Love and Essence, and backed by a funky, eight-piece band, he stole and broke hearts in equal measure.
Headlining the West Holts stage, Kelis treated the Worthy Farm cattle to a serving of Milkshake - mixing her biggest hit with elements of Wu Tang Clan's Gravel Pit and Nirvana's Smells Like Teen Spirit.
Before her came Scottish trio Young Fathers, who dedicated their scathing polemic Shame to Home Scretary Suella Braverman, before leading the audience in a chant of: "Say it loud and say it clear, refugees are welcome here."
It's a message the band deliver at all their gigs, but it seemed to carry extra weight on the weekend that marks the 75th anniversary of Windrush.
Also performing on the festival's first full day of music were R&B trio Flo, Canadian pop star Carly Rae Jepsen and Scottish rock band Texas.
The festival continues on Saturday with sets from Lana Del Rey, Lizzo, Christine And The Queens, Maneskin, Rick Astley and headliners Guns N' Roses.