Reading and Leeds: The interpreters performing songs for deaf fans at the festivals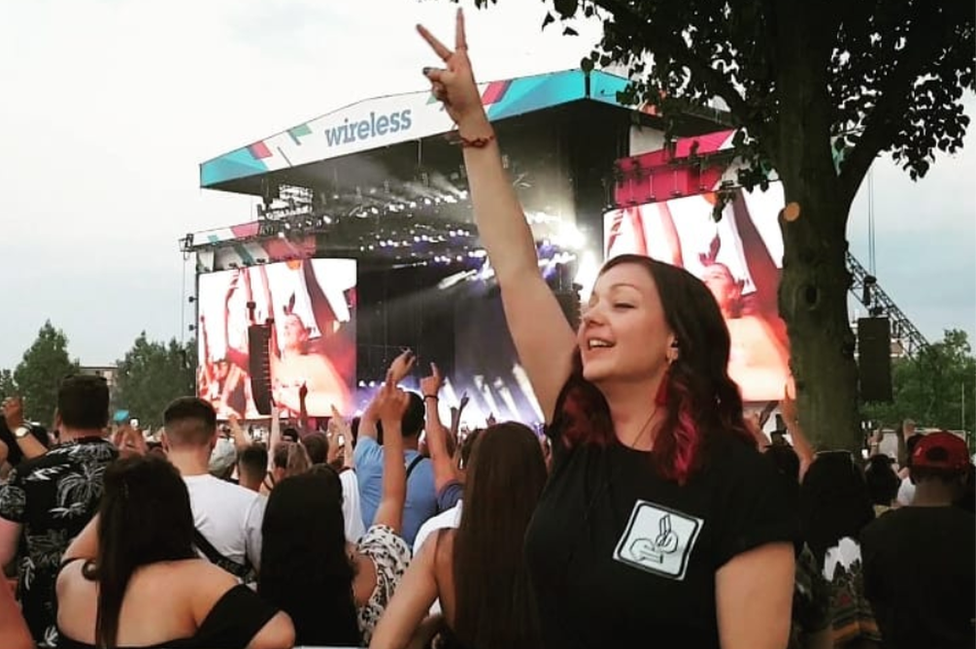 This weekend at Reading and Leeds Festivals music fans will gather to see and hear stars like Billie Eilish, Sam Fender and the Killers perform.
For deaf audience members, the increased use of on-site sign language interpreters means the experience will be just as thrilling.
The movement, which began with volunteers at Glastonbury Festival decades ago, has slowly become an essential professional service at major festivals, including Download, Latitude, Wilderness and Wireless.
Rachel Wilkins, who'll be one of several performance interpreters this weekend, recalls there being "so many barriers" for deaf people trying to access live music when she was younger.
"There are many deaf people who absolutely love hip-hop as much as I do," she tells the BBC. "So I just couldn't believe my luck when I was able to actually interpret this music and make it accessible.
"We have great deaf audiences, huge deaf audiences who enjoy this music so much, so it's a no-brainer."
One such festival-goer is 36-year-old Breish Rowe, who has travelled to Leeds Festival this weekend from her home in Derbyshire.
Although deaf since birth, she's a music-lover who uses hearing aids as well as British Sign Language (BSL) - like an estimated 150,000 other people in the UK.
One of the highlights of last year's festival, she says, was watching headliners the 1975 and "discovering their music through BSL interpretation".
"Going to festivals with BSL access allows me to access songs in a way I couldn't on my own," she says. "Even the music I already know - it just sounds so different in a live setting and BSL access allows me to follow along regardless."
She adds: "The interpreters also do an amazing job of conveying the atmosphere by sharing the crowd's reaction and suchlike, which makes me feel part of it along with everyone else.
"It's about participation and true inclusion: deaf-accessible festivals allow me to be part of a micro-society, even if just for a weekend, where I get to experience things alongside everyone else.
"And that taste of equality and access is inspiring - it'll surely have an influence beyond the scope of festivals, showing what access can and should look like."
Rachel, who began her journey to becoming a performance interpreter by signing for hearing-impaired family members, is a specialist in rap music.
It's a genre she loves - as do the bookers at Reading and Leeds, who've been steadily increasing hip-hop's presence year-on-year . But it's also a form that carries a heavier workload, lyrically-speaking.
There are more verses to learn, with lyrics loaded onto her iPad, then scrolled through using a foot pedal during her performances, next to the sound stage.
Last weekend, she covered Stormzy's set at All Points East in London, meaning this week was dedicated to learning material by her five assigned Reading and Leeds acts, :including Central Cee, Easy Life and one of her favourites, Loyle Carner.
"There's so many hidden meanings, he's just very clever lyrically and that makes it really hard to translate," she says.
Last summer brought problems of a different kind when interpreting the risqué lyrics of Megan Thee Stallion and Cardi B.
"There's a lot of profanity and an obscenity," she says, "so I have to be quite comfortable with that."
"We don't censor it because that's not what we're there for. We just have to be brave and go for it."
Advance access to artists' setlists is another major issue for Rachel and her colleagues, with performance interpreters often having to work from "guess-lists". Sometimes, they're forced to interpret songs and off-the-cuff, in real time.
This is one barrier to access that the music industry could help with more, she believes.
But all of these issues "became worth it instantly" when she sees delighted fans enjoying a fuller experience of their favourite act.
"It's about the access, and not about us being centre of attention," she says. "Because often we are the ones on stage and people love seeing sign language, they think it's beautiful. But then the deaf person is completely ignored for the rest of the time.
"So we really want to shine the spotlight on the deaf person and the access that they need, and that they're finally starting to get."
Marie Pascall, director of Performance Interpreting - the company which provides interpreters like Rachel - has been working alongside Reading and Leeds organiser Festival Republic for eight years now.
She recalls how just "a handful" of people attended their first big gig, a Metallica one - but things have grown quickly since then.
However, she says the industry is still very much "in its infancy" and many deaf fans still don't know it exists. As a result, their performances these days can pull in anything from eight to 80 people with hearing loss.
The success of movies like CODA and Sound of Metal have, in recent years, brought deaf issues to the fore. And while performance interpreting is, by now, an established tradition at Reading and Leeds, many of the same barriers that Rachel and her deaf family members encountered years ago still exist.
Marie feels their work is often left, wrongly, at the bottom of the priorities list for music executives. She hopes her team's latest appearance at Reading and Leeds - where sign language options will also be made available by a separate company for BBC TV - will make more people sit up and take notice.
"Some of the people are super fans and so being able to see that in your own language [BSL] really connects you to the artists," she says.
"The more that artists and the music industry start to recognise this profession and the positive impact it has on people... It's fantastic, because they have a magical experience, just like everyone else."