KFC shortage: How much do we spend on fried chicken?
By Reality Check team
BBC News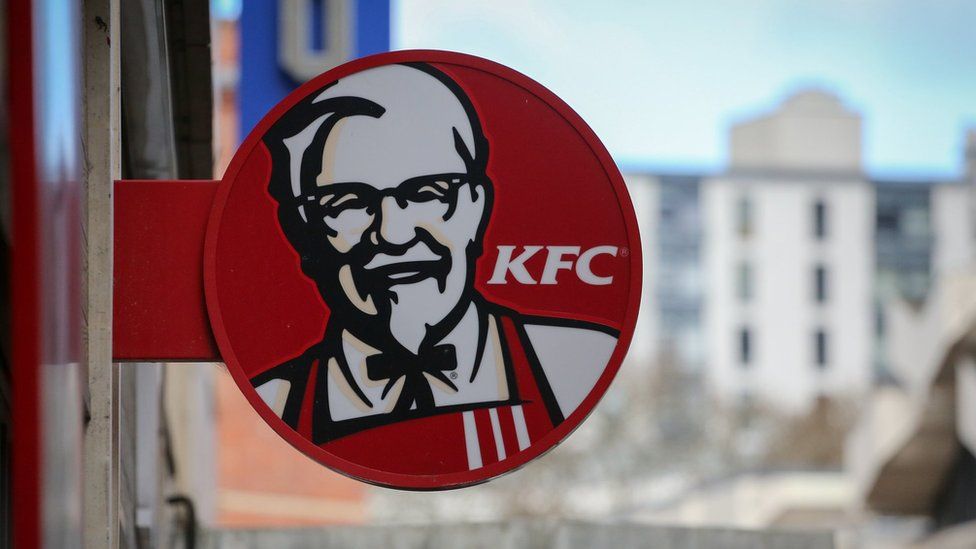 KFC outlets across the UK have closed temporarily this week as delivery problems led to a shortage of chicken.
The fried chicken chain switched its delivery contract last week to DHL, which blamed "operational issues" for the disruption.
Nearly half of the restaurant's 900 outlets were closed on Tuesday night - down from 575 on Monday.
The fast food giant expects disruption to its restaurants to continue for the rest of the week.
Customers have been sharing their dismay on social media - and this got Reality Check thinking about the UK's eating habits.
How much money do we spend on fried chicken in the UK and who is spending it?
In 2017, UK customers spent an estimated £2.2bn in chicken restaurants such as KFC, BIRD or Chick 'n' Sours.
Nearly half of Britons (43%) had bought a takeaway from a chicken restaurant between April and June 2017, according to a survey of 2,000 adults by Mintel.
It's 16 to 34-year-olds, students and parents of under-16s who are the most likely to visit chicken outlets.
But burgers are more popular with UK customers - 60% of Britons had eaten at a burger restaurant in the three months to June 2017, 17 percentage points more than at chicken restaurants.
The number of fast-food takeaways in the UK has seen a huge increase in recent years, according to research published by the University of Cambridge.
Cambridge's Centre for Diet and Activity Research (Cedar) found that the number of takeaways had increased by 45% from 1990 to 2008.
The number of outlets per 10,000 people increased from 2.6 to 3.8 over that period.
The study focused on the county of Norfolk. As the area shares many population characteristics with the rest of the country, researchers said the results could be extrapolated to apply to the country as a whole.
According to new figures provided to Reality Check by Cedar:
There were 57,872 takeaways in England in September 2017
Birmingham and Leeds are the local authorities with the highest number of takeaways - over 1,100 each
Manchester, Sheffield and Bradford also feature in the top five, with 929, 765 and 749 takeaways in their areas
A high concentration of fast-food outlets is found in London - with 600 takeaways in Westminster alone.
In 2017, Mayor of London Sadiq Khan announced a new planning strategy, saying that fast-food outlets should not be allowed to open within 400m of schools.
The announcement came as part of his plan to tackle childhood obesity in London. According to Trust for London, a charity that focuses on poverty in London, 23% of the city's 11-year-olds were obese in 2015-16, in comparison with 20% across the rest of England.
The study of 5,000 people also found that consumption decreased with age, with just one in eight 21 to 34-year-olds eating as much fast food.
The government's national childhood obesity plan called for the introduction of a soft drinks levy, creating a healthy rating scheme for primary schools and for clearer food labelling.