Coronavirus: What powers do police have if people break Covid rules?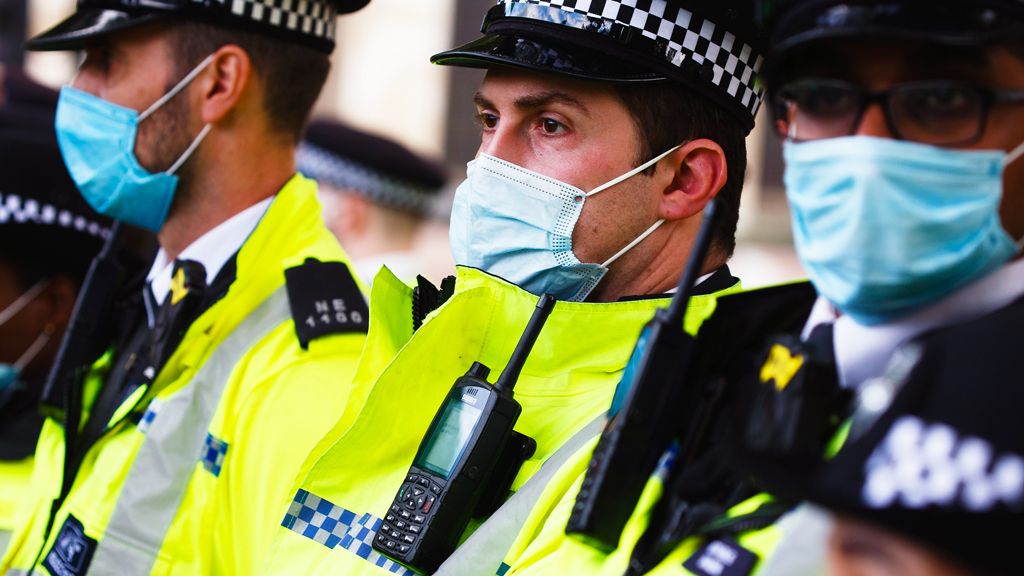 The police's role in the coronavirus pandemic is simple: to ensure we follow national lockdown restrictions.
But in practice, that is a huge challenge for officers who are being asked to monitor behaviour that, until March last year, was perfectly legal.
How do police enforce Covid rules?
Police chiefs have followed a system called "The Four Es". Before fines are issued to rule-breakers, police will first:
Engage with people, to ask why they appear to be breaking the rules
Explain the law, stressing the risks to public health and the NHS
Encourage them to change their behaviour
The fourth "E" is "Enforce" by issuing penalty notices, as a last resort.
What are the fines for breaking Covid rules?
The police have a legal duty to make sure the rules are enforced, alongside council, environmental health and trading standards officers.
If you break coronavirus regulations, you could get a fixed penalty notice , the Covid equivalent of a traffic offence like speeding.
Since March, 32,000 have been issued in England and Wales. Penalties rose sharply during England's November lockdown. Almost 6,500 penalty tickets were handed out as police moved more quickly to enforcement.
In England and Northern Ireland fines start at £200. Fines start at £60 in Wales, and in Scotland, although this is reduced to £30 if paid within 28 days.
Large parties can also be shut down by the police - with fines of up to £10,000.
In extreme circumstances, you could be prosecuted and face an even greater fine imposed by a court.
Can police fine me for being in the street?
Yes. All of England is now in a "tier four" national lockdown, with similar measures in place across the rest of the UK.
Under the new lockdown law, you must stay at home unless you have a "reasonable excuse" to be outside. Your home includes property such as a garden, shed or garage - and also access to it.
The government's lockdown guidance sets out examples of reasonable excuses. Police won't fine you for leaving home to go shopping for essential goods, or to use a business that can remain open, or for going to work or education, training or childcare.
There are other reasonable excuses - such as helping other people in their moment of need. Police chiefs are telling frontline officers to use their judgement if they come across a situation not defined in the regulations.
If you want to take part in a protest, the law does not define that as a reasonable excuse to leave home. There is, however, an exception for joining a picket as part of lawful industrial action.
Will police arrest me for exercising?
Exercise is one of the reasonable excuses for being outside in a public space. You cannot be fined for exercising.
But there has been enormous confusion since last March over how long people could exercise for. Cabinet Minister Michael Gove pronounced that spring that he thought half an hour was enough.
There are no restrictions in law in England on how you exercise and for how long. You cannot exercise in groups, but you can run or go on a wander with someone else from your household, support bubble or one person you don't live with.
It says local "means stay in the village, town, or part of the city where you live", but that has no legal force.
Derbyshire Police have been taking the "stay local" principle seriously. Officers have issued tickets to people who drive five miles to their local beauty spot - including two women accused of an illegal picnic because they were carrying takeaway cups of tea.
Will the police fine me for mingling?
They might. This refers to the ban on "gatherings".
The last-but-one version of the restrictions made it a potential crime to "mingle". That language has now gone from the law - but the rules are far stricter.
While the law in England doesn't criminalise bumping into someone in the street, you can no longer meet anyone socially - other than those in your household, support bubble or people you care for.
How likely am I to be fined?
The Home Office has given the police an extra £30m to pay for Covid patrols in England and Wales.
Over Christmas there were more than 800 fines for what Home Secretary Priti Patel says were "egregious" breaches of the rules.
The National Police Chiefs' Council hasn't abandoned the Four Es - but expect more fines and more officers asking people what they are doing.
For instance, the Metropolitan Police has told officers to issue fines "more quickly" to anyone committing obvious, wilful and serious breaches.
Can police make me cover my face?
Yes - while in shops and on public transport. You could face a fixed penalty notice if you don't.
Can police check whether I'm isolating?
If you have returned from an overseas Covid hotspot, or have been told by the NHS Test and Trace system to stay at home, you must quarantine for 10 days.
The police can now check the NHS Test and Trace database to investigate a tip-off about a quarantine-breaker. Police won't get to see your personal health records.