What are the rules for weddings and receptions, and when will they ease?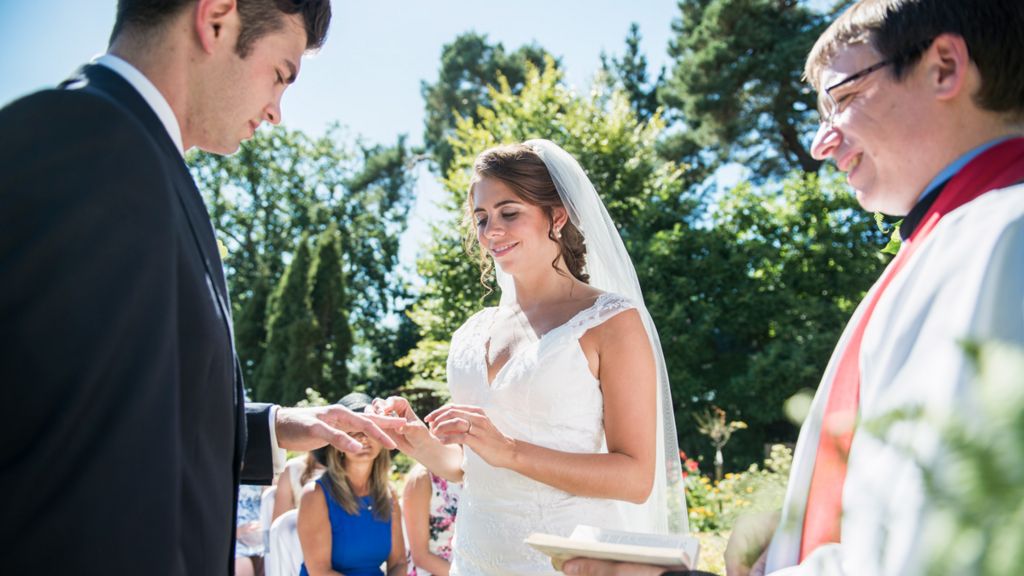 There will be no limit on the number of people allowed to attend weddings, civil partnerships and receptions in England from 19 July.
Rules will also ease in Scotland on that date.
How are the rules changing in England?
Current rules about social distancing and face coverings will no longer apply, there will be no requirement for table service, and restrictions around singing and dancing will also end.
At the moment, any number of guests can attend a wedding ceremony or reception held outside, or in a Covid-secure public venue.
Venues must comply with social distancing rules, which limit guest numbers
Venues must provide table service
Dancing and singing are restricted
Face coverings must be worn indoors by everyone over the age of 11 when not eating or drinking, unless they are exempt. This includes staff, but not the couple or the person officiating
Weddings held in outdoors private settings - such as gardens - require a risk assessment to determine how many guests can be hosted safely.
A marquee or other structure in a private garden must have at least half of its walled area open to be classed as "outdoors".
Weddings in private homes can only take place with six people or two households present, unless one of those getting married is seriously ill, in which case 30 people can attend.
What are the rules in Scotland?
The maximum limit of who can attend wedding and civil partnership ceremonies and receptions depends on the Covid level.
The actual permitted number of guests for a particular event will still depend on the size of the venue. The marrying couple and witnesses are included in this number, but people working at the wedding are not.
There will be no need to socially distance outdoors: dancing, standing drinks/canapé receptions and receiving lines can resume at weddings outdoors only
You should avoid dancing or mingling indoors at wedding receptions
Physical distancing will be fixed at 1m (3ft) indoors for ceremonies and receptions in all venues
Alcohol can be served until 24:00
Guests will still have to wear masks when not seated
The government hopes that more restrictions will be scrapped on 9 August, subject to a decision next month.
What are the rules in Wales?
The celebration must be organised by a business in a regulated venue, such as an hotel.
Face coverings must be worn indoors by everyone aged 11 and over when not eating or drinking, unless they have a reasonable excuse.
This does not apply to the married couple or the person officiating.
What are the rules in Northern Ireland?
During the ceremony, face coverings must be worn by everyone (unless exempt), apart from the wedding couple and the person officiating.
Receptions can take place, subject to the following rules:
No restriction on the number of people at the top table, but no more than 10 people (not including children) at other tables
You need to wear a mask when not seated
The wedding couple can have one dance together, but guests cannot dance
Live music is allowed at "ambient levels"
What are my rights if my wedding plans were affected by lockdown?
If your wedding couldn't go ahead without breaching lockdown rules, you're likely to be entitled to a refund and won't be liable for future payments
Your refund may also cover a ''non-refundable'' deposit, although a venue or supplier can subtract ''limited'' costs for services already provided
A venue may withhold money spent on your wedding that it could not recover, such as planning, but not for things like general staff costs
Suppliers/venues must give you a cost breakdown if they wish to withhold part of your deposit
Can I claim on wedding insurance?
Wedding insurance shouldn't affect your right to a refund, but you can't get your money back twice.
Most insurance doesn't cover a ''government act", so is unlikely to pay out if lockdowns affected your wedding.
Recent wedding insurance policies are unlikely to cover coronavirus.
Some policies will pay out if your supplier/venue has gone bust. If not, you may have to register a claim with the company's administrator.