Covid: Which countries can you now travel to from the UK?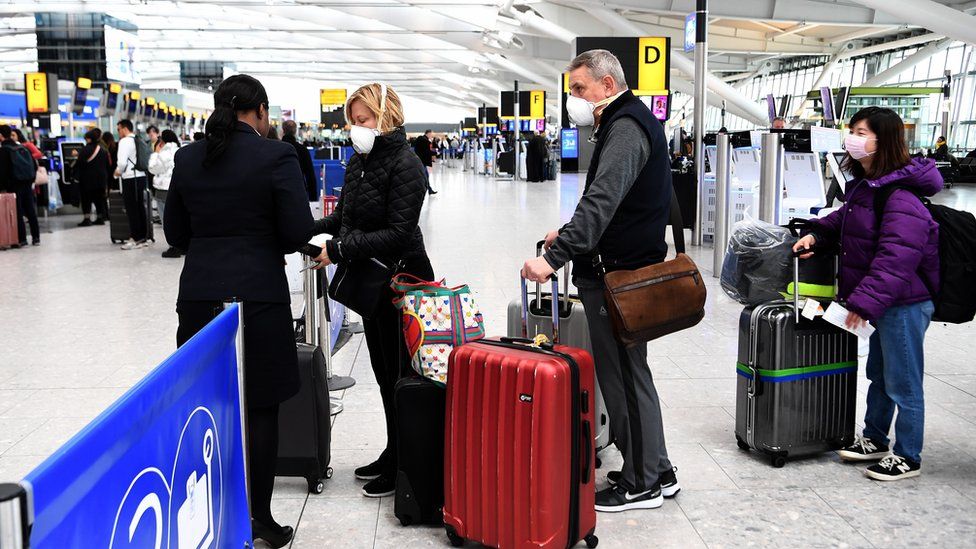 More than 50 countries had suspended routes to the UK because of the rapid spread of a new variant of Covid, but some of them have now lifted those restrictions.
On 24 December, the UK banned travel from South Africa amid concerns over another new strain of the virus linked to that country. People who have transited through South Africa in the past 10 days will also be banned. However, UK and Irish nationals as well as the UK visa holders and permanent residents are exempt, but they will have to self-isolate for 10 days on arrival.
It had already been pretty difficult to travel abroad - because of quarantine rules either at your destination or when returning to the UK. Here are some of the requirements currently in place.
Which countries have reopened their borders to the UK?
EU countries held discussions on Tuesday and decided to lift the compete travel ban, allowing national citizens, foreign residents and key workers to travel from the UK to their home country, if they have a negative Covid test.
But EU countries are free to set their own rules on border controls, so the exact rules vary from country to country.
France: French citizens, British nationals living in France and hauliers are among those able to travel again - if they have had a recent negative test. Rapid "lateral flow" tests - which give results in about 30 minutes - will be accepted.
Netherlands: Anyone arriving from the UK will need to have had a so-called PCR test to enter. These can take more than 24 hours to turn around, as they need to be processed in a lab.
Belgium: Between 23 and 31 December, only those who are resident in Belgium, Belgian citizens and a limited number of strictly necessary journeys will be allowed from the UK. No prior test is necessary, but there will be strict controls on the Passenger Locator form and a quarantine of 7 days, followed by a compulsory PCR test.
Spain: Flights from Britain have been stopped until further notice, except for those carrying Spanish citizens or people with Spanish residency. Travellers have to present a negative PCR test taken within 72 hours of arrival.
Italy: Only Italian citizens will be allowed to return from the UK, along with those who urgently need to enter the country. They will have to have a PCR test before departing and spend two weeks in quarantine in Italy.
Germany: Flights and passenger transport by rail, bus and ship is banned until 6 January. From 1 January 2021, transport operators can apply to the German authorities for an exemption to transport people who are resident in Germany. People arriving from the UK will need to either present a negative PCR test taken within 48 hours, or be tested when entering the country. Even with a negative test, travellers will have to self-isolate for 10 days, with the possibility for a test and release after five days
Ireland: Passengers arriving by plane or ferry from England, Wales and Scotland are banned until 31 December, regardless of nationality. Essential workers are exempt
China: Direct flights to and from the UK have been suspended indefinitely
Canada: Passenger flights from the UK were stopped for 72 hours from midnight on Sunday (Monday 05:00 GMT), but on Christmas Eve the measure was extended indefinitely
India: All flights from the UK are suspended until 31 December
US: New York City has introduced quarantine rules for international travellers, who must stay for 14 days at the address they provided on arrival. Arrivals from the UK will be checked on by sheriff's deputies
This is not a complete list of countries, as so many have taken measures.
Can I travel at the moment?
Many restrictions in place to limit the spread of coronavirus mean travel options are limited.
In England, people who live in a tier four "stay at home" area or a tier three "very high alert" area have been told to avoid travel, including overnight stays, unless it is necessary.
In Wales, people can only travel internationally for essential reasons. From December 28, Wales will go in to a lockdown, meaning people should only leave their area for essential reasons.
In Northern Ireland, people have been told to "avoid all unnecessary travel" from 26 December, when a six-week lockdown starts.
In Scotland, people living in higher risk level three or four areas should avoid unnecessary travel.
Most people arriving in the UK from many destinations - including British nationals - must quarantine for 10 days.
Exceptions are made for the Common Travel Area - the Republic of Ireland, Channel Islands, or the Isle of Man - or people coming from countries in travel corridors with the UK.
It means there have been only a small number of destinations with no restrictions at either end.
What about airport testing and a vaccine
There are hopes that the new coronavirus vaccines will make travel to more destinations possible in the coming months.
People arriving in England can now cut their quarantine period by at least half if they pay for a private Covid test after five days and it comes back negative. But the government will only allow certain test providers to take part in the scheme, and they have struggled under the weight of demand.