Who is Shamima Begum and how do you lose your UK citizenship?
Shamima Begum will not be allowed to return to the UK to fight the decision to remove her citizenship, the Supreme Court has ruled.
So, who is she and why was her citizenship taken away?
Who is Shamima Begum?
Ms Begum travelled via Turkey to IS headquarters in Raqqa, where she married a Dutch recruit who is the father of her children.
Ms Begum, now 21, lived under IS rule for more than three years.
She was found, nine months pregnant, in a Syrian refugee camp in February 2019. The baby later died of pneumonia and Ms Begum said she had previously lost two other children.
After she was found, the then home secretary, Sajid Javid, cancelled her British citizenship on security grounds.
However, the Home Office then argued allowing her to return would create "significant national security risks". The Supreme Court has now ruled the government was entitled to prevent Ms Begum from returning to the UK to fight her case - but it also ordered that the legal battle over her citizenship should be paused until she can find a way to take part in it.
What is citizenship?
Citizenship is the right to live in a country.
In the UK, citizens have rights to things like welfare, education and healthcare. They can also vote.
There are also people who have the right to live in the UK permanently with the same rights, but who are not citizens.
You might become a British citizen if:
you or your parents are born in the UK
you live in the UK for a period of time, normally five years
marry a British citizen and have been in the UK for three years
In common with many countries, the UK allows people to be citizens of more than one country.
How do you lose your citizenship?
In the UK, someone can have their citizenship stripped by the home secretary, for the following reasons:
It is "for the public good" and would not make them stateless
The person obtained citizenship through fraud
Their actions could harm UK interests and they can claim citizenship elsewhere
Ms Begum was stripped of her citizenship for the public good reason.
The UK has responsibilities under international law to avoid people being left stateless. But in February 2020, a tribunal ruled that removing Ms Begum's citizenship was lawful because she was "a citizen of Bangladesh by descent".
In many cases removing citizenship involves threats to national security, such as terrorism, or serious organised crime.
British citizens can also have their passports taken away.
How many people have left IS to return home?
Many foreigners who travelled to Iraq and Syria to join IS did so secretly.
But data from King's College estimates that 52,808 men, women and children travelled to (or were born into) the areas of Iraq and Syria under IS control between 2013 and 2018.
Some countries such as Russia and the Central Asian states have taken back hundreds of their nationals. But Western European countries have generally taken back far fewer, and those they have allowed to return are often children.
There are also thought to be several hundred women and children from EU countries who have made their own way back.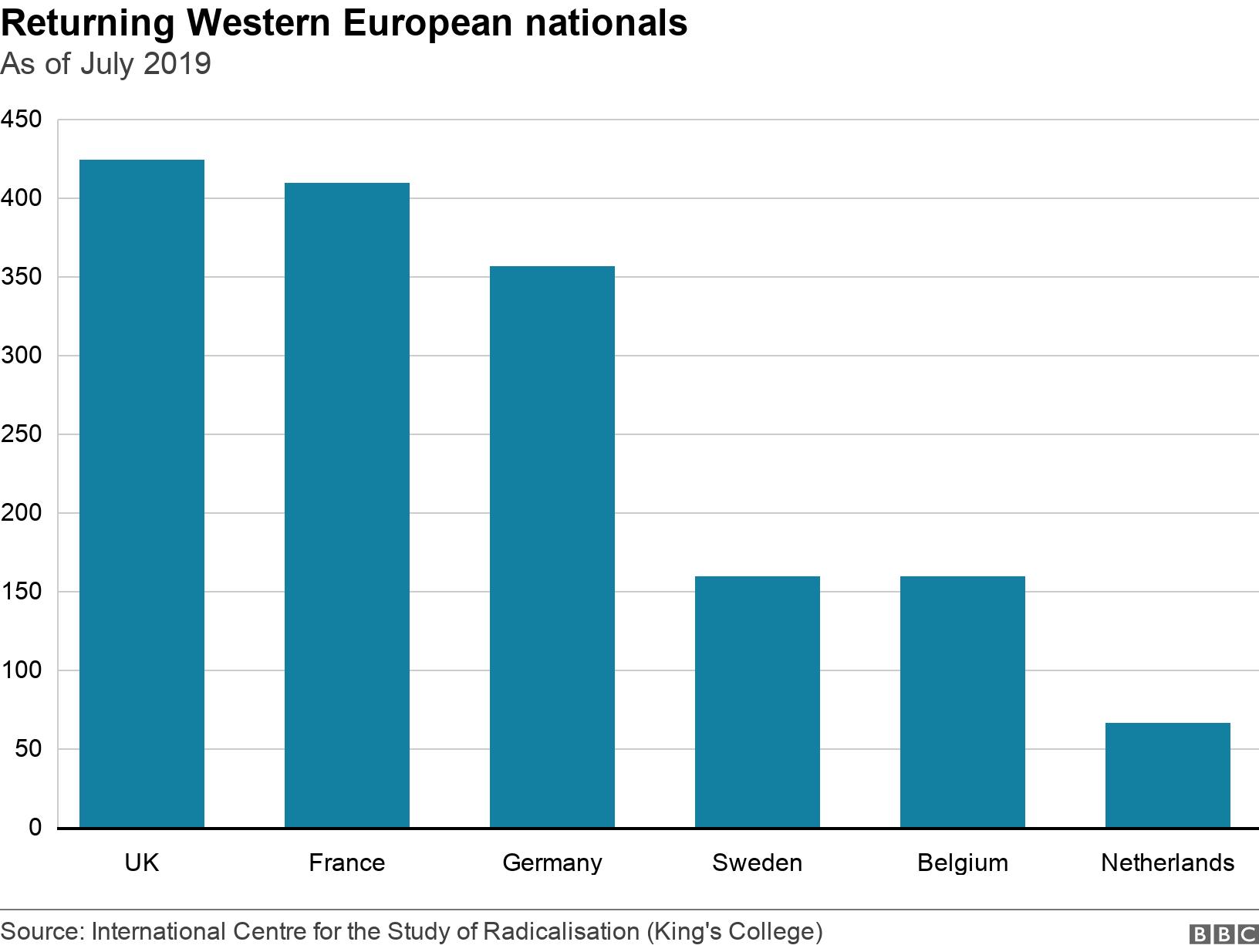 How do other countries deal with returning IS members?
After fighters travelled to Syria and Iraq, many countries changed or introduced anti-terrorism laws.
Countries also use deradicalisation programmes to challenge their views.
They may also seize identity cards and passports, or restrict travel.
Child returnees are generally seen by child care professionals, or placed in juvenile detention.