Covid passports: Where do I still need to use one?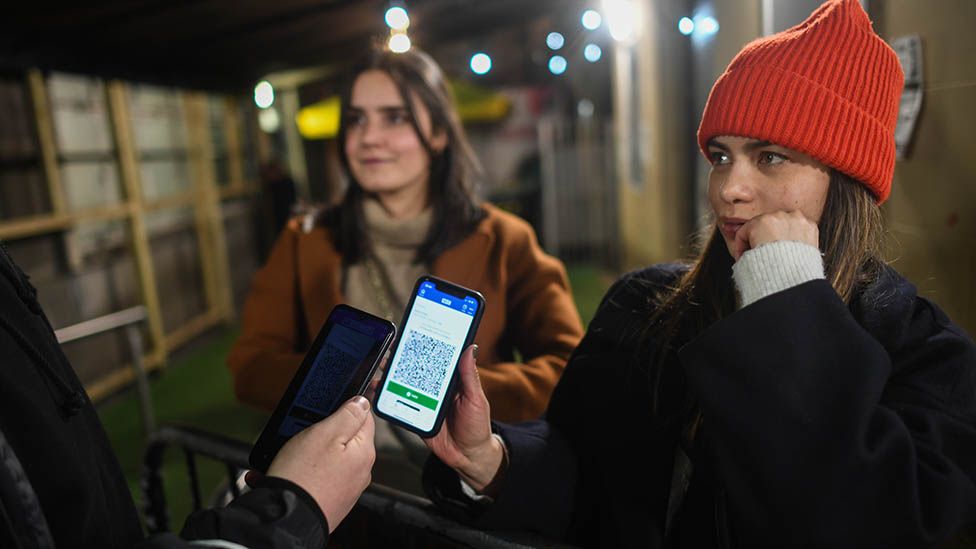 Mandatory Covid passports have been scrapped in Scotland, although venues can choose to keep using the scheme on a voluntary basis.
Equivalent compulsory schemes have already been scrapped in England, Wales and Northern Ireland.
What are the rules in Scotland?
The Covid pass scheme, which required nightclubs and organisers of large events to check people's vaccination or test status, is no longer being enforced.
Some may choose to do so voluntarily, but the Scottish government guidance says they must have a good reason to check people's Covid status - "just in case" is not enough.
What are the rules in Wales?
People no longer need to show their NHS Covid Pass to gain entry to cinemas, theatres and concert halls.
Previously the scheme also applied to nightclubs and comparable venues, unseated indoor live events for more than 500 people, unseated outdoor live events for more than 4,000 people and any event for more than 10,000 people.
Venues can continue ask customers to show proof of vaccination status or a recent negative test result if they wish.
What are the rules in Northern Ireland?
Its Covid passport scheme is no longer mandatory for pubs, restaurants, cinemas and theatres - although venues are being encouraged to carry on using it.
However, Covid passes are still required for entry to:
newly-reopened nightclubs
unseated indoor events
any partially seated event with more than 500 in attendance
People can either show proof of vaccination, proof of a negative lateral flow test taken in the previous 48 hours, or proof of a positive PCR test taken in the previous 30 to 180 days.
The COVIDCert NI app can be used to show proof of vaccination, or a paper version can be requested.
What are the rules in England?
From 1 April, the government recommends that the NHS Covid Pass should only be used for foreign travel.
What about foreign travel?
Covid passes can still be used for travelling abroad, to show your vaccination status or test results.
There is no evidence that the use of Covid passports stopped the spread of the virus.
They have, however, led to an increase in vaccination rates in some countries where they have been introduced, according to a study by researchers at the University of Oxford, which was published in the Lancet.
France, Israel, Italy, and Switzerland had lower-than-average vaccination rates before announcing plans for Covid certification.
Each country subsequently experienced a large increase in vaccine take-up 20 days before and 40 days after the introduction of the passports.
Passes made little difference to vaccination rates in other countries such as Germany where take-up was already above average, or in Denmark where the supply of doses was limited.