Belarus plane: What impact could tougher action against Belarus have?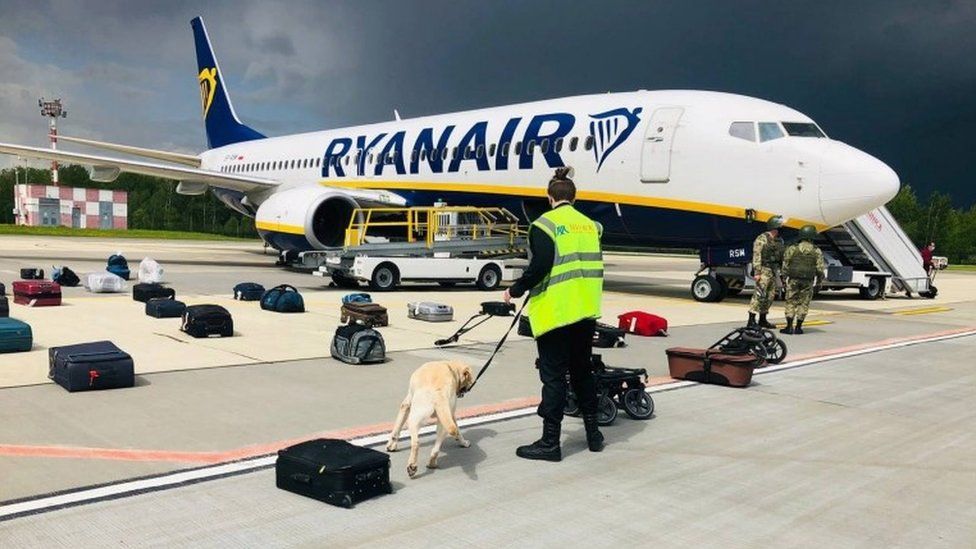 The EU has agreed to ramp up sanctions against Belarus, following the forced landing of a plane flying over its territory.
On 21 June, 78 Belarusian individuals and eight entities were added to the list of people and companies under the EU's travel ban and asset freeze.
The EU already bans Belarusian carriers from its airspace and airports.
Further economic sanctions will be considered by the EU leaders when they meet for a two day summit on 24 June.
What could be the impact of flight restrictions over Belarus?
Belarus receives income from airlines that enter its airspace of up to €70,000 (£60,000) each day, according to John Grant from the aviation analytics firm OAG.
Losing this amount of money, he says, would be "an inconvenience" but would not have a significant impact on the economy of Belarus.
Instead of flying over Belarus, airlines have the option of using Lithuanian or Latvian airspace for example, without adding too much time to a flight so the extra fuel costs incurred would not be great.
Maps showing flight paths show some airlines are now diverting to avoid Belarus.
On 27 and 28 May, Russia, a key ally of Belarus, denied entry to its airspace to two European airlines because they planned to avoid flying over Belarus to get to Moscow.
What other measures is the EU considering?
The EU leaders will consider further economic sanctions when they meet for a two day summit on 24 June.
The measures are likely to include action against the export of potash (a common fertilizer ingredient) as well as tobacco industry exports and petroleum products.
What sanctions against Belarus are already in place?
The EU first introduced restrictive measures against Belarus in 2004, following the disappearance of two opposition politicians, a journalist and a businessman several years earlier. These included an arms embargo and a ban on "the export of goods linked to internal repression".
The EU imposed more sanctions against Belarus on 1 October 2020, in response to the "brutality of the Belarusian authorities and in support of the democratic rights of the Belarusian people".
These restrictions - a travel ban and asset freeze against individuals and entities associated with the government of Alexander Lukashenko - have since been expanded. As of 21 June, the EU applies the restrictions to a total of 166 persons and 15 entities.
Those on the list are forbidden from entering or transiting through EU territories and their assets in the EU are frozen. In addition, EU citizens and companies are forbidden from making funds available to any individual and company on the list
Do other countries have sanctions against Belarus?
The UK expanded its sanctions on 21 June, by adding another 11 people and two entities to its list. The UK's restrictions now target a total of 99 people and nine organisations.
The US Treasury Department also said it was expanding the sanctions against Belarus, targeting 16 Belarus individuals and five entities.
The US has had sanctions against Belarus since 2006. These were tightened in 2008 and expanded in October 2020 to 24 individuals, in response to the 9 August presidential election and subsequent crackdown on opposition protests.
On 27 May, the G7 group of wealthy nations - Canada, France, Germany, Italy, Japan, the United States and Britain - issued a statement calling for "accountability for the actions of the Belarusian authorities" and threatening "further sanctions as appropriate".