Petrol shortage: Is the fuel crisis improving?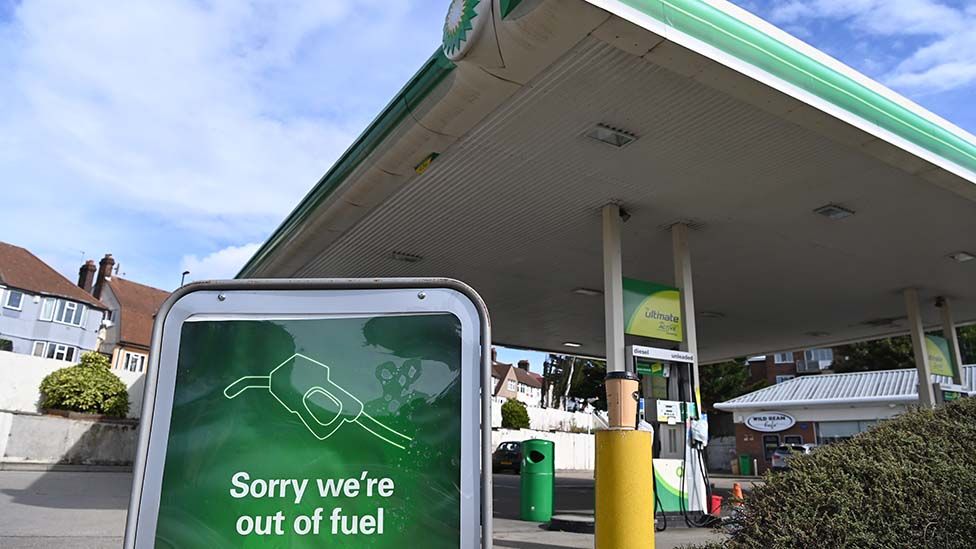 Only 127 petrol tanker drivers from the EU have applied for temporary visas to help tackle the petrol crisis, according to the prime minister. The government is offering 300 short-term visas for overseas drivers.
Meanwhile, military personnel have started driving fuel tankers to help resupply petrol stations.
Has the petrol shortage improved?
The Petrol Retailers Association (PRA) - which represents nearly 5,500 of the UK's 8,000 filling stations - says the worst-affected areas have seen a "marginal" improvement but still face a "challenging" time.
It said about a fifth of forecourts in London and south-east England were out of fuel on Monday.
But elsewhere in Britain, that figure was 8% and there had been a "marked" improvement, the association said.
What's the government doing?
He said the low number of applicants reflected a "global" issue causing "a particular problem in the UK". He blamed long-standing underinvestment in pay and driver facilities.
Separately, about 200 Army and RAF personnel - including 100 drivers - will help deliver fuel to forecourts in the hardest-hit areas, including London and south-east England.
They have been given training in safety procedures, equipment and forecourt driving manoeuvres.
Can key workers get fuel?
The doctors' body the BMA, the teachers' union NASUWT and some politicians including London Mayor Sadiq Khan wanted key workers to be given priority access to petrol stations to avoid disruption to essential services.
Is there a limit on how much petrol I can buy?
The government has powers to limit how much fuel drivers can buy, and the hours when they can buy it, but hasn't used them so far.
Some petrol stations have introduced a £30 cap on the amount of petrol people can buy.
How did the petrol shortage start?
Long queues started to build up outside stations across Great Britain in the following days, amid fears that fuel might run out.
So what's behind the crisis?
Oil companies have stressed there is plenty of petrol available.
However, the key issue is there aren't enough drivers to deliver it to forecourts.
There's an estimated shortage of more than 100,000 HGV drivers, which has already caused problems for a range of retailers - from supermarkets to fast food chains.
What caused the shortage?
There are a number of reasons - and many countries across Europe have been affected - but the UK has been especially badly hit.
After Brexit, many European drivers returned to their home countries, or moved elsewhere, because working in the UK involved additional border bureaucracy which had an impact on their income.
The pandemic saw even more drivers return to their home countries, with few coming back.
Meanwhile, some older drivers have retired, and there's a huge backlog in HGV driver tests due to Covid.
What's happening to fuel prices?
Petrol prices are at an eight-year high. According to the latest weekly statistics, the average petrol price at UK forecourts on Monday was 136.1p a litre, up from 135.19p a week earlier.
The price of a litre of diesel rose 137.95p to 139.2p over the same period.
Simon Williams of the RAC said the increase was largely down to the rising price of oil rather than the recent supply problems.