What did Owen Paterson do?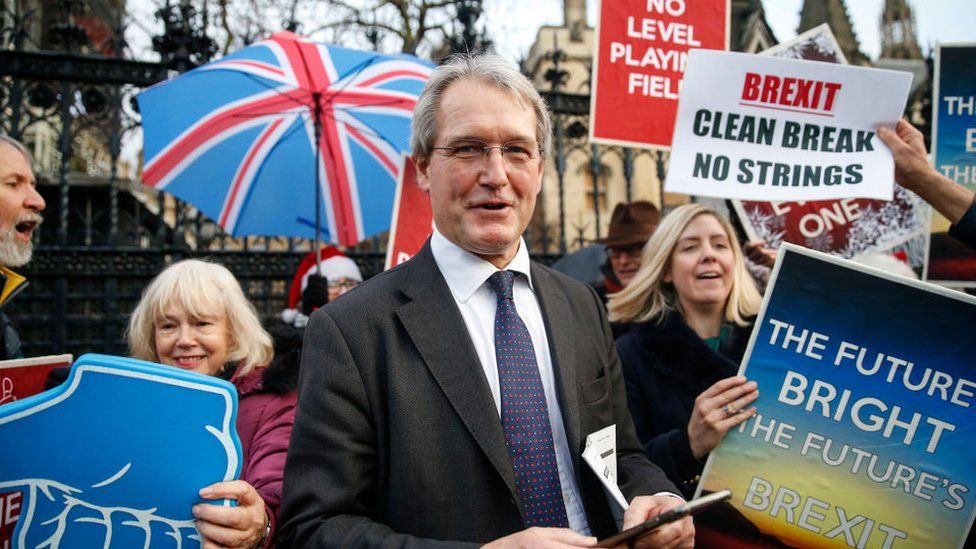 Former minister Owen Paterson has resigned as an MP after a backlash at the government's decision to block his suspension from parliament.
Mr Paterson is the Conservative MP for North Shropshire. He served as Northern Ireland secretary and environment secretary under David Cameron.
Since leaving government he has been a paid consultant for Randox Laboratories and Lynn's Country Foods. He is paid £8,333 a month by Randox for 16 hours work and £2,000 every other month from Lynn's Country Foods for four hours work.
This is not against the rules, and he declared his positions in the public register of interests.
What did Owen Paterson do?
He was investigated by the Commissioner for Parliamentary Standards after being accused of breaking lobbying rules for MPs.
The commissioner found that, on behalf of the companies, he approached and met officials at the Food Standards Agency and ministers at the Department for International Development a number of times.
He also used his parliamentary office and stationery for his consultancy work and failed to declare his interests in some meetings, the report said.
The commissioner decided that the contact with officials and ministers were "serious breaches" of the rules.
MPs are forbidden from taking money to raise issues in the House of Commons or with the government.
The code of conduct politicians have to follow says there must be not conflicts of interest between their personal interests and public interest.
MPs who are found to have broken the rules may be asked to apologise to the House of Commons or be suspended as an MP.
Made three approaches to Food Standards Agency for Randox about antibiotics in milk in 2016 and 2017
The committee found his first approach had been acceptable but subsequent contact sought a benefit for Randox and promoted its products and technology
Made seven approaches to Food Standards Agency for Lynn's Country Foods in 2017 and 2018. Mr Paterson says the contact was acceptable because he was raising "serious wrongs" with officials. The commissioner rejected his position
Made four approaches to ministers at the Department for International Development about Randox and blood testing technology in 2016 and 2017
The committee says that while the company did not gain government contracts from these meetings, it could have done
Mr Paterson has criticised the decision and the way the investigation was carried out.
He said his approaches to officials and ministers amounted to whistle-blowing. For instance, Randox's contact with the FSA was to warn them of illegal antibiotics that had been found in milk that was available in supermarkets.
There is an exemption in lobbying rules for MPs who are alerting the government to "a serious wrong or substantial injustice", even if doing so would lead to "incidental" financial or material benefit for the MP.
Mr Paterson has said he "would not hesitate to act in the same way again if confronted with new information about serious harms or wrongs requiring urgent remedy".
The commissioner said only one of his approaches to officials qualified for the whistle-blowing exemption.
He has argued that the investigation constituted an "absolute denial of justice" for a number of reasons, including his claim that several witnesses who had come forward in support of his case had been ignored.
Mr Paterson accepted that he had broken the rules regarding stationary and apologised.
Lobbying is when an individual or a group tries to persuade a public figure such as an MP, a minister or a government official to support a policy or campaign.
It's a normal part of the democratic process and anybody can do it by signing a petition or writing to their MP, for example.
MPs are expected to lobby on behalf of their constituents - they might try to persuade the government to build a new hospital in their constituency, for example.
But because lobbying by MPs is likely to be more effective than lobbying by the general public there are rules to make sure they do not take advantage of their position for reasons other than the best interests of the people who elected them.
They must declare any jobs they have or that a member of their family has that could influence their opinions.
And they are not allowed to take money for raising issues in the House of Commons or with ministers.
Are MPs allowed to have other jobs?
Apart from Mr Paterson, more than 20 MPs get paid for consultancy work, including former international development secretary Andrew Mitchell, who is paid £182,600 per year for 32.5 days work.
Sir Ed Davey works as a consultant alongside his job as leader of the Liberal Democrats. He provides political and policy expertise to Herbert Smith Freehills, for six hours a month at £5,000.
Other MPs have second jobs as doctors, nurses, barristers and even a football referee.
On Thursday afternoon Mr Paterson announced that he would be resigning as an MP, saying the last few days had been "intolerable".
He criticised the investigative process, which doesn't allow MPs to bring appeals against judgements.
Leader of the House of Commons Jacob Rees-Mogg said there was a "very strong feeling on both sides of the House that there is a need for an appeals process" and that he would work with other parties to make "improvements" to the system.
There will be a by-election in Mr Paterson's constituency of Shropshire North, which the Conservative Party has held since its creation.