Beijing Winter Olympics boycott: Why are the Games so controversial?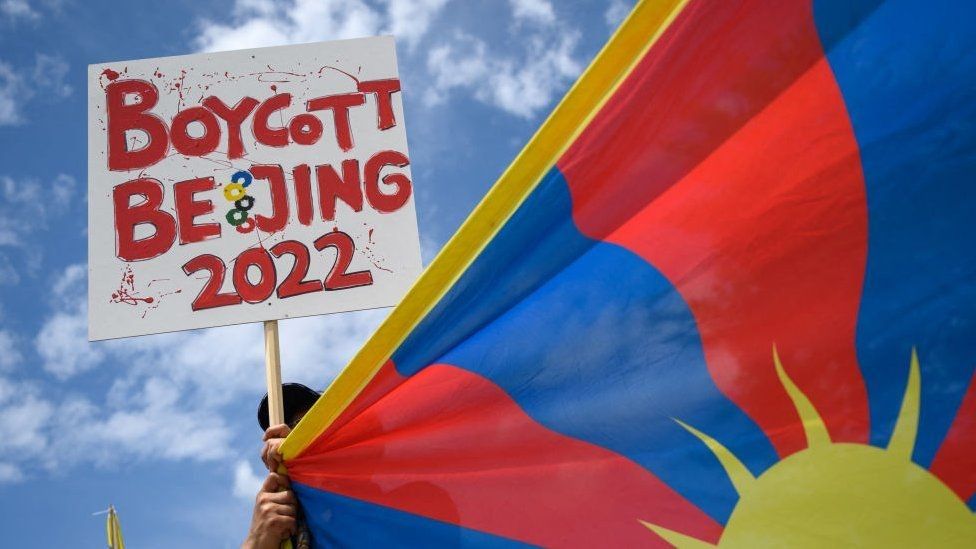 The Beijing Winter Olympics and Paralympics are taking place over the coming weeks.
China's human rights record has led some countries to declare diplomatic boycotts of the Games, which means their top officials won't attend.
When are the Games and how big are they?
The Winter Olympics take place from 4 February to 20 February, with about 3,000 athletes competing in 109 different events.
The Winter Paralympics run from 4 March to 13 March, with about 750 competitors across 78 events.
China's government and businesses are spending $3.9bn (£2.95bn) on the Games, which are taking place in and around Beijing:
Indoor ice events take place in stadiums in Beijing
Yanqing, 75 km from Beijing, hosts alpine skiing, bobsled and the luge
Zhangjiakou, 180 km from Beijing, hosts most skiing and snowboarding events
About 1.2 million cubic metres of artificial snow is being used because so little falls in the region. China has been criticised over the environmental impact.
Because of Covid, competitors and officials are in secure "bubbles" and no spectator tickets have been sold to the public.
Which countries are boycotting the Olympics?
They have all sent athletes, but no ministers or officials are attending.
British MP Iain Duncan Smith, who represents the Inter-Parliamentary Alliance on China, said: "The Chinese government commits industrial-scale human rights abuses in the Uyghur Region, Tibet and sends near-daily military incursions into Taiwan's airspace.
"We cannot lend any legitimacy to China's despotic regime."
Japan has also said it isn't sending ministers to the Games, but it is sending Olympic officials.
New Zealand, Austria, Slovenia, Sweden and the Netherlands are not sending government representatives, but say Covid is their reason.
France has been against a boycott. President Macron has said: "I don't think we should politicise these topics, especially if it is to take steps that are insignificant and symbolic."
There have also been protests across the world against the Beijing Games by human rights activists.
What are the allegations against China?
The Beijing government is accused of committing atrocities against the Uyghur Muslim population in the northwest province of Xinjiang.
Human rights groups believe more than one million Uyghurs have been detained over the past few years in a large network of what the state calls "re-education camps", with hundreds of thousands sentenced to prison terms.
In its 2021 annual report, Human Rights Watch said that "Beijing's repression - insisting on political loyalty to the Chinese Communist Party - deepened across the country".
China has consistently denied violating human rights in Xinjiang, and has warned its most vocal accusers - such as the US and Germany - not to interfere in its "internal affairs" in Hong Kong.
China's Foreign Ministry said that the US had "clearly violated the Olympic spirit", and "will pay a price for its erroneous actions". However, it has not specified what this price might be.
What are the warnings about mobile phones?
Athletes and others attending the Games are being warned about security weaknesses in the app they have to use for daily Covid monitoring.
Cybersecurity group Citizen Lab said the app has weak encryption systems and that data loaded on it such as medical and travel histories could be exploited by hackers.
Chinese state media have dismissed the concerns.