Out-of-hours births 'are riskier'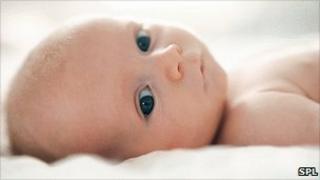 Babies born at night or at the weekend are at a greater risk of dying than those born within normal working hours, a study suggests.
The analysis of more than one million births in Scotland over two decades found the risk of death for babies born out of hours, while small, was a third higher than for those born in the day.
Night staffing and access to facilities were possible explanations, Glasgow and Cambridge universities suggested.
Most babies died from lack of oxygen.
Those born between 0900 and 1700 on Monday to Friday were classified as being within normal working hours, all others as out-of-hours, the British Medical Journal reported.
In all, there were 539 deaths.
The team adjusted for a wide range of factors and excluded babies born via planned caesarean, who are usually delivered during the day.
The team argued that as the risk of death for these babies was so much lower than for those born vaginally, their inclusion could overstate the risks of out-of-hours birth.
'Improving care'
But even with these exclusions, the difference persisted.
For mothers giving birth during the normal working week, the risk of their baby dying was 4.2 per 10,000, and 5.6 per 10,000 at all other times.
One in four deaths through oxygen deprivation was directly associated with the risk of being born out of hours, they calculated.
Improving the level of clinical care for women delivering out of normal hours might reduce the overall rates of perinatal death, the research team, led by obstetrician Professor Gordon Smith, suggested.
They acknowledged that the expenditure required to save only a few lives might be seen as out of proportion, but they noted that they only looked at deaths: much money is spent on long-term developmental problems caused by oxygen deprivation at birth.
"Any interventions that improved outcomes out-of-hours would therefore be likely to have a greater effect than merely reducing the number of neonatal deaths," they wrote.
In an accompanying editorial, David Field, professor of neonatal medicine at Leicester University, agreed it was important that more experienced clinicians were immediately available.
But he also stressed that there was increasing momentum towards giving women more choice over where they gave birth, including at home, in hospital, or in a midwife-led unit.
"These different facilities will not be the same in terms of ethos, the services they offer, or the risks associated with delivery, and these differences should be transparent," he said.
"This would allow women to make a genuine choice of site for delivery in consultation with their midwifery and medical advisers."
Training opportunities
Dr Tahir Mahmood, vice-president at the Royal College of Obstetricians and Gynaecologists, said all women in labour should be offered one-to-one care by a midwife and an experienced obstetrician.
"Increasing the presence of consultants in the labour ward around the clock would not only improve training opportunities for the junior doctors but would also improve standards of care for all women in labour."
Janet Scott, research manager at the charity Sands, said the findings were shocking.
"Had these babies been born at a different time of day they may well have survived. This is completely unacceptable," she said.
"A baby's life should not rest on whether or not they are born in office hours."