Haiti's sick 'must not be forgotten '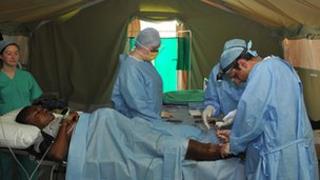 Six months ago, scores of British surgeons were among those who flew in from around the world to treat the wounded victims of the Haiti earthquake. Those medics are now determined that the world does not forget that the Haitians still need help.
About 230,000 people died and more than a million were left homeless by the earthquake which devastated Haiti in January.
Emergency teams were quickly in the Caribbean state, and aid poured in.
Temporary hospitals were established and experts from overseas were flown in to carry out the enormous task of caring for the wounded Haitians.
Six months later, many medical experts are worried that the plight of Haiti will be forgotten as people concentrate on newer disasters.
Plastic surgeon Ian Josty, from Swansea, spent a week in Haiti four months after the disaster and says the need is still great.
"Please remember Haiti - the story continues," he said.
"Haiti is not making headline news anymore, but the needs continue and will continue for many years."
Ian, a consultant plastic, reconstructive and hand surgeon at the Welsh Centre for Burns and Plastic Surgery in Swansea said people still need care.
"We went four months following the quake. We wondered whether there was going to be an ongoing need for surgery, but we were not under-employed by any measure. We started work at about 8am and finished about 10-11pm."
Vital care
He was stationed in a tent hospital in Milot, about 80 miles from the capital and recalled: "We were able to save legs that would otherwise have been lost.
"There was a lady who had broken her tibia - shin bone - and she probably had about three centimetres of bone missing, and without the most modern techniques for orthopaedic and plastic surgery she would have lost her leg.
"We put a very specialised frame on, lengthened the limbs and put on a flap of soft tissue.
"You worry about leaving her, but she is getting good follow-up. This should save her leg and keep her walking - we have been following her up and lots of the other patients.
"One of the patients we treated had a crushed hand and because of all the scar tissue he could not move it. He was a pianist, we did an operation to free up his fingers."
But he said without the free care offered by foreign medics, many Haitians might struggle to pay.
"Their pay is often just two dollars a week. An X-ray is more than that - and that's before you start paying for your treatment."
International aid agency Merlin agreed. Its emergency response coordinator Paula Sansom said: "Haiti is still rebuilding - with so many buildings, homes and health centres destroyed, people are surviving in the most basic conditions and the health system is totally overwhelmed.
"Merlin is running mobile health clinics to give vital health care services to people who need it the most. We cannot be everywhere though, and to help ensure people have access to adequate health care - and Haiti moves forward - Merlin is also training local community health workers."
Abiding memories
Middlesborough plastic surgeon Sahan Rannan-Eliya was in Port au Prince just six weeks after the quake and said the images he had seen would remain with him.
"There was this little boy called Woodoff who had his right arm amputated and his stump had not healed. He was a lovely character who didn't seem bothered and was just getting on with playing."
He said patients like Woodoff would need years of rehabilitation, but worried that they would not get it.
"The post-earthquake need will be there for years to come because amputees will need input prosthetic limbs etc.
"But Haiti is going to be forgotten, because at the end of the day it has no strategic significance to western powers."