Baby Peter GP suspended for year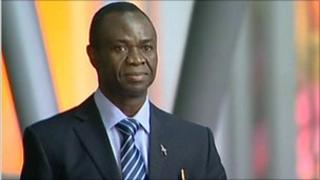 A GP who saw Baby Peter eight days before his death has been suspended from working as a doctor for 12 months.
The General Medical Council had already ruled there were "serious failings" in Dr Jerome Ikwueke's care.
Peter, from north London, died aged 17 months in August 2007 after sustained abuse.
His mother Tracey Connelly, her boyfriend Stephen Barker and his brother Jason Owen were jailed last year for causing or allowing his death.
Dr Ikwueke, 63, who was the family's GP, had noted that the toddler was not his "usual happy self", seemed "withdrawn" and pulled away when he saw him for the last time on July 26 2007.
The GMC had said the GP breached his professional duty towards the child in not carrying out a full examination, making an urgent referral for further checks or sharing information with a health visitor or social workers.
But giving her judgement, panel chairman Dr Judith Worthington, said: "You don't pose a risk of repeating this behaviour and there's no evidence of deep-seated attitudinal or personality problems."
She also spoke of how Dr Ikwueke had shown remorse, and had taken "remedial action", such as attending a number of child protection courses and improving procedures at his surgery.
Dr Worthington said that, despite the serious breaches identified in Baby Peter's case, striking Dr Ikwueke off the medical register would not be "proportionate or in the public interest".
But she said the panel had decided it was necessary to suspend the GP for the maximum period of 12 months "in order to maintain public confidence in the profession and to declare and uphold proper standards of conduct and behaviour".
Patients of Dr Ikwueke had given written and verbal testimonies to the hearing in his support.
Face value
The GP saw Peter at his north London surgery at least 14 times in the months before his death.
The GMC panel ruled there were "serious" failings to prioritise the toddler's welfare in the doctor's care.
It said Dr Ikwueke should have considered the possibility of child abuse when he noticed Peter had bruises on his chest and head at an appointment on October 13 2006.
Instead he accepted a claim by the child's mother that he had fallen downstairs at "face value".
The GP also failed to mention these injuries when he referred Peter to hospital with further bruising two months later.
Dr Ikwueke, who qualified as a doctor in Nigeria and worked as a GP for nearly 20 years, denied misconduct.