Food Standards Agency 'will remain' government promises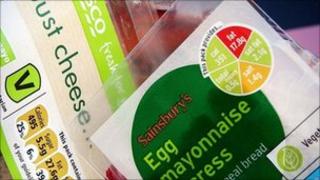 The government says it will retain the Food Standards Agency, following concerns the independent watchdog would be scrapped under reforms.
But it will hand over some responsibilities to government, Health Secretary Andrew Lansley confirmed.
The Department of Health will oversee nutrition policy and the Department for Environment, Food and Rural Affairs will handle food labelling.
This, says the government, will leave the FSA to focus on food safety.
Charities said government must follow through with this reorganisation and "should not let the good things the FSA achieved disappear into a black hole".
The FSA was set up as an independent food safety watchdog in 2000, in the wake of the BSE crisis and a number of high-profile outbreaks and deaths from foodborne illness.
More recently, the FSA has led calls for the Europe-wide introduction of a traffic light system requiring food companies to label the front of their products with red, amber or green symbols to denote the amounts of fat, saturated fat, salt and sugar contained per serving.
Mr Lansley said bringing some policy-based functions 'in house' made sense. Nearly 100 of the Agency's posts will be moved, leaving 2,000 remaining staff.
"It's absolutely crucial for the Food Standards Agency to continue providing independent expert advice to people about food safety. But bringing nutrition policy into the Department makes sense.
"It will enable a clear, consistent public health service to be created, as our Public Health White Paper later this year will set out.
"I believe - in the-long term - we'll have a clearer and less bureaucratic system for public health. The end result will focus on turning expert advice and support into better health."
Caroline Spelman, Secretary of State for Environment, Food and Rural Affairs said: "It makes perfect sense to bring policy on food origin and associated labelling to Defra to sit with wider food policy. The Government has made very clear its commitment to clear and honest labelling - particularly origin labelling.
"These changes will enable the FSA to focus on food safety and it is right that this should stay in the hands of an independent body."
Lord Rooker, Chair of the FSA, said: "Food safety and hygiene have always been at the heart of what the Agency does. They are our top priorities in protecting the interests of consumers."
Peter Hollins, Chief Executive of the British Heart Foundation, said: "The Government must follow through with this reorganisation, by recognising its responsibilities in relation to food labels now it has brought the issue in-house.
"The FSA did much to promote healthy diets and now the Government must demonstrate it will not let the good things the FSA achieved disappear into a black hole.
"Regardless of the European jurisdiction issues, the Government should recognise it has an opportunity to put the health of the UK population first and continue battling for traffic light colours on food labels."