Mini-stroke victims 'miss out on vital care'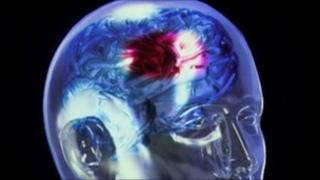 Many patients at high risk of stroke are not getting the specialist treatment they need, an audit found.
People who suffer a mini-stroke are meant to undergo neck surgery to help prevent a full-blown attack.
The Royal College of Physicians and Vascular Society found just a third of 3,000 patients had the op by the two-week deadline, and many did not get it.
About 500 lives a year could be saved, they said. The government said progress had been made on stroke services.
Mini-strokes - or transient ischemic attacks (TIAs) as they are known - will often lead to a full-blown attack.
However, one in five full strokes can be prevented through an operation known as a carotid endarterectomy to unblock the arteries.
This has to be done within 14 days of symptoms showing to be really effective.
But the review of more than 3,000 cases showed only 1,005 were done within that timeframe. The average wait was 28 days.
Lack of GP referral, hospital staff and equipment were all highlighted as key problems.
The audit concluded that stroke services would be best concentrated in fewer, larger centres to ensure adequate staffing and resources were available.
However, not all the delays were down to the NHS - nearly a fifth of patients waited too long before seeking help.
International comparison
What is more, the review estimated that the NHS was seeing less than half of the cases it should.
UK surgeons carry out the lowest number of such operations per head each year - 10 times fewer than in Australia and the US.
The figures suggest about 10,000 patients a year would benefit from the treatment in the UK, but just 4,500 actually receive it.
Carrying out this number of operations, coupled with meeting the two-week deadline, would save an extra 500 lives, the audit team said.
Nikki Hill, of the Stroke Association, said: "This audit shows that there is still a long way to go to make sure people get urgent preventative treatment that could prevent a catastrophic stroke."
Professor Roger Boyle, the government's stroke tsar, agreed more needed to be done.
"The NHS has made progress on improving stroke services but we need to go further to achieve outcomes that compare with the best internationally."
He said the new quality standards, which were set out a month ago for stroke and stressed the importance of prompt access to surgery, would help improve performance.