Family planning push for nations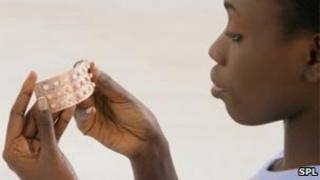 A UK government drive aims to increase access to contraception and safe abortion in developing countries.
International development secretary Andrew Mitchell is now launching a consultation on the issue.
The department's programme budget is ring-fenced from cuts - but Mr Mitchell said it therefore had a "double duty" to demonstrate value for money.
He says he has identified "sub-optimal" spending worth £178m by the Department for International Development (DfID).
Every year there are an estimated 75m unplanned pregnancies around the world.
DfID wants to see women having easier access to long-acting contraception - such as implants and injections.
Botched or illegal abortions are thought to result in 70,000 deaths a year in developing countries.
A Millennium Development Goal aims to address these problems, but the target has seemed unlikely to be met.
Mr Mitchell said: "I'm not entering the ring at all on whether one should be for or against abortion.
"The focus of my attention is the fact that thousands of women die every year from unsafe abortions. I want to bring that figure down sharply.
"We have a golden opportunity within our grasp if not to eradicate these maternal-related deaths, then to reduce them significantly."
DfID offices within developing countries and other experts are being asked to contribute ideas within the next 12 weeks.
Officials have been told to put a new emphasis on delivering results and monitoring data, as opposed to simply making announcements about spending allocations.
Mr Mitchell said: "I've identified £178m of spending which wasn't performing properly.
"Money was being spent on a Brazilian dance group, specialising in percussion, which was based in north London.
"DfID is still facing a cut of a third in its administrative budget. So I'm letting out two floors of the department.
"This is a brilliant department which attracts very able and committed people.
"The lights are burning late here as we make a series of changes to the way in which we do development."
The shadow minister for International Development ,Gareth Thomas, said Mr Mitchell needed "to explain how this fits within the wider agenda on child health - especially given that the majority of child deaths under the age of five tragically occur after the first month of life, a period which does not appear to be addressed by this consultation.
"After the dismal performance of the G8 earlier this year in Canada, when David Cameron signed up to a package which Oxfam described as 'lower than our lowest expectations', he also needs to tell us how he will actually convince other countries to step up to the mark at a critical UN Summit this September."